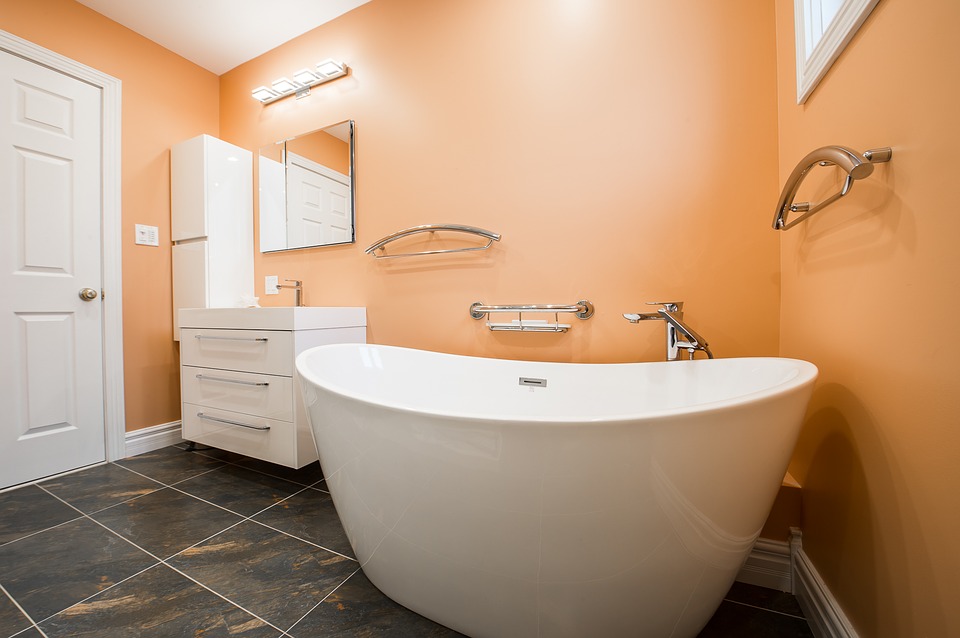 Some people think of the bathroom as a minor area, but the truth is, you spend more time in it than you exercise.
After all, the average adult spends about 3 hours and 9 minutes on the john compared to 90 minutes of working out every week. As such, it's important to invest time and effort on a beautiful, ornate loo.
If you're thinking of undergoing a lavatory remodelling project right now, then your first consideration may be the bathroom renovation cost.
Remember, the rule of thumb is to allocate 40% for fixtures, 35% on tiles, 20% on plumbing, and 5% on electricals. 
With repairs and replacements costing up to $20,000, it's best if you follow these tips on how to keep the renovation prices down:
Fixtures
Since almost half of your budget should be devoted to fixtures, choosing the right products can help keep the bathroom renovation costs down.
With that being said, there are some fixtures that you should splurge on – and these are your bathtub, toilet, and cabinet.
Bathtub
Choose a freestanding bathtub with a high-end finish. This looks elegant, all the while maximizing the space you have available.
Toilet
While the anaesthetic toilet is more than good, you should factor in two more important things: its WELS water efficiency and the ease of cleaning.
For example, a wall-face toilet will save you from the pain of going around and cleaning the behind. Rimless toilets, on the other hand, keeps the flushing experience more hygienic.
Storage
Just like your bedroom, your bathroom needs some ample space for storage. This is especially the case for small spaces.
For such areas, a wall-hung vanity works better because it doesn't take floor space. As a bonus, it can make tight bathrooms look bigger, too.
If you have a bigger area, then you can go about with more spacious cabinets. If you want to save more money, it's best if you hit the flea markets or antique stores. You're sure to find an affordable fixture there that is just as elegant as mall-bought pieces.
Other Pieces
Now that you know what to invest in, you should be conscious of the purchases that could reduce bathroom renovation costs.
Avoid spending a lot on towel racks, basins, robe hooks, mirrors, and tapware. Opt for the cheaper versions of these, as you could simply pull them off should you decide to redecorate again.
Tiles
The price of your tiles will depend on the size of your bathroom and how high you wish the tiles to go. For example, a floor-to-ceiling wall tile will cost you more since you are going to need more material. 
Remember, tile prices can range from $30 to $200 per square meter. As such, the price you'll pay will also depend on the quality of the tile.
For example, the herringbone and mosaic tiles are not only more expensive by price, they're costlier to have installed as well. You could expect to spend an additional $40 per square meter for labour, glue, preparation, and grout.
If you find tiles very expensive, you could consider more affordable alternatives. These include beadboards, wood panels, and boards & batten.
While you can always save money by choosing an inexpensive design, you shouldn't scrimp when it comes to waterproofing. The areas around your bathtub, shower, toilet, and vanity should be waterproofed professionally. This will prevent the water from penetrating the floors and walls, which could lead to more expensive problems in the long run.
If you're looking to reduce bathroom renovation costs even further, don't have your tiles replaced, especially if they're still in good condition. You can have them re-grouted, which can help you achieve a fresh look sans much spending.
Plumbing
Another thing that you should invest in is the plumbing around your bathtub, shower, toilet, and basing.
Poor plumbing can lead to problems such as a busted pipe or a leaking tap – any of which would cost you more than the entire renovation itself.
If your plumbing is not professionally fitted, you won't be covered by the warranty. This will result in more waste of money, as you will need to buy new fixtures in the event of water damage.
While the average hourly wage is $80, some plumbers may bill you according to the task. With that being said, don't forget to get a quote. Stick to your original plan, as you may have to pay more if you decide to overhaul the existing bathroom plan.
Electricals
When it comes to bathroom renovation costs, most people downplay the impact of electrical installations. Unfortunately, this could lead to higher prices, especially if the layout is completed after the tiling process.
With that being said, you must have your light switches, power points, heated towel rails, LED mirrors, exhaust fans, and downlights mapped early on. That way, the cables and wires will be made according to the placement of these devices.
Apart from the usual lighting, task lighting is another important thing to consider. You'd want to brush your teeth, apply make-up, and shave hairy growths in a well-illuminated place. For these tasks, you can benefit a lot from LED mirrors or wall sconces.
If your bathroom has roof access, you can try and have a skylight installed. Apart from providing natural illumination, it also adds heat, air, and ventilation to your bathroom. With these benefits, you can save a lot on electrical and heating costs in the long run.
When it comes to heated towel rails, choose a timed eco-wall switch as it is more energy-efficient. It's also imperative to get a high-quality exhaust fan, as it can help eliminate the moisture that may destroy your newly renovated bathroom.
Your bathroom renovation cost does not need to burn a hole in your wallet. It's all about investing in the things that should last – fixtures, tiles, plumbing, and electricals. At the same time, it's going for more affordable mirrors, towel racks, robe hooks, and such.
While it may be tempting to DIY, this will nullify your product's warranty. With that being said, it's better to seek professional help.
Ref number:  THSI-1925