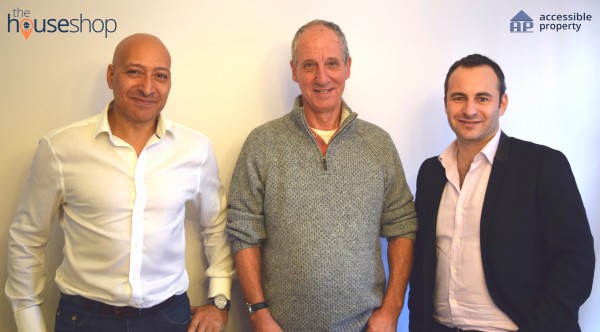 Property website, TheHouseShop.com, have taken yet another step to improve their accessible property offering with a deal that sees them take over the running of specialist website, The Accessible Property Register. Estate Agents can now sign up with Accessible Property Register for just £19.99 per month and can advertise all their accessible homes on both APR and TheHouseShop.com.
Accessible Property Register (or APR) was set up by husband and wife duo Conrad Hodgkinson and Christine Barton in 2003, following their own personal experiences struggling to find a wheelchair-friendly home. APR was the first dedicated accessible property website that exclusively promoted wheelchair-accessible and adaptable homes and has become well known among industry professionals and consumers alike as a valuable online resource for buying and selling accessible homes.
While TheHouseShop.com focuses largely on general needs properties, the company has developed a successful niche market for accessible homes following their experiences in the private sales sector, as co-founder Nick Marr explains:
"Before our rebrand to TheHouseShop.com in March last year, the business had been operating as a pure private house sales website, known as The Little House Company. Over the decade or more that The Little House Company was in business, we were contacted by countless homeowners of accessible or adapted properties who had been disappointed by the lack of specialised service offered by estate agents."

"In the past, many agents found it difficult to market accessible properties effectively, as they quite simply did not know how, or where, to advertise them."

"Now we can offer agents an affordable, effective and comprehensive advertising service that will allow them to take on new instructions from accessible homeowners and expand into the accessible property niche."
Nick Marr, TheHouseShop.com
TheHouseShop.com are already working with estate agents, sellers, landlords and some of the UK's largest developers including Barratt, L&Q and Taylor Wimpey, to help market their accessible homes – and now that they have added APR to their suite of advertising sites, they can offer truly comprehensive exposure for their clients in the accessible property niche.
Co-founders of TheHouseShop.com, Nick Marr and Sébastien Goldenberg, officially took over management of the Accessible Property Register from Conrad Hodgkinson late last year, and are now responsible for all aspects of the APR service.
A recent report, published by TheHouseShop.com, identified a lack of effective and coordinated marketing as a key issue for property developers attempting to sell newly built accessible homes. TheHouseShop now hope that the inclusion of Accessible Property Register's marketing services will solve this problem, as Nick Marr explains:
"For us, one of the most important aspects of taking on the Accessible Property Register website is that now we can offer a truly comprehensive marketing service to all of our clients, be they developers, estate agents or individual homeowners. We can now offer a service that combines the mainstream market exposure of TheHouseShop.com with the specialist niche market exposure of Accessible Property Register – which we think is a valuable and attractive proposition."
Nick Marr, TheHouseShop.com
Finally, the founder of Accessible Property Register, Conrad Hodgkinson, expressed his thoughts on the future of APR under TheHouseShop's management:
"It's reassuring to know that Accessible Property Register will be in such good hands. TheHouseShop has already demonstrated a rare commitment to promoting access and, with the addition of APR resources, disabled people can look forward to an increasingly valuable and much enhanced service."
Conrad Hodgkinson, Accessible Property Register
Estate agents can find out more information about the Accessible Property Register services and sign up to market their accessible homes for sale and to rent here.
For more information on the Accessible Property Register or TheHouseShop.com services, please contact Ash Rahman on contact@thehouseshop.com