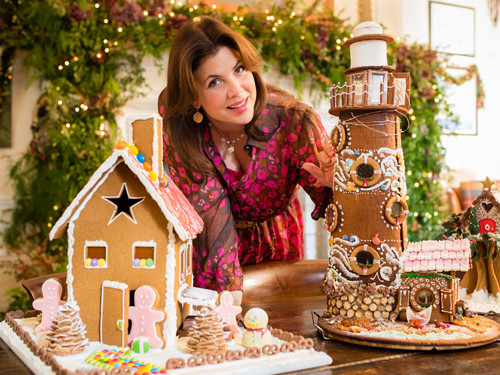 Kirstie Allsop TV show Handmade Britain

When not presenting popular property shows such as Location, Location, Location and The Property Chain, Kirstie Allsopp can be seen as the host of Channel 4 series Kirstie's Handmade Britain. In this show, the 41 year old attempts to reignite the UK's love of arts and crafts.
Series 1 episode guide
Episode 1 – Baking – Kirstie enters some of her finest baked goods in the Afternoon Tea competition at the Devon County Show
Episode 2 – Paper craft – Kirstie tackles the art of paper crafts and takes part in a competition at The Royal Welsh Show
Episode 3 – Needlecraft – Kirstie enters a cushion of her own design into the needlecraft competition at the Great Yorkshire Show
Episode 4 – Flowers – Kirstie attempts to perfect the art of flower arranging for the floral art competitions at the Royal Cornwall Show
Episode 5 – Women's Institute – Kirstie joins one of Hampshire's newest WI groups and enters the New Forest and Hampshire County Show in group crafts
Episode 6 – Gardens – Kirstie enters her elderflower cordial, rosemary shortbread, willow weaving and a scarecrow into the Chagford Show in Devon
Episode 7 – Meat – Kirstie tries her hand at making a Yorkshire pork pie, her own sausages and brawn before entering them in the Nidderdale Show in Yorkshire
Episode 8 – Kirstie's Handmade Christmas – Kirstie presents her ultimate guide to making festive treats including wreaths, garlands, snow globes and gingerbread
Episode 9 – Kirstie's Home for Christmas – Kirstie competes in a Yule log competition at an annual Christmas fair
More at Channel 4 Kirsties Handmade Britain
In the episodes, we see Kirstie seeing if she can really cut it in the artisan world. The Hampstead born presenter travels the UK visiting some of the finest county fairs, and submits entries to some of the toughest craft competitions around.
From cake baking and cushion making, to paper crafting and flower arranging, Kirstie attempts to hone her skills in various disciplines to see if she can compete with some of the most dedicated, passionate crafts people in the country.
During the episodes which each focus on a particular craft, you also learn tricks of the trade from experts in each area.
Kirstie Allsop a Nationwide of Renters
Kirstie debates on BBC TV about how the UK is shifting towards a nation of renters.
More about Kirstie Allsopp
Kirstie was born on 31 August 1971 in Hampstead, London. Since leaving school, Kirstie has had a number of jobs including working for Country Living and Food & Homes Magazine and her mother's business, Hindlip & Prentice Interiors. She also studied at Christie's.
Kirstie set up her own Home Search company, Kirmir, in 1996, focusing on top end purchases in Central and West London.
Her TV credits include Location, Location, Location, The Property Chain, Kirstie's Handmade Britain and Relocation, Relocation. She can often be seen on property shows alongside Phil Spencer.
Her partner is property developer Ben Andersen, and they have two children: Bay Atlas (born July 2006), and Oscar Hercules (born August 2008). They live in London.
You can visit Kirsties official website at http://kirstieallsopp.co.uk/
Find Property for Sale in London and the Surrounding Area: