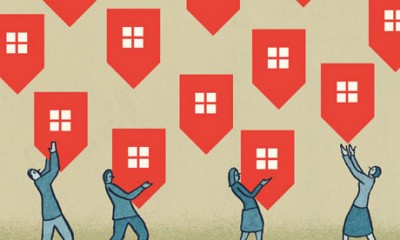 As the General Election draws near, all the parties are finalising policies and unveiling the finer points of their plans to the public. This weekend, Ed Miliband revealed a number of plans for the UK housing market which will affect millions of people across the country.
Here we sum up this weekend's housing revelations to keep you informed and up-to-date in the run up to the election.
Rent Rises Capped at Inflation
This weekend Ed Miliband announced plans to force private landlords to cap rent rises at no more than inflation for the duration of a 3 year tenancy. With spiralling rental prices and low wages leaving little room for savings to put down a deposit, millions of individuals and families are stuck in unaffordable rental accommodation.
If Labour do get into power and this policy goes through, it will be the first time since 1989 that rent controls have been implemented in the UK housing market. Rents in the UK were regulated in some way for much of the 20th century, until all rental controls were removed in 1989 when all tenancies became either 'assured' or 'assured short hold' tenancies. However, critics of the proposal claim it would be disastrous for the housing market as landlords will pull investment from the sector, and housing supply will drop significantly, pushing up prices.
Despite the raft of criticism from the Conservatives and industry experts, a recent poll showed that the policy is very popular with the public – showing 59% in favour, 7% against and 34% with no opinion on the proposal.
Landlord's Must Reveal Previous Prices to Tenants
Labour also announced this weekend that they would force private landlords to inform possible tenants how much the previous tenants were paying.
This would highlight any extortionate rent rises and will put tenants in a much stronger and better informed position, allowing them to negotiate with unreasonable landlords.
3 Year Tenancies as Standard
This policy has been in the pipe-line for some time now, and most of the other major parties have announced similar proposals. By extending the length of a standard tenancy to 3 years, Labour hope to bring added security for both tenants and landlords.
Putting Pressure on Rogue Landlords
Rogue landlords who do not keep their properties up to basic standards will have their Buy-To-Let tax relief slashed as punishment, Labour announced this weekend. There have been some true horror stories from tenants in the private rental sector, and tales revenge evictions carried out on tenants who dare to complain about the sub-standard living conditions, have become commonplace. Tenants' rights group, Generation Rent, have been pressuring the government to do more to regulate the private rental sector and it seems that they are making an impression within the Labour party.
No Stamp Duty for FTBs
It is important to state here that stamp duty will only be abolished on homes worth up to £300,000 (effectively removing most London homes from the equation), but nonetheless this will be an attractive offer for First Time Buyers looking to get a helping hand onto the property ladder. Miliband claims that 90% of FTBs will benefit from the policy and each could save as much as £5,000.
'First Call' for First Time Buyers
Another announcement this weekend targeted at First Time Buyers was the 'First Call' scheme which will give FTBs, who have been living in an area for more than 3 years, first refusal on up to 50% of the new homes built in that area. This scheme will run in parallel with the 'Local First' initiative, which aims to ensure that local buyers are given the chance to buy local properties before foreign investors can step in.
Labour aim to achieve this by focusing on local advertising (which seems difficult given the international reach of the UK's leading property portals), increasing tax for foreign investors and raising Council Tax for empty homes.
So there you have it! An overview of Labour's weekend of housing revelations. To find out what the other parties have planned for the housing market, have a look at this summary of all the major parties housing policies in the run-up to the General Election. 
For a more detailed look at the Conservatives 'Right-To-Buy Revival' click here
by Franki Chaffin-Edwards