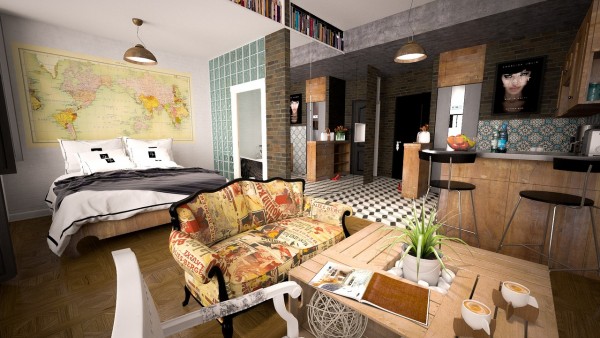 With more and more of us choosing to rent, and house prices soaring in cities like London, many people are turning to the option of a studio apartment when it comes to finding somewhere to live, particularly in urban locations. As with any property, studio apartments have their pros and cons; while they can be small, it is possible to make them work for you – and the best part is you won't have to share it when you do!
While not all studios are short on space, those that are tend to be restrictive in terms of how much needs to happen in one room. If this is the case for your apartment, using simple tricks to divide the space into clear areas can not only make the room easier to use, but could even make it feel more spacious.
Using lighting and flooring is a good place to start; picking different textures of flooring or rugs for kitchen, living room and sleeping areas will create a sense of separation without taking up actual floor space. This can also be achieved by cleverly laying out your furniture, for example setting chairs around a coffee table.
If you do like the idea of physically breaking up the room, however, then try using interesting accessories such as screens or side tables to separate your different areas without creating too much clutter.
The idea of keeping things minimal is ideal for studio apartments; even if you have a lot of things to store, try doing so in inventive ways in order to keep surfaces and floor areas clear and tidy. Smart furniture with hidden storage works really well for this; you can even make your own if you're on a budget!
It's well known that mirrors can make rooms feel larger, but don't forget to make the most of sources of light as well. Try to avoid strong, dark colour schemes – stick to coloured accessories on white if you really can't resist – and make the most of windows with subtle, yet eye-catching blinds or curtains.
One of the most important things to remember when making the most of a studio apartment is to use the space to your own advantage. Personalising the room with your favourite ornaments or artwork is an easy way to make any space feel like home, no matter how much space you have.
Find Properties to Rent in London and the Surrounding Area: