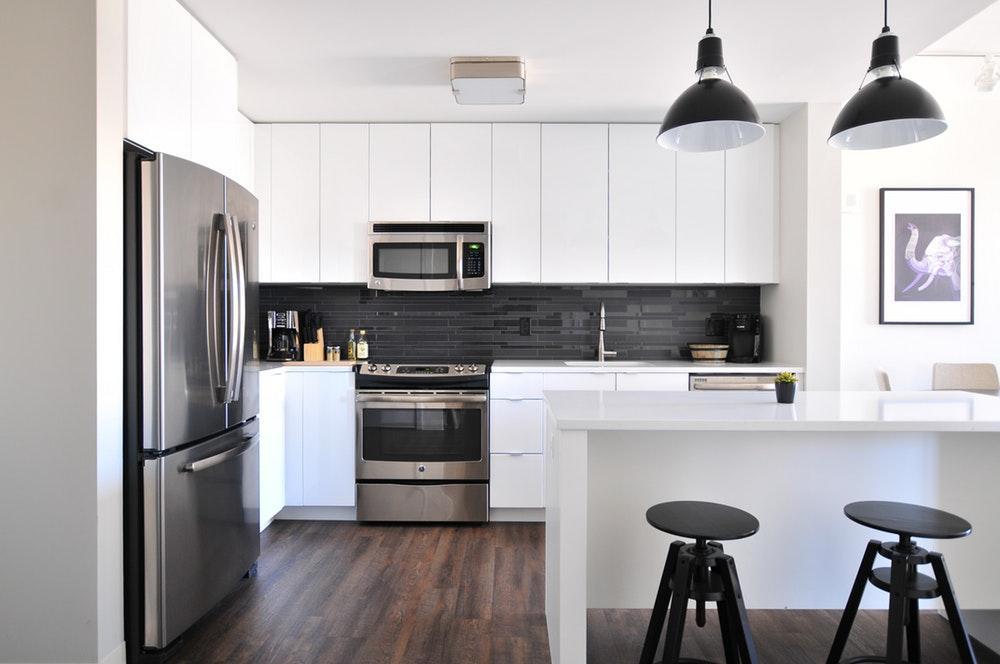 When it comes to choosing the right style, you can find yourself searching through what feels like an endless list of designs, material choices and features. And that's not even touching on whether or not the style you end up liking the most will fit into your budget or not.
Recently, several popular kitchen trends have started circulating through kitchens in Essex, helping bring both life and functionality to these spaces. Whether through fun colours, innovative modern features of different material choices, there's almost been a renaissance amongst kitchens in Essex that looks like it's soon to spread to the rest of the country!
And today, we're going to cover the most popular styles to inspire you to create a stunning kitchen!
Industrial Styles
While not in any way a new kitchen style, industrial kitchens have recently exploded in popularity, especially in and around Essex.
If there's one way to describe an industrial kitchen design, it's high-tech. This design incorporates all the best features of a professional kitchen with more fun, quirky touches to give it a more residential feel.
When it comes to colour, industrial kitchens make use of dark, colder shades paired either with warmer accents or clean, buffed metals. Many also make use of exposed brickwork, pipework as well as glass to help emphasise a cool-toned pallet. 
They also utilise clever storage solutions to help maximise space and functionality. Any kitchen can quickly become cluttered, especially if you haven't had time to have a proper tidy in a while or after major events like Christmas. The open shelving of an industrial kitchen can help with this. Crockery and utensils will be much easier to grab when cooking and won't clutter up valuable drawer and cabinet space. Having cereal, rice and sugar in clear jars and putting them on display will help save space while also looking both fun and attractive.
Stainless steel units should feature prominently, especially in areas like the sink and in drawers. It's a sturdy material that's also easy to wipe down and keep clean.
Copper Accents
There's been an increasing want for monochrome tones and metal finishes in Essex kitchens and with it, a rise in the demand for copper pieces.
Adding copper to your design is a great way to breathe some new life into your space without having to commit to a full redesign. It makes a great alternative to other metals as well as complimenting earthy tones very well.
It can be used in more aspects of your kitchen design than you might think at first. One place it can work very well is with lighting. Hanging copper lamps can bring a soft shine to your room as well as making an excellent focal point. Copper also works well on cabinet and door handles, especially if you're working with darker shades like black, navy or dark grey. Even if you can't be bothered to unscrew or change anything too much, you can still incorporate copper in your design by some hanging copper pots over your stove or including fun copper accessories like jars, mugs or cutlery on your worktop.
Quartz
Over the past few years, laminate has been a popular design choice for worktops and islands. However, recently more and more people in Essex have been upgrading to quartz for several reasons.
Strength. Quartz is one of the hardest naturally occurring materials found on Earth and, when used for design, small amounts of glass and metal are added to increase its durability. Whatever life throws at your kitchen you can rest easy knowing your worktop is scratch, water and heat resistant.
Beauty. Aside from its strength, it's also one of the most attractive materials you can use as part of your kitchen design. Even naturally, quartzes come in a variety of different colours including blacks, whites, browns, pinks, golds and blues. Whatever your kitchen design, quartz will make a nice addition.
Clean. As a material that's easy to wipe down and keep clean, it can make keeping your kitchen tidy a lot easier. Since its non-porous and naturally stain-resistant, it's a lot harder for bacteria to grow and spread.
Technology
Fun features like integrated Bluetooth speakers, pop up sockets to charge phones/laptops and built-in appliances are appearing all over the place and helping make kitchens as functional as possible.
One thing many of us deal with is having a small kitchen. Moving out for the first time or into a more urban area often means that you have to sacrifice space in favour of affordability. Luckily, with technology increasing, many common kitchens items have shrunk in size, making them able to fit in most kitchens. From small blenders, to fitted coffee machines to more compact appliances that can do the job of many (like a food processor), you can have the all the functionality of a larger, fully-kitted kitchen without cluttering your space.
Is your kitchen lacking flare? Maybe you're looking for inspiration for a proper redesign or just want to change up your space up a bit. Whether you want to make big or small changes, these designs have been rapidly spreading throughout the county, so why not get ahead of the curve and incorporate them into your design as well?