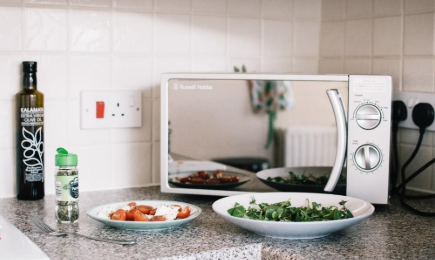 The microwave is one of the stars of the modern kitchen. A dependable microwave enables us to reheat food and prepare meals in a far more expedient manner than its cousin the oven. Unfortunately, people have a tendency to take these handy devices for granted and misuse them at every turn. Needless to say, such treatment can dramatically reduce the lifespan of even the most resilient microwave. To prevent such a fate from befalling your microwave, put the following pointers to good use.
Regularly Clean the Interior
Microwaves that are seldom cleaned tend to develop stubborn stains and terrible smells. Few things are less appetizing than being hit with an unpleasant aroma every time you open your microwave door, so if you value your olfactory senses, you'll need to make microwave cleaning a priority. Fortunately, compared to other essential kitchen appliances, microwaves are fairly easy to clean. Simply unplug the device and wipe down its interior with a mixture of warm water and dish soap. A good sponge and a little bit of elbow grease should be all it takes to purge any stains or bad smells that have accumulated since the last cleaning. Additionally, in the interest of preventing stains, make a point of wiping up any spills or splatters posthaste. The longer they're allowed to set in, the harder they'll be to get rid of.
Keep Unsafe Materials Out of the Device
While keeping unsafe materials out of microwaves may seem like basic common sense, a staggering number of people fail to adhere to this simple rule. For starters, under no circumstances should metal be put in a microwave. Not only will this destroy the appliance, but it also stands to set your entire kitchen – and possibly even your entire home – ablaze. Although many people are aware of this, it doesn't prevent them from absentmindedly placing metal objects in their microwaves, with stirring spoons in coffee cups being a prime example. This is why it pays to take a few moments to take stock of anything you intend to microwave. If the item(s) in question contain even a hint of metal, abstain from placing them in the microwave.
Furthermore, unless a food container is labeled as microwave-safe, do not attempt to microwave it. This stands to cause damage to the container and microwave and place your personal safety at risk.
Be Mindful of Surges
Since microwaves can be particularly sensitive to power surges, it's in your best interest to nip this problem in the bud. One way to do this is simply unplugging the device after each use. Not only will this dramatically reduce the risk of surge damage, it will prevent your microwave from becoming a vampire appliance and save you a little bit of money on your next power bill. If you can't be bothered to regularly unplug your microwave, at least plug the device into a resilient surge protector. Conversely, if you want to conserve energy and provide maximum surge protection, why not do both?
Acquaint Yourself with a Reliable Maintenance Service
Like any kitchen appliance, your microwave is going to give you the occasional problem. No matter how dependable the device is, periodic issues are simply unavoidable. When such issues arise, it pays to have a reliable maintenance service in your contacts list. A knowledge microwave repair professional will be able to find and remedy a wide array of common – and not so common – problems in a timely manner. Furthermore, a good repairman will be adept at identifying and fixing minor issues before they're able to become more serious – and costly. Anyone looking for a dependable appliance maintenance service in their current locale is urged to consult their preferred search engine or local phone book.
In the absence of a dependable microwave, reheating food and prepping assorted snacks would be considerably more cumbersome and time-consuming. Since microwaves have been around for most people's entire lifetimes, it's easy to see why these game-changing devices are so frequently taken for granted. It isn't until a microwave suffers an unexpected breakdown that many of us realize just how vital this tool is to food prep. Regularly performing the care and maintenance measures discussed above can help ensure that your microwave is alive and kicking for the foreseeable future.