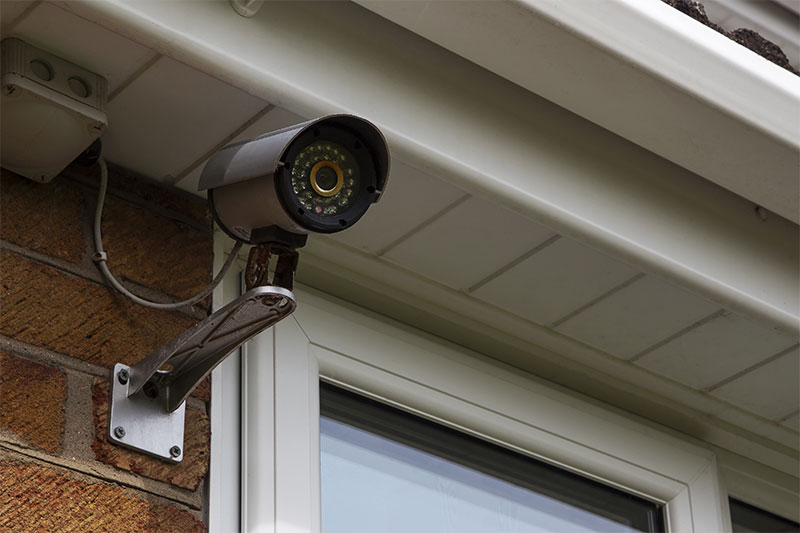 Security is paramount in the modern era, valuables are on the rise and with reported crime statistics continually on the rise over the UK we look at what can be done to protect and monitor vacant premises and properties in 2019.
Following a recent survey conducted by the Guardian, the number of empty houses in England has risen to well over 200,000 empty properties. If we look at how many empty retail premises are available, we can see a staggering figure that 10% of all shops in London are vacant. When it comes to industrial premises, this is hard to get a figure of how many are vacant, with the turnover of demolished premises and the resurgence of new industries, this becomes hard to quantify, but a conservative estimate would but this figure around 300,000.
Why are so many homes, industries, and retail premises vacant? And what can be done to keep them safe and secure?
With the average person moving homes 11.7 times throughout their lifespan, it's no surprise that there are several family homes vacant, whether being vacant for a few days or several years, vacant properties are an unavoidable situation and part of the 21st century. When it comes to industries or retail, the SBA (small business association) state that about 30% of new businesses fail within the first 2 years, in five years about 50% will fail and 66% will usually fail within 10 years. With figures for industry alarmingly high it's no surprise we experience a vast amount of vacant industry premises across the UK.
Whether a property owner or industry landlord, you are more than likely to experience the unpleasantries of Vacant property crime. A recent crime report found that the furniture retailer Homesdirect365 was a victim to theft when it's building was unattended at the early hours of a weekday morning, following the theft they are subsequently looking for bigger and more secure premises.
Unfortunately, vacant premises are attractive to many squatters, vandals and thieves on the lookout for literally anything sellable or tradeable, so keeping yours safe and protected is of paramount.

Vacant Property Management and Security
Empty Property Security
Possibly the safest way to secure any premises is to look at hiring site security, it is the most expensive option on our list but also the most secure. The trusted specialists and leading company in this field are VPS site security. Leading not only the UK but also Europe in empty property security, VPS site security is experts in the field and can offer personalised and specialised solutions. Having known customers who have dealt directly with VPS Halesowen, we are aware of the esteemed and deserved reputation offered.
The specialist equipment used when hiring property security can vary from company to company, but the vast majority all use VPS alarms, ranging from; VPS smart alarm, alarm systems with video sensors and smart alarm verify visually.
Vacant Property Management
Vacant property management, extremely to VPS, however, hiring a vacant property management company can reduce the hassle of managing your property and finding potential tenants. Including in the management service is security and property tenancy. Companies such as Carter Jones and Ad Hoc Property handle all upkeeping and letting services for tenancy agreements. Possibly the biggest example of a Vacant property management service is the Camelot property guardian, originally established in the Netherlands, the service offered became so popular that it's now available across Europe and offers the service of only security. Vacant property management is a viable option if you are happy to let someone else take full control and do all the leg work, this option, although great for people with hectic lives comes at a hefty cost.
Vacant Home Monitoring – DIY
Fancy doing it all yourself? The cost is generally cheaper but, on the downside, requires a lot of your own time, effort and puts your DIY skillset to the test. The upside is that nobody knows the property, area, and dangers that are present in your area better than yourself. If squatters are the only concern than simply preventing access is usually a good enough solution rather than going all out and installing unnecessary equipment which incurs additional costs.
Vacant Property Security Screens
Probably the most common security feature of a vacant building is security screens. Have a walk through your local housing estate and you will no doubt see plenty of vacant buildings protected by these practical screens. Perfect to simply seal up window and openings, preventing any unauthorised access. Most commonly provided by Sitex Orbis, security screens come with huge benefits such as;
Creates a solid and strong steel barrier over windows and openings
Visible deterrent to squatters and criminals
Fitted from the inside of buildings to prevent any damage in installation
Perforated screens allow internal viewings and air ventilation for your property
Available for hire or purchase
For a full in-depth guide on how to fit your own Sitex Orbis security screen, click here.

Outdoor Motion Sensor
A motion sensor acts as a strong deterrent rather than a prevention method. Simply install a motion sensor such as the Philips hue outdoor motion sensor on the wall of an entrance and as soon as the infrared light is tripped the light will beam on. Whilst far from an entry proof method it provides a strong deterrent and is easy to install, ran on a couple of batteries and at a relatively low cost. Amongst Philips, a popular choice is a Steinel brand, for full instructions and simple installation guides for various models visit the Steinel instructions and models that can be found here
Following reports that 90% of vandalism or break-ins occur out of direct light, it gives the owner confidence that most crimes will be prevented solely by the strong beam of light highlighting their presence. Considering the price and it's ease to install, this option might appeal to many who are on a budget.
Vacant Property Insurance
If you are confident that your vacant property will be safe if left unattended or are able to visit frequently, then vacant property insurance is probably the route to go. Whilst not offering direct security such as the options above it does provide cover and compensation for a variety of circumstances. Most vacant property insurers offer cover for up to £50,000, which includes damage to the structure and the contents of the building. Short and long-term contracts are available, so you are not tied down. Ideal if you suddenly find yourself dealing with a vacant property or building and want reassurance fast. The downside, however, is that cover for large industrial premises with high value are often hard to find and this option doesn't prevent squatters or vandals from entering your home beyond its current security. If you can't find any reputable property insurers, we recommend checking our Towergate insurance reviews or Vasek insurance reviews for some positive experiences with those popular insurers.