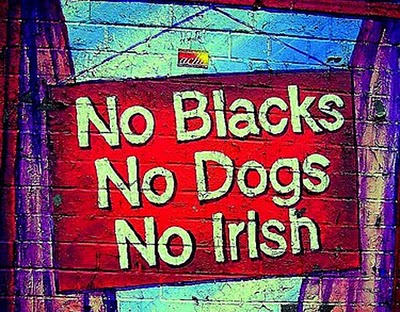 The BBC reveals the levels of racism that exist within the UK letting sector as they film a letting agent that exerts racist practices upon unsuspecting black tenants. The undercover research is shocking but in my view not surprising. Racism in the housing sector is subtle and done with a nod and wink. It is something that will not go away as letting agents and estate agents give their clients what they want. 
"Money talks and some agents are very financially motivated in making lots of it, so what do you expect!"

Discriminatory practices like the ones seen in the BBC undercover filming will sadly not go away. Housing seems to get the worst out of people and racism is no exception. Gone are the days in the 1960's of "No Dogs, No Blacks No Irish". Things are a lot more subtle for sure. See BBC Video here

How common are these racist landlords?
The BBC London TV show found that 10 firms told a reporter posing as a landlord they would not let to African-Caribbean people at his request. I wonder what other cities are like in the UK or is this just a London thing?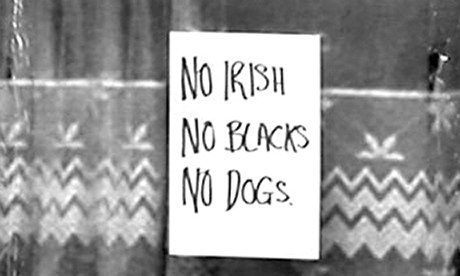 A Racist charter to stop black tenants
A selection of comments from other letting agents willing to discriminate on behalf of a landlord included
"We can tell from speaking to them on the phone what their colour is."
"Without openly advertising that it's no Afro-Caribbeans allowed, we'd obviously understand that it's not available."
"We're in this age where people want to be politically correct, but without being racist, it happens."
"We can always make an excuse that it's under offer, we are just waiting for someone's references."
"Any landlord who is not happy with any nation, we have no problem with that. I'm not going to see like you are racist."
A black researcher was denied viewings, yet his white counterpart was welcomed.
BBC London was initially tipped off certain letting agents were willing to discriminate against African-Caribbean people on behalf of landlords, with the alleged misdoing rife in parts of west London.
To expose the practices, a plush three-bedroom flat in north Kensington was acquired. Letting agents from 10 firms were invited to assess its rental value.
'Sorry, it's gone'
All 10 were recorded on secret camera saying they would be prepared not to show the flat to African-Caribbean people – and many detailed how they had done it before.
The lettings manager at A to Z Property Services, in Dollis Hill, said: "We cannot be shown discriminating against a community. But obviously we've got our ways around that.
Landlords Breaking The Law
Landlords that insist that they have a tenant that matches a particular race, age gender etc break the law.
The Equality Act 2010 makes your rights not to be discriminated against, discrimination means treating someone worse than other people because of who they are.
The groups of people who have the right not be discriminated against have also been extended. People who belong to these groups have what are called protected characteristics.
It doesn't matter whether any of these characteristics apply to you, or the people in your life. If you are treated worse because someone thinks you belong to a group of people with protected characteristics, this is discrimination.
The Act now also protects you if people in your life, such as family members, friends or co-workers have a protected characteristic and you are treated less favourably because of that. For example, you are discriminated against because your son is gay.
The characteristics that are protected by the Equality Act 2010 are:
age, disability, marriage or civil partnership (in employment only) pregnancy and maternity,
race, religion or belief, sex, sexual orientation
The Equality Act 2010 covers you at work and when you use services, such as shops, rental property, housing , hotels or gyms, hospitals or other free services.
I congratulate BBC London in this research, its a wake up call for those agents making immoral judgements that serve to unfairly treat people owing to the colour of their skin.

Author :
Nick Marr
Find Properties to Rent in London and the Surrounding Area: