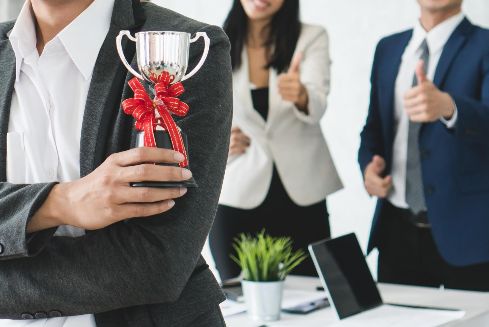 Having a good employee rewards systems in place encourages productivity, which leads to sales. Find out here how to reward your agents when they sell a home.
It takes talent to close a deal. Do your agents know how much you appreciate them?
Studies show that positive reinforcement drastically improves productivity, employee morale, and even physical health.
If your agency isn't seeing the sales it wants, try a more positive approach. On the flip side, if home sales are booming, take your agency to the next level with proven employee reward systems.
Ready to put a smile on your agents' faces?
Don't miss these invaluable tips for employee rewards systems!
Annual Bonuses
What's the best way to cap off a stellar year in real estate?
Nothing says employee appreciation like a little extra cash at the end of the year. It's also an excellent way to encourage agents to sell more homes quicker.
Sales is a competitive industry, and many agents thrive in a competitive atmosphere. One idea is to turn your end-of-year bonuses into a competition.
Introduce More Incentives
Competitive annual bonuses are a type of incentive. Get creative with your incentives and think of more ways to inspire healthy competition and more home sales.
Create a new competition every quarter. You could reward top agents with vacation packages, 5-star dining gift certificates, and big-ticket electronics.
Think of ways your agents want to enhance their lifestyles, and base your employee reward systems around that.
Agent of the Month
Is there a particular agent that always goes above and beyond? It's time to give them the spotlight they deserve!
Implement an agent-of-the-month program that recognizes your brightest stars.
Top sales are just one factor of a great agent. Recognize agents that help new agents succeed. It's important to acknowledge and groom natural leaders on your team.
There are many ways to celebrate an agent of the month. Try these ideas to start:
Throw a company-wide party

Decorate cupcakes with little houses

Gift your agent of the month with a food basket

Create a mini-movie of your agent's accomplishments

Personalize real estate-themed gifts
Don't forget to give your top agent an award on their desk! Engrave a trophy, or use award certificate templates to create custom real estate awards.
Agency Swag
Free goodies make everyone happy. When an agent sells a house, reward them with a sweet agency swag bag!
Swag bags are an excellent way to promote your agency to buyers, sellers, and aspiring agents too. Brand mugs, t-shirts, pencils, laptops, cell phone cases, plushies, and more gifts with your unique logo.
Pop the Champagne!
Selling a house is a win-win for your agency and your top agent. Celebrate the moment by popping a bottle of champagne.
Remember to keep it classy. Go the extra mile and serve cheese, fruit, and desserts with your celebratory champagne.
Another idea is to take your agents to a classy establishment for fancy cocktails and hors d'oeuvres.
Rent out a VIP room to give your agents a genuine 5-star experience! Now, this is an employee rewards system your agents can get behind.
Try Employee Rewards Systems That Work
You can never have too many home sales. Inspire your team to go further with enticing employee rewards systems.
The more homes your agents sell, the faster your real estate agency will grow. These tips are just the start. Remember to check back often for more insider advice!