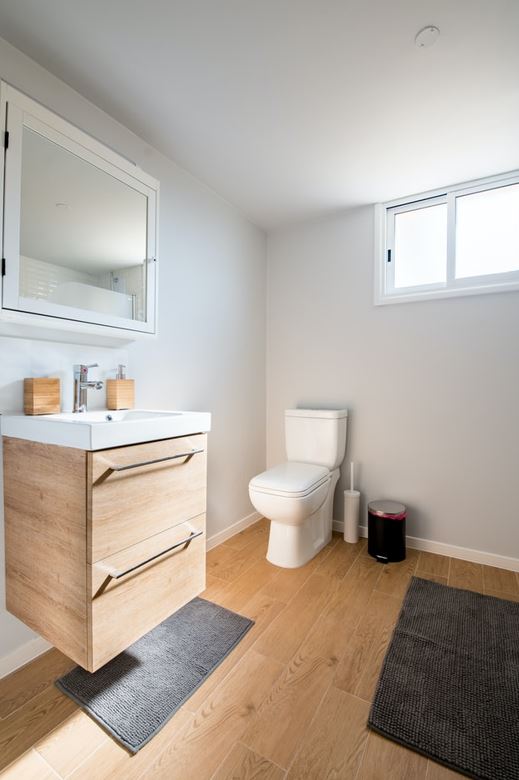 Having a small bathroom shouldn't mean that you need to compromise on style or storage. On the contrary, there are plenty of hacks available to boost your space and make the most of a more compact bathroom. But before you begin to consider storage options, it's a good idea to take a look at the fittings to boost spaciousness. If you're just getting started with redesigning your bathroom, consider these general tips for space-saving options for compact bathrooms first.
Remodel with space-saving fixtures
Fixtures and fittings that optimise your space without compromising on design are just one way among others to make your bathroom feel bigger. This includes opting for designs that make sense of the room you've got. Wall-hung fittings like toilets and sinks are a great option to get started when remodelling for maximum space. Head showers, for example, are one way to open up some room without compromising on a luxurious shower experience. If you've got a separate shower and bathtub, consider combining the two as that will save plenty of space. But what about storage? Our bathroom storage ideas can help you squeeze a bit more space into your bathroom.
Add a shelf above or below the sink
Extra shelving always comes in handy, especially in a bathroom where toiletries and cleaning products can quickly accumulate. You'll want to use wall space where possible. And not only does wall shelving look great, but it's also a neat way to store items. To maximise your available storage space, you could add a simple shelf above or below your sink. These provide a great surface for extra cosmetics. Spaces below the sink often go overlooked but adding a shelf here could make for nice storage space for cleaning supplies and toilet roll.
Install a towel rack on the door
When you're trying to organise the space in your bathroom, a free-standing towel rack could quickly take up valuable space. Wall-hung items are often your best bet to make the room less cluttered. Making use of the space behind the door is just one creative bathroom storage idea. Mount towel rails to the back of your bathroom door to hang several towels.
Use the space above your bathroom door
Depending on the height of your ceiling, you may be able to add a shelf above your bathroom door. This is a great option to store towels and other items that you'd like to hide from plain view. You could also add a bathroom-friendly plant up here to add a bit of homely flair.
Consider the free space above your toilet
Another area that's often overlooked when considering storage in a compact bathroom is the space above the toilet. You could add a cabinet or shelving unit here. Or to keep things, even more, simple, just grab a wire or wicker basket and store lose toiletries on top of your toilet.
Install a cabinet below the sink
Bathroom cabinets below the sink are an excellent way to store plenty of toiletries and cleaning supplies. Under-sink storage uses unused storage space, making it one of the best bathroom accessories available. You could add magnetic strips to the inside of the cabinet door to keep smaller items like nail clippers organised and within easy reach.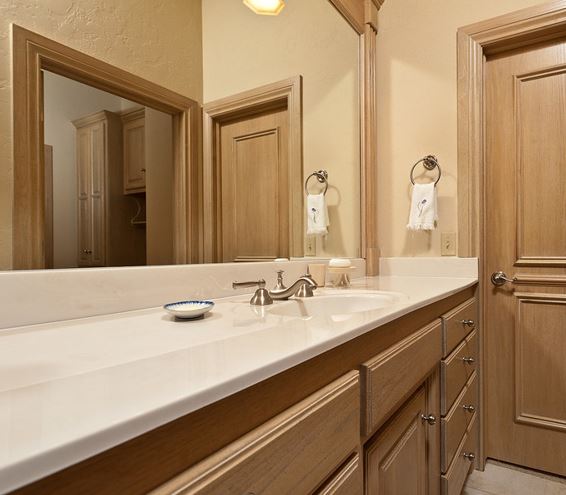 Get a dual purpose mirror
A mirror that also functions as a cabinet is a genius solution to storing smaller items like lipsticks or medicines. Not only can mirrors add depth to a room, but the hidden storage space will also come in handy for items you prefer to keep out of sight.
Hang baskets on the wall or towel rails
When you're really pressed for space, baskets are a great solution to keeping your bathroom items neatly stored. They're also easier to install than shelves and can be a stylish, DIY-feel option to store toilet roll and supplies.
Add shower rods and rails
If you can't find the space to store shampoo bottles and soaps, here's a great hack: install an extra shower rod and grab some hooks to hang essential bath items like caps, shower gels and loofahs from.
Vertical storage
If it's difficult to add things onto the walls because of tiling, consider vertical storage towers and wooden ladders to hang your towels on. You could buy hooks and install baskets to the ladders to store smaller items without having to drill into the walls.
Ref number: THSI-2051