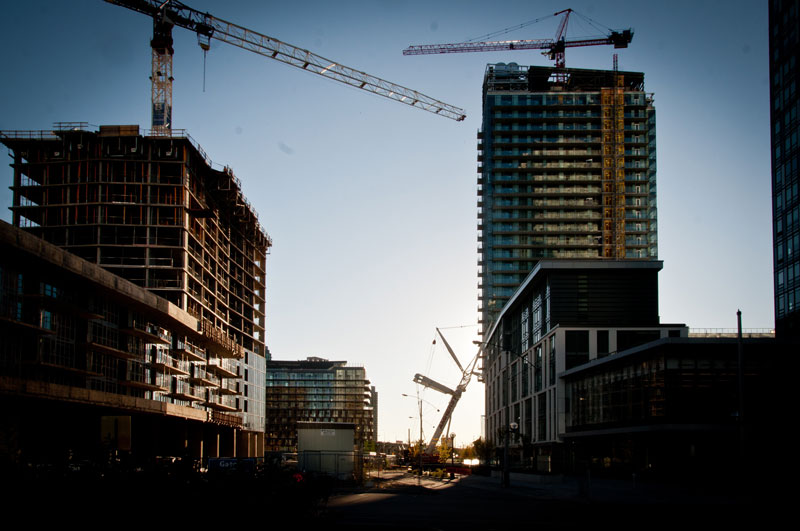 Planning a construction project can be very tedious yet rewarding. 
Construction can be compared to a moving train that is difficult to stop once it starts so it's important to plan projects effectively before getting started.
Once financing is in order, many Developers and General Contractors try to rush through projects and end up coming in over budget when it could've been prevented with proper planning.  By spending time planning budgets and even in listing the aid of a commercial construction estimating services company, projects can be more accurately estimated and budgeted for.
Strategies for Planning a Successful Construction Project
Communication
The first and probably most important part of the planning period of a project, also known as pre-construction, is the flow of communication.
Architects and General Contractors typically work together to finalize contract drawings and getting projects permitted and approved by financing.
Getting everybody on board is essential for the success of a project. You can use Construction software that can help you track bids and budgets. 
Independent Cost Estimates
When you are a Developer or Real Estate owner, even a General Contractor, using an independent cost estimating company can help you establish more accurate budgets.
These companies specialize in estimating for construction, and are a great resource for accurate and current pricing.
Takeoff and estimating companies use a variety of technology and innovation to price projects. Many of them are construction management experts or consultants and even build projects locally.
Some companies use digital takeoff software to prepare the quantities for projects, and then put together a spreadsheet commonly in Microsoft excel.  They even use cost database software that is updated frequently.
Software like RS Means or National Construction Estimator are very accurate databases that construction companies and estimators use.
If you can afford to hire an estimator in house as an employee, this is going be the most valuable person in your company. Estimators can cost up to $100,000 a year so some smaller contractors can't afford that. They even use cost database software that is updated frequently.
Be a Planner
Many builders tend to be great at building, but might have challenges during the planning phases. That's why it is advisable to either take a step back and become a planner, or hire a project manager to take charge of the project planning and administration.
Gantt charts are very common in construction because you can plan multiple phases and parts of the project simultaneously. Many parts of the project are depending on other parts being finished, or can be planned so they can be completed simultaneously.
For example, footings need to be prepared before a concrete slab can be poured most of the time, so a Gantt chart would show the slab work starting once the footings are completed. Then you have circumstances like exterior work such as stucco can be performed simultaneously while the interior drywall is being put up.
Most Project Management software has some sort of Gantt chart or project planning system. I advise anyone building a construction project to invest in a Gantt chart because it will help you plan the overall project and know when to schedule certain trades.
Larger project will require this. Smaller projects can easily be managed without one if you have a good superintendent.
Incorporate Technology
There are modern advancements in construction such as modular prefabrication that can be implemented into projects they can save time and even cost and materials.
There are also software packages that specialize in project management, estimating, bid management, and accounting that can help in the planning of a construction project.
One of the most popular software packages for construction is called Procore. Procore is designed to let contractors run their entire project through the software. It even integrates with accounting software such as QuickBooks.  There are others such as Corecon they can do similar functions.
Bid Management is also important because you can compile important Subcontractor or estimating information and it be easily accessible.
Lastly, there is an abundance of technology that has been developed to streamline the construction in the field. There are new machines and even a 3-D printer is in development that can build entire projects in a matter of days instead of months.
Maintaining a Unique Selling Proposition
This one is more for Developers or Real Estate Investors. Many projects can be streamlined by getting owners and investors to participate.
If you are breaking ground on a project, you can use social media and other types of advertising to recruit investors and even potential buyers. This will require a great unique selling proposition which is essentially answering the question why should they buy from you?
Start by putting out Facebook and Google ads targeting the right type of clients that should be seeing your project. You may need to tailor the message a bit and focus more on whether they are an investor or a potential buyer for your project.
If you are building for investment as a rental, you may need to include information about leasing and why your new apartment building might be the best in the city.
Review Construction Activities
Part of planning is getting your Superintendent or Supervisor involved during the planning phases.
If you speak with a construction superintendent, they will tell you that the planning portion of the project never ends until you turn over the building to the owner.
You can plan all you want before the train starts moving, but things come up in construction that will require continued planning and execution, sometimes performed simultaneously.
We talked about Gantt charts and project planning earlier in this article, but we'll talk a little bit more about it since we are talking about the execution of it. Construction activities need to be properly planned to make sure to not waste time.
Projects should be built as fast as possible to avoid holding costs in real estate. In other words, time is money.
This is why one of the highest-paid employees in a construction company Is the project superintendent. He is the one responsible for planning field activities, scheduling contractors and Subcontractors, planning deliveries, and figuring out solutions to problems in the field. This guy needs to be technically savvy while also being a bit tough to manage the contractor working class.
Have a Good Team
Last but not least, having a great team is critical to the success of your projects.
Your team should be comprised of a project management team, supervision team, purchasing team, estimating team, and accounting on financing team. Each one of these are critical parts of any construction business and every construction project.
Your project management team should have a good amount of experience planning projects and working on them administratively. They will be responsible for interaction between the field and the architect and owner. They are also the ones ultimate really responsible for successful completion of the project and often work side-by-side with the project superintendent.
The supervision team typically involves a general superintendent on the project superintendent. These two employees work side-by-side to execute the construction. They are also responsible for field activities and managing employees and Subcontractors.
Your purchasing and estimating teams are also important because project managers will rely on the accuracy of the estimates and the success of the purchasing department and negotiating prices.
Conclusion
By implementing these strategies, you're setting yourself up for success by avoiding common pitfalls in construction.
There is a famous saying that says prior proper planning prevents poor performance. By planning projects and building a team that can help you plan and execute, you can almost guarantee a successful project.