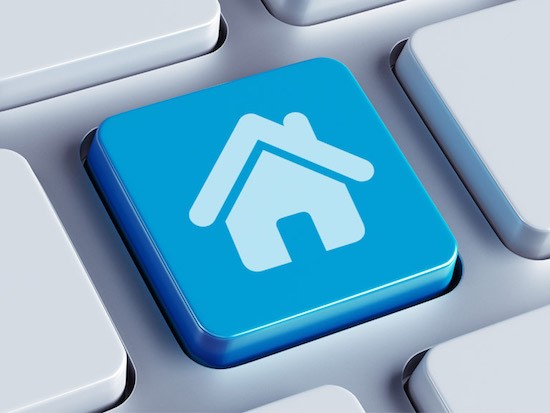 For the past two years, the UK property market has been on a steady downward spiral.  The 2016 Brexit referendum, increases in stamp duty and changes to the taxing of buy-to-let properties have left the once buoyant market in limbo.
Even with the overall decline in the industry, there have been two areas of growth, regional markets and online estate agents.  As traditional local estate agencies have come under pressure, the online sector has expanded by demonstrating strong consumer engagement and value for money.
The growth of the online line sector will increase as homeowners, trying to sell in this challenging period, look for the most efficient, relevant and accessible mechanism for doing so.  They also do not want to pay extortionate unnecessary fees, reducing their overall profit.
Pricing
Local and online agents can absolutely co-exist in the long term with the right pricing, efficiencies and focus on customer service. Key differences for instance between online and traditional estate agents is the focus on commission. Although these rates have been dropping in the last decade (typically 2.5-3%, now as low as 0.75% of the property value), the difference between £250,000 and £255,000 is low when it comes to commission, therefore a traditional agent is less inclined to push as hard for the additional £5000 on the price of a property.
On the other hand, more online agencies are being funnelled into a more 'hybrid' approach, providing all the standard services of a local estate agent but still retaining their online presence. It is no surprise that more online estate agents are now offering 'sell now, pay later' packages, in order to build trust with hesitant customers who have traditionally relied in local estate agents.
Market Share
As we see the online sector grow, the question as to whether or not Purplebricks retains its market dominance is unknown. The focus will always be on delivering excellent customer service and retaining positive transactions, ensuring this is maintained is vital to any agent, local or online.
Latest research figures by Propertyroad have shown that the largest online estate agents have recorded even bigger listing share growth in the past year. The unfortunate demise of eMoov and Tepilo remind us all of the harsh realities in an unforgiving market. Purplebricks and Yopa (the two largest online estate agents have capitalised on this by increasing their share of listings by 6.2% and 5.4% respectively. Purplebricks continue to dominate  the online estate agent market, accounting for over 57% of active listings.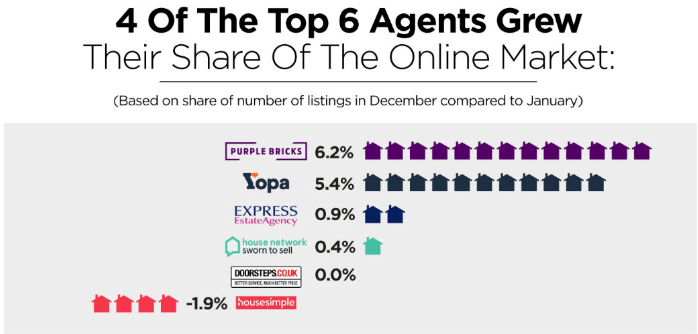 With there being a further emerging gap between the top 6 online agents compared to the rest, it is very likely that we will see more smaller firms either closing down or being bought up by the larger firms.
Technology
The latest generation of buyers and sellers are tech-savvy, time-sensitive and are accustomed to buying and selling goods online. The majority of buyers will use a portal, this is out of convenience and ability to view a larger scope of the market. This is the main benefit online estate agents have over traditional high street agents. With less time available for sellers to wait for and visit agents for every query, traditional agents will need to focus their efforts on successfully merging their current services with the appeal for online flexibility.
As with all technology, consumers take time to adapt and need to trust in the system they are investing time in. Selling what is the majority of any individuals largest asset is extremely significant and as time progresses, more and more individuals will adopt the use of technology and see that the customer service is never comprised, only enhanced by doing so.