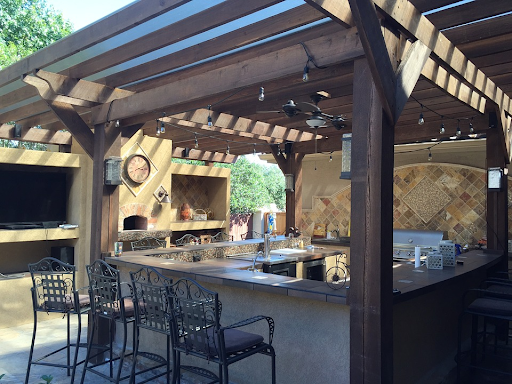 Over the last couple of years, outdoor kitchens have been one of the most desired additions when designing a new house. Outdoor kitchens will grow more widespread in newly constructed homes, and they are the most popular addition to existing homes today. So, how much does an outdoor kitchen cost to install or buy? Which type of outdoor kitchen should you purchase? Numerous considerations decide what you pick and how much it will cost, just as with any other outdoor living area.
You Choose Everything
The apparent advantage of a prefabricated kitchen is that it is virtually built for you; all you have to do is have it delivered and put it up. Some prefabricated outdoor kitchens require minor assembly, while others require you to construct it yourself. It does, however, come with everything you'll need, except for some appliances, which you may add if you choose. There are a variety of prefabricated kitchens to pick from, depending on the size and materials you like.
It Saves You Money
By using a prefabricated kitchen for your outdoor kitchen, you may save money. By no means are they fragile or cheap-looking. They're lovely, and they're constructed of high-quality materials. There are a variety of sizes and layouts to choose from, so you can find the one that best suits your needs. Some models additionally have the option of adding a grill or refrigerator and the ability to select different countertop colours and materials. Also, you can check out an affordable but quite fantastic prefab outdoor kitchen island to further improve your outdoor kitchen and make it a lovely place for spending time with your family and friends. This prefabricated island can be the best option if you're on a budget. In terms of price, this choice is the most affordable.
You Can Add a Pergola
A pergola is an outdoor structure with a wood or metal framework that provides protection and shade. You can have one made specifically for your patio, providing excellent shade and protection from the elements. Have one large enough to cover your entire patio or one small enough to cover your outdoor kitchen and dining area. You may also add twinkling lights or climbing plants to it.
Outdoor Kitchen Is a Symbol of Convenience
If you want to entertain friends on the deck, by the pool, or in the garden, an outdoor kitchen makes it even simpler. If you don't have one, you're stuck serving simple grilled items or commuting from the kitchen to the backyard. An outdoor kitchen means you'll have additional appliances at your disposal right away to prepare a wide range of cuisine for you and your guests.
There Is Room for Mistakes
Appliances, countertops, and other kitchen elements are often not included in a prefabricated outdoor kitchen. The procedure will take significantly longer as a result of this. You'll need to find appliances, countertops, and someone to complete the surround now. All of these extra responsibilities you have to handle raise the chances of making mistakes. Of course, constructing an outdoor kitchen should be enjoyable and not a frustrating situation. 
You Cannot Do It Alone.
Without experience, installing an outdoor kitchen can be a difficult task. Due to natural forces such as wind, specific considerations must be taken to ensure structural integrity and longevity while adhering to local construction requirements. Securing the cabinets to an immovable structure is frequently required in high-wind situations. To ensure that doors and drawers open and close correctly, make sure that cabinets are level, square, and plumb. In short, hiring specialists will ensure that all bases are covered for a smooth installation process from beginning to end.

It Is A Bit Challenging
Prefabricated outdoor kitchens may be found at large box shops or online, and they arrive fully assembled and delivered to your home. It is up to you to get it into your backyard, which can be a challenging task and may need hiring a contractor with the necessary equipment. It might be a massive task to install a prefabricated outdoor barbecue island. If your backyard is small or uneven, you might want to think about a different option.
The prefab option, like anything else, has pros and cons. To make the best decision, you must evaluate both sides. Consider the size and form of your backyard, as well as the amount of money you have to spend on an outdoor kitchen and how often you will use it. Suppose you want to make your outdoor experience more delightful. In that case, you should learn all about the benefits and drawbacks of prefabricated outdoor kitchens before deciding whether this choice is right for you or whether you should settle for something more practical.
Ref: THSI-2537 / ZD.22942