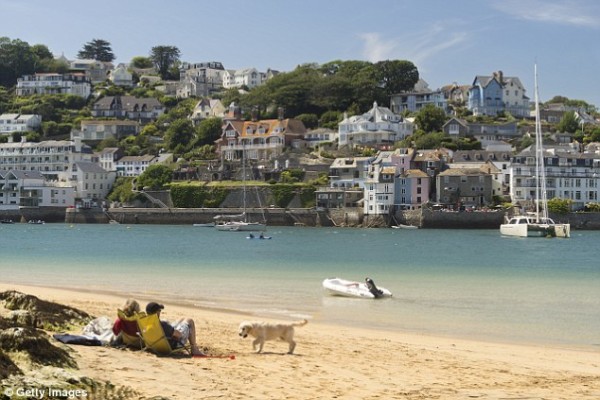 Annual house price growth at lowest rate since July 2013 – Estate Agency Today
New figures show that the annual rate of the UK's house prices growth has taken a nose-dive in the last month, reaching a figure not seen since July 2013. 
The latest house price index from Halifax reports that annual house price growth dipped during February.
The bank recorded annual house price growth at 5.1% last month, down from 5.7% in January.
Halifax's figures present a contrast to the latest Nationwide index – released last week – which shows annual growth edging up by 0.2% to 4.5% in
Six ways Government can help leasehold property owners – The Daily Mail Online
Many owners of leasehold property are unaware of the hidden costs that face them once they have signed on the dotted line. The Government have now started to take note of the dangers leaseholders are facing, such as ground rent rises and hiked increases to management fees. 
One measure suggested by the Government to fix what it called 'the broken housing market' is to help leaseholders – in particular, with the rising costs they often face.
In particular, it highlighted in its recent White Paper how some house-hunters are unaware when they buy a leasehold property about the potential increasing costs involved, such as possible 700 per cent rises in ground rent or annual increases in management fees.
'Leasehold has been a traditional part of the housing market in this country but there are areas where urgent reform may be need,' the The White Paper stated.
Berkshire and Essex top choices for first-time buyers: 10 commuter hotspots for exiting Londoners in search of good value homes and fast commutes – Evening Standard
With the ever increasing property prices in London, first time buyers are starting a new trend in the property market by looking for their first home in the commuter belt instead. The most popular commuter belt areas for affordable property are in Berkshire and Essex. 
Young buyers are increasingly skipping the traditional first step of purchasing a flat in London and instead moving straight to commuter spots, such as Slough and Basildon, where they can afford a house.
Endlessly mocked in poetry, song and TV shows, Slough, possibly the least glamorous town in Britain, can finally feel smug.
Its good-value houses and great commuter links, soon to include Crossrail, have propelled the Berkshire town into first place in a league table of home counties hotspots for London first-time buyers who want a house rather than a flat. Basildon in Essex comes second.
Here is how you can afford to buy your own home – Metro
Those struggling to get a foot on the property ladder are baffled as to how they can ever save up for the dreaded deposit. However, all is not lost, as there are money saving tips out there that can help little by little, to them get to the point of home ownership.
Holding those precious keys in your hand and knowing it's all yours. You've finally done it – you've succeeded in getting that difficult first foot on the property ladder. It's a euphoric feeling like no other.
Us Brits have always been a proud nation of homeowners. Getting that first place is about so much more than bricks and mortar. It is setting down roots, building a potential nest and investing in your future.
These days owning your own home can feel like a dream. Unless you're blessed with some very generous relatives or a well-paying job, the likelihood of saving enough for the large deposit required feels low.
Prime rents in London to stay flat until 2018 – Landlord Today
Good news for the capital's tenants as rental prices continue to fall on prime areas in zone 1, following the Brexit impact on the property market. 
Rental prices continued to fall across prime central London during the fourth quarter of last year, but values are expected to remain stable during 2017 before pushing higher from 2018, according to JLL.
The company's latest prime central London report shows that rental values fell by 3.1% in Q4 2016, marking the fourth consecutive quarterly fall, which left rental values 8.6% lower during the course of 2016.
The 3.1% decline in the final quarter was greater than the 1.9% and 2.3% declines witnessed in Q2 and Q3 respectively, but importantly JLL do not expect the trend of escalating falls to continue.
Can't afford a second home by the sea? These six attractive coastal towns could be cheaper than you imagined – The Daily Mail Online
Since the economic downturn of the last 9 years, the dream of owning a holiday home by the sea has fallen by the wayside for many as the price of property has skyrocketed across the country. However, new possibilities are emerging and this dream could even be turned into a reality for the property savvy. 
They're not just for the yachting set. Yes, owning a holiday home is a pricey option in hotspots such as Padstow in Cornwall and Salcombe in Devon, but there are plenty of tempting, cheaper alternatives.
After all, the UK has 11,000 miles of coastline. Better-value areas are often less well served by road or rail and can be quiet in the winter, but have better value homes.
'If you're prepared to travel, your money will go further. You might pick the next fashionable place and see a greater return on your investment,' says Robin Gould, of the buying agency Prime Purchase.
Beyoncé and Jay Z haggle for a Hollywood home: A-List stars look to buy £85m mega mansion complete with aquarium, bowling alley and nightclub – Evening Standard
It's refreshing to see that even our favorite A-list stars from across the pond, are also experiencing the agro of property price negotiation. If you are going through a house sale at the moment then at least Jay Z and Beyoncé are feeling your pain, even if their new mansion puts your new castle to shame!
Two of the world's biggest and richest music stars have fallen for a 123-room Hollywood mega mansion, but are now trying to negotiate on the £85 million price tag.
Even the biggest music stars love to haggle, it seems. Beyoncé and Jay Z are trying to get British heiress Petra Stunt, daughter of F1 billionaire Bernie Ecclestone, and her husband James down on the £85 million asking price for their 123-room Hollywood mega mansion.
The Lemonade singer and her rap mogul husband, who have a daughter, Blue Ivy, five, and are expecting twins secretly viewed the 57,000sq ft estate while looking for a bigger place for their growing brood.
Find Properties for Sale in London and the Surrounding Area: