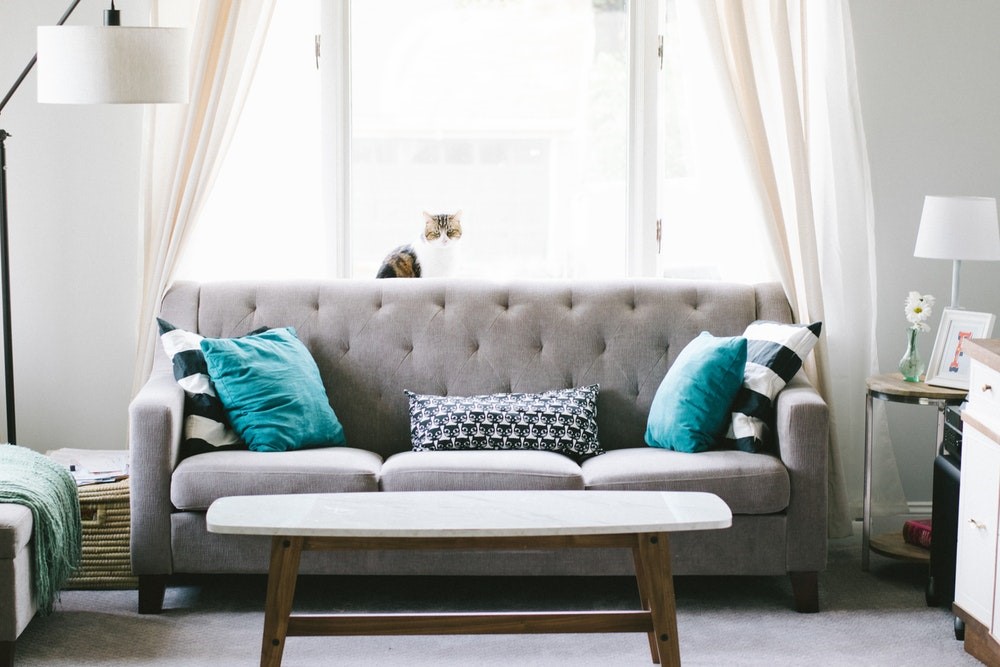 Not only do fabric sofas look great in the living room, but they are also incredibly cosy, especially for those cold winter months. But cleaning them can be a particularly difficult challenge. Tea and coffee spillages are going to happen every now and then, and unless you are going to use a plastic cover on your sofa, you will need to know how to clean one efficiently. During this short guide, we will run you through some of the best ways to freshen up your fabric sofa.
When reading through this short guide, if you are unsure whether some of our tips are suitable for the type of fabric sofa you have, upholstery suppliers can provide you with the professional advice you need.
Before you start to clean your fabric sofa, you must take a few factors into mind to clean it properly.
1. Review the Sofa Manufacturer's Instructions
It's important always to check the manufacturer's cleaning instructions before you start cleaning the sofa. If you don't, you could be in danger of voiding the product warranty or completely ruining the sofa.
2. Check the Sofa's Tags
Don't worry if you can't locate the manufacturers' instructions. There will be a tag somewhere on your sofa (most commonly, they are on the cushions) that give you some cleaning information. Please keep in mind that some tags will have information on both sides. One side might have instructions on cleaning the cushions and the opposite for the rest of the sofa, so it's essential to ensure you read the right instructions before cleaning.
3. Understand What the Upholstery Cleaning Codes Mean
Whether giving your sofa a deep clean to eliminate stains or just giving it a freshen-up, you need to know what cleaning products are required for the job. And that's where cleaning codes come in extremely handy. Carry reading to understand the different cleaning codes and what they mean.
"S"
The cleaning code "S" means "Solvent", meaning you should only use water-free solvents on your sofa—for example, dry-cleaning solutions and clear alcohol solvents.
"W"
If your fabric sofa's cleaning instructions have the letter "W" on it, you should clean it with a water-based solution. This means products like soap, specialist shampoo and washing-up can be used. The cleaning code "W" is the opposite of "S", so harsh chemical and alcohol-based solvents should be avoided to prevent your sofa's fabric from becoming damaged beyond repair.
"S – W"
This cleaning code means a mixture of the "S" and "W". Sometimes, this cleaning code can also appear with the letters the other way around, but it means the same thing.
This cleaning code allows you to blend specialist shampoo, gentle alcohol-based solvents and light dry-cleaning solutions. However, please be aware that you shouldn't saturate the fabric when using a mixture of cleaning solutions, which can sometimes cause permanent damage to the sofa's fabric.
"X"
The cleaning code "X" represents the word "vacuum cleaner". So, if your sofa's cleaning instructions have this code, you cannot use any other cleaning method besides a vacuum apparent or a brush. If you do end up spilling a drink or with a nasty stain on your sofa, then the only way to get this cleaning is by visiting a specialist dry cleaner.
Closing Tips on Keeping Your Fabric Sofa Clean
As well as giving your sofa a good clean every now and then, there are a few simple things that you can do regularly to keep it in the best possible condition.
– Once a week, remove all the sofa's cushions and give them an excellent hoover to remove any unwanted crumbs. When doing this, make sure that you are using a soft brush head to avoid causing any damage to the fabric. Using a low suction setting is also advised to lower this risk further.
– One thing vital thing to be aware of is the effect that dark colour trousers can have on a light-coloured fabric sofa. There is a possibility that the dye could rub into the sofa's fabric. Be particularly careful when wearing black or dark-coloured jeans.
– As much as a plastic cover can reduce a sofa's appeal, we advise using them to protect the fabric if you have pets, especially cats and dogs. They can get muddy paws that can spoil fabric beyond repair even after cleaning and spread parasites and germs, making your sofa a breeding ground for bacteria.
– Lastly, avoid using your washing machine at all costs. Most fabrics are unsuitable for this type of cleaning and can damage the material beyond repair. Using a washing machine, even at low temperatures, could affect how fire retardant the fabric is, causing the fabric to shrink and lose colour.
ref: