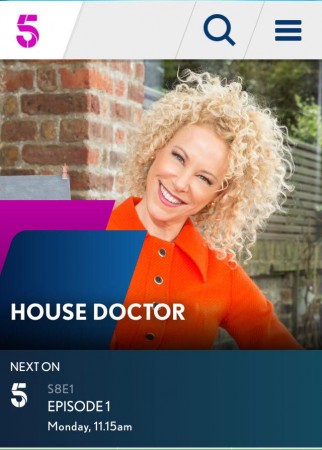 For those of you who haven't been watching the new series of The House Doctor, on Channel 5 this autumn, you wouldn't have heard of Tracy Metro, the new, peppy, American host on the show and yes, that is her last name!
Metro's unique and insightful approach to addressing the UK's struggling vendors needs, has been getting her noticed by the property industry and it's easy to see why. From her love of colour and re-decorating to get your property shifting on the market, to waxing lyrical of the importance of the home's online presence, her popularity is growing in Great Britain.
But who is this blonde, frizzy-haired, bombshell? And dare we say have we found the new and improved version of Charlie Dimmock?
Here at TheHouseShop.com, we have decided to do you the ultimate favour and find out, so read on to enlighten yourselves – you're welcome!
In The Beginning, There Was…… Broadway?
As good a place to start as any, her website biography, wherein an attempt to be a webpage with a difference, she invites you to role-play as Matt Lauer, and it reads as if you were interviewing her on the Today Show. I was slightly mystified and immediately subjected to her effervescent personality… which to her credit hasn't relented, since I embarked on this quest to discover more about this mysterious TV host from across the pond, and I can safely say that Tracy's personality has always been this vibrant.
Metro, first started her showbiz career at a young age, growing up in Washington DC where she studied singing and dancing, of course, wearing the obligatory sequins, which are some of her earliest memories. Tracy went on to perform for Presidents, International Dignitaries and Heads of State at The White House, Kennedy Center and National Theater. However, her presenting career began at the tender age of 13, when she was invited to be a guest commentator of a Fox kids news show.
At the age of 16, Metro hosted her first television show, she discovered that there was money to be made by talking, so this took her to New York City to study at NYU's TISCH school of the arts, where she pursued an acting career and performed both on and off Broadway, her highlight role was playing Helen Keller in the Miracle Worker at Circle in the Square Theater.
So far so interesting, however, what made her take the jump from the red carpet to a life of DIY and TV presenting? I was hooked and needed to find out more.
The Call of the West: A Jazz Hands Filled Jump To LA.
Following on from her acting success in New York, Tracy moved to Los Angeles to further her career, where she acted in TV shows and feature and indie films. A quick scroll through IMDB later, I also learned that she gained some small success in Final Fantasy: The Spirits Within (2001), Dinosaur (2002) and Phone Booth (2002).
Obviously not content to sit still, Metro has also done voice-over work for TV and featured in infomercials and commercials, her experience even stretches to copywriting, segment producing and reporting…AND she can confidently wield a power saw and even weld metal! Is there nothing this gal can't do?
Swiftly her TV hosting and design career took off as Tracy made the jump from actress to presenter and interior designer with not just homes in the UK benefiting from her expertise. Tracy has also hosted other successful home improvement TV shows in the States, such as 'Beverley Hills Pawn', 'Extreme Small Spaces', 'I Live With My Mum' and 'Home Made Simple', so she definitely knows a thing or two about property and home improvement.
Upon my Metro journey, I  even stumbled across a rumour of her sexuality, so in order to bust that myth wide open for you avid Tracy fans out there, I can announce that her husband must be a lucky man, especially since she used her creative energy and passion for vintage 1970's style to transform their houseboat.
The House Doctor Will See You Now.
As she replaced Ann Maurice on Channel 5's new series of The House Doctor when the new series aired on 3rd October, Tracy has spread her magic across the UK.
Tracy has most recently helped a 60's bungalow in Riding Mill, Northumberland, where Norma was struggling to sell her home due to over cluttering and dated decor. Metro renovated Norma's suntrap room and living room, with some nifty tricks all coming in at a cost of just £1423. Tracy proves that huge transformations can be performed on a tight budget.
Tracy's top tricks are to use what you have to hand, as seen in the example of filling in Norma's wall panels with jazzy tropical rainforest-themed wallpaper, to bring her garden inside, thus creating the feeling of space in the property and highlighting the unique selling point of her garden.
Having successfully unravelled the mystery that was Tracy Metro, I am sure that we will be seeing a lot more from Tracy as Channel 5 have just commissioned 45 new episodes.
If you haven't yet seen Metro work her magic then definitely check out her new show here.
For more of our home staging tips, read more here.