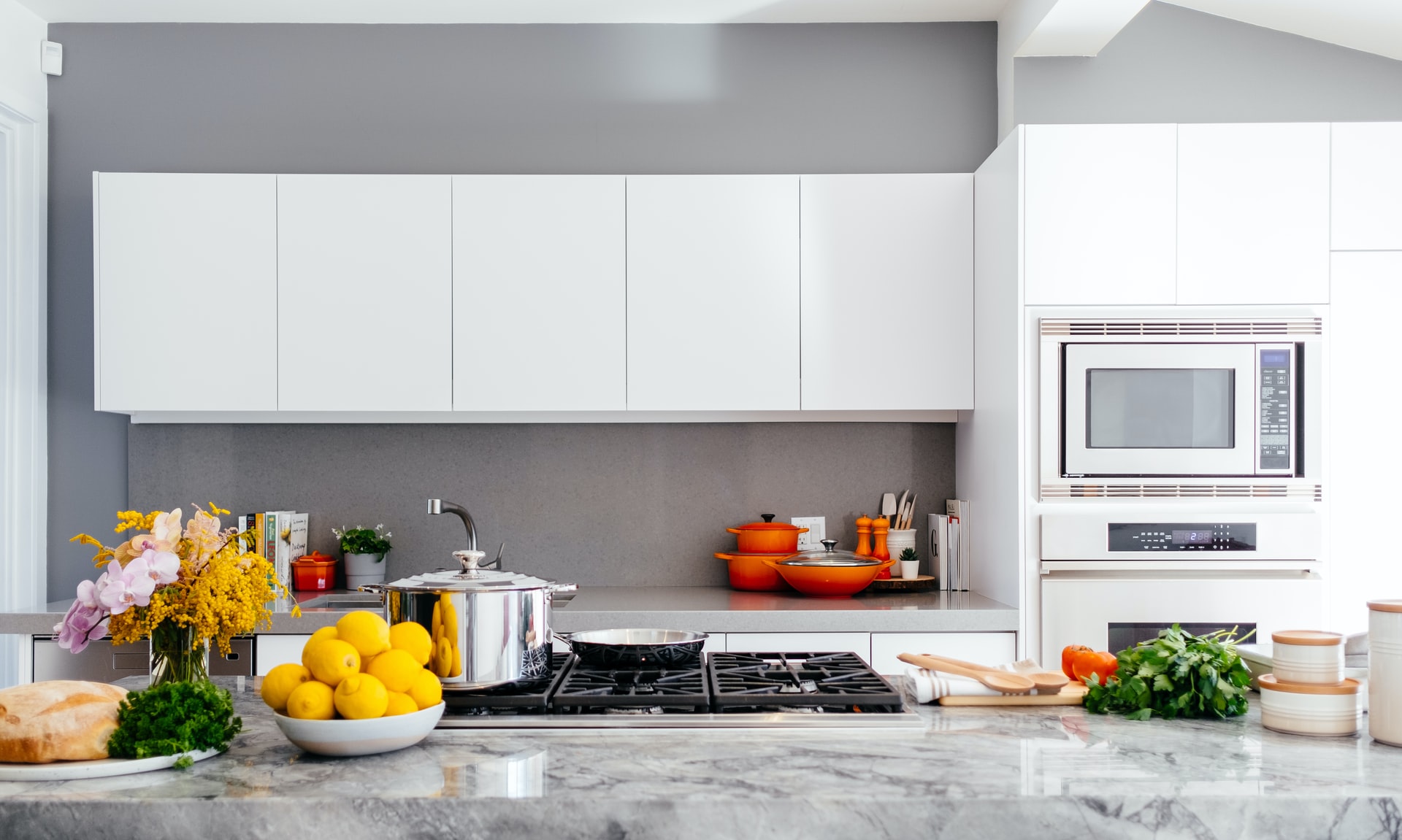 Cooking hearty meals or doing some baking for your family is an appeal for many homeowners. But is your kitchen up to scratch? Is it somewhere you want to spend time creating delicious delicacies, or do you just shut the door to it and the washing up? 
The handy ideas covered in this article will give your kitchen a new lease of life without breaking the bank and buying a whole new one. It might just be the aesthetics that need a bit of updating, or you may decide that the storage doesn't work for how you want to use it. Be brave and get it oven-ready for when you are ready to make good use of your oven. 
Having a kitchen that feels fresh and new can often inspire you into being more creative with your cooking, so it is a win-win all around. Whip up some delicious dishes and then stand back and admire them in your new-look kitchen.  
Get the look by replacing worktops and cupboard doors. 
One of the most accessible and practical solutions for making your kitchen look brand new is changing the cupboard doors and worktops, leaving the main structures in place. Perhaps your laminate is starting to peel, or the wood seems dated. You may want to go from something traditional to something more modern, or vice-versa. 
 Laminate worktops are available in various styles, ranging from realistic imitations of the look of actual wood surfaces and natural stones to glamorous high-gloss glitter finishes. The replications offered often provide the face of a different worktop type at a much lower cost. 
 Wooden worktops are usually made using a series of staves bonded together under high pressure. Each stave is made entirely of solid wood and displays the timber's natural features. The wood matures over time, becoming more characterful and richer in colour.
Refresh your flooring 
The floor of your kitchen needs to withstand a lot of wear and tear, as the room is used every day and several times a day. It may be a thoroughfare for muddy boots or an entertaining space for stiletto heel wearers. It would help to think about how your kitchen is used and by whom when deciding on the flooring type. 
 Stone tiles are famous for kitchen floors as they are generally easy to clean, although you need to think about the grouting and crevices. Plus, it will almost certainly break on the hard, unforgiving surface if you drop anything. 
 If yours is a busy kitchen full of children and dogs, then you might want to consider linoleum or vinyl flooring as a cheap but effective way of ensuring a full mud and waterproof solution. Laminate flooring can be just as durable and can be matched to the laminate of your worktops to give a fluid approach to the whole room. It is versatile and low maintenance. 
Smarten up with new appliances and accessories 
Sometimes all your kitchen needs are some new accessories to brighten it up. Colour coordinating your kettle toaster to your microwave to your oven can have a real wow impact, especially if they are in a bright contrasting colour to the cupboards and worktops. Replacing a hob, oven, fridge or even taps and sink with a brand new one can completely overhaul how you think about your kitchen and your approach to cooking. 
 You can even now get intelligent appliances that you can set to start preheating the oven when you are on your way home from work or a camera that can see inside your refrigerator to see in real-time whether you need to stop off get some more milk. 
Get organised with funky storage solutions. 
Making your life easier is one of the great benefits of the modern world and the way we now live our lives, and with that comes better storage solutions. Narrow pull-out pantries to the sides of your cupboards are the perfect way to see precisely what cupboard food you have, without it all being stacked up, so you need to move the cans to see the pasta and it all ends up falling on top of you.  
 A kitchen island is grand as a casual dining space but even better if one side contains shelving for crockery. Or, if you are neat, visible shelving and pan hooks can provide a kitchen with a much more open feel. Using the same glass containers to hold cereal, pasta, rice, etc., gives your kitchen a unified appearance. 
Last but by no means least, a wine fridge is an upgrade on a standard bottle rack and ensures you will always have a cold bottle to hand if you get unexpected company.  
Final thoughts 
Whether your kitchen is the life and soul of a party, or a space for the whole family to enjoy, sprucing it up on a budget is easy to do with just some minor changes, which can have a significant effect. Don't splash out on a new kitchen; just change the splashbacks. 
Ref :
THSI-2507 / ZD. 24255