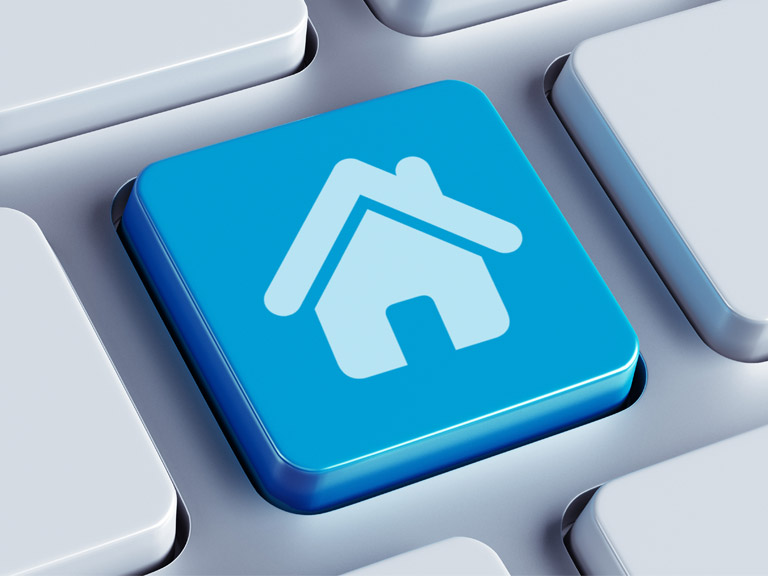 The process of buying or selling property is rapidly being transformed by the internet. Traditional estate agents are constantly being challenged by online agencies that offer potential clients benefits such as convenient access, increased advertising and most crucially, temptingly low, fixed fees which can result in saving thousands of pounds. In 2016, an estimated 5% of property sales were completed through online estate agencies. Just three years later that figure had risen to more than 7% and continues to increase due to factors such as homes selling up to six weeks faster than through traditional agencies.
What is the difference between Traditional and Online Estate Agents?
A traditional estate agency has premises in a local shopping area where the details of the properties for sale are displayed. It can be independently managed or belong to a nationwide chain. Its representatives have usually gained years of experience through assessing local housing markets and offer a personalised service including valuations and price negotiations. There are actually two types of online estate agent. Some are little more than online property portals which require vendors to be responsible for the entire process from using an online valuation tool to photographing their properties and conducting viewings. A hybrid online estate agent offers a flexible package of services including the option of personal valuations and negotiating the sale.
Online Estate Agency Fixed Fees
Traditional estate agents charge commission of between one and two per cent based on the final sale price of the property. If a home sells for £250,000 and the commission is 1.3%, the vendor pays £3,250 in fees. Alternatively, a rate of 1.5% on a sale of £300,000 raises the commission fee to £4,500. By comparison, an online estate agency offers basic fixed fees with further charges determined by the number of additional services chosen such as creating a floor plan or booking viewings. The major difference is that fixed fees are usually paid in advance irrespective of whether the property sells.
Fees can be as low as £99 with a company such as doorsteps.co.uk but are more commonly up to £899 with Purplebricks or Yopa although they have options for delaying payments by up to ten months. House Simple charges a minimum fee of £995 which is only paid when the sale has been completed.
Basic Fixed Fee Services
These vary slightly from one online estate agency to another but usually include a personalised valuation from an agent in the local area, the creation of a floor plan, outdoor sale sign and listings on the standard pages of the large property sites such as Rightmove or Primelocation. Vendors have a high level of control over the procedure through their own online accounts where they can manage details such as appointments and enquiries. Support is offered by online agencies through email, live online chat or telephone.
Additional Fixed Fees
Opting for an online agency with a fixed fee allows vendors to know precisely what their fees will be avoiding the uncertainty of waiting to discover what their properties will finally realise. It also offers flexibility in choosing services that vendors consider to be more useful in their particular situations. Typical additions include the preparation of an Energy Performance Certificate (EPC) at approximately £80, professional photography for around £100 and Premium listings on the largest online property sites such as Zoopla and Rightmove at a cost up to £175. Accompanied viewings are popular and are priced at an average of £300.
Online Property Valuations
It's incredibly easy to obtain an estimated property price online by using a valuation tool, such as those offered by Zoopla and Yopa. This uses stored data from recent sales of similar properties within a particular postcode and is usually based on how many bedrooms they may have. However, estimates can vary widely as an online valuation tool cannot take into account the precise condition of the property, any specialised features and improvements or hazards which could lower the value. Using an online estate agency that offers a personalised valuation by a local representative either as part of the basic package or an additional service will provide a more accurate estimate.
How to choose an Online Estate Agent
Online estate agents have to adhere to the same regulations as traditional estate agencies. They have a legal obligation to belong to either the Property Redress Scheme or Property Ombudsman Limited which are both supervised by the government. They also have to meet the minimum requirements regarding a code of conduct set by the Trading Standards department. When choosing an online agent many potential vendors are influenced by the experiences of friends or neighbours although referring to reviews on reliable sites such as allAgents and Trustpilot can be useful in determining the effectiveness of different agencies.
Pros of using an Online Estate Agent
Fixed Fees – lower than traditional commission

Flexible – range of services to choose

Accessibility – monitor progress online

Advertising – premium listings reach larger audiences

Advice – help outside of office hours
Cons of using an Online Estate Agent
Extra Work – liaising with buyers and solicitors

Pre-paid Fees – advance payment regardless of sale

Unsupported Viewings – vendors conduct viewings

Valuations – online tools unreliable
Conclusion
The popularity of online estate agents is increasing due to money-saving fixed fees. Vendors have more control from monitoring enquiries to being in direct contact with potential buyers. Although there is an increased workload through liaising with solicitors and the unwelcome task of conducting viewings, much of the time and effort involved can be avoided by choosing additional services. A hybrid online estate agency that combines a local, personalised service with the convenience of online accessibility offers vendors flexibility, choice and low fixed fees.