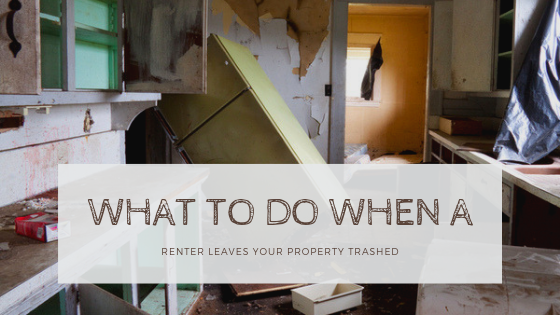 Renting out your property always has some element of risk. Most of the time, you'll end up with a good tenant who wants to live in a comfortable, clean and tidy home, one they look after – when they do move on – they leave as it should be. This means tidy, cleaned and ready to be turned over to the next renter.
However, this is not always the case. Some tenants may simply leave the place trashed. Or even worst, there is damage to the carpet, walls, appliances, etc.  This leaves you scrambling to clean up the mess before you can list the property for rent.  The only real upside is you get to keep the security deposit; assuming you secured a deposit upon move-in.
It's heart-breaking to discover that someone had so little care for your property.  There are also times when your property is trashed by an outsider. This is common for properties that remain on the rental market for lengths of time before getting rented out. Nonetheless, there's work to be done.  Below are some tips to getting your property cleaned up and ready for the rental market.
Get Legal Advice 
The first thing you need to do is get in touch with your attorney for legal advice. Be prepared to find that there's little you can get back in return, but you never know, you may have a case worth filing. A lawyer should be able to give you the best advice on what to do next, but really the thing to start with is cleaning up.
Start the Clean Up 
You need to assess the level of the damage, and what needs to be done to rectify it. You may also discover that the appliances have been damaged. This can be problematic as the may need to be disposed of and replaced. Disposing of appliances that contain Freon such as fridges and freezers require proper disposal. There are pickup services that will pickup old appliances and dispose of them in a professional matter.  Meaning they won't haul them off to the dump before having the Freon discharged or even worst, drop the entire unit off in the back of some ally.  
Get the Cleaners In 
Once you have removed all the debris, all the old appliances, and any other stuff that may be left behind, you need to get a clean-up service in, one that will attend to the removal of all the trash. There are plenty outfits offering excellent services at sensible rates. They will help you clean up and make sure the house is left ready to start over again.
Talk to Your Insurance Company 
As a landlord you will have insured the property as a rental, and now is the time to talk to your insurer and see what is covered. A trashed property is an occurrence that is not commonplace, and you may find you can recoup quite a lot of your losses. Have a look at your policy, give the insurer a call and let them know the situation, and take it from there.
A trashed property is just another problem to deal with in the busy life of a landlord. It's one that you hope never occurs, but one that you always know in the back of your mind is entirely possible. If you do find yourself in this situation, remember that there are people who can help you get rid of old appliances the correct way, and all at sensible rates, so you can concentrate on getting everything else taken care of.