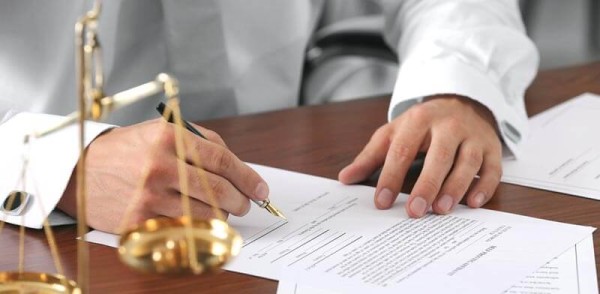 An AST is created between the landlord and the tenant if the following standards are met:
The tenant's rent is less than £100k a year
The tenancy started on or after 28th February 1997
The tenant has rights to their privacy and the landlord can't gain access to the property without their mutual agreement
When Does a Rental Contract Become Legally Binding?
A tenancy agreement is just like any other contract, so as soon as both the tenants and landlord have signed the agreement, it becomes a legally binding contract. While the contract will become legally binding as soon as all parties have signed, this does not mean that the tenants are liable to start paying rent from this date. The contract will usually specify the move in date for the tenants and the date when the first rental payment is due.
If you have any concerns about the contents of the contract, or if you take issue with a specific clause in the agreement, you should discuss this with the other party before you sign on the dotted line. Once you add your signature to the document you are agreeing to uphold your duties and responsibilities as they are written in the contract, and it can be incredibly difficult to change or edit the contract once all parties have signed – so make sure you're happy with everything contained in the tenancy agreement, and don't forget to read the small print.
When Does a Rental Contract Expire?
A tenancy agreement can still be legally binding even when it has run out, as it is then classified as a Periodic Tenancy. A periodic tenancy is created when the same tenants are residing at the property that was on the original, expired AST and a new AST has yet to be drawn up and signed. All the same, conditions will apply but the contract is now periodic or 'rolling' so it will run month to month until the new tenancy agreement is signed.
The length of time or "period" is loosely defined, in most cases, it will be per calendar month but if the previous agreement was a fixed term 12 or 6-month contract then the same ruling will apply.
Many people get caught out once their original tenancy expires and assume that they will be evicted, which is just not true, as a tenancy can only be terminated by mutual agreement, eviction, the tenant giving their notice, serving a section 21 notice or going through the proper legal route.
Most professional landlords will be open to negotiation when it comes to renewing an AST as they will want ot avoid any void periods where the property is empty. It can be difficult to find new tenants at short notice, so it is in landlords interests to keep good tenants for as long as possible. It is advisable to broach the subject with them.
Can Landlords Add Clauses to Tenancy Agreements?
If you choose to write your own tenancy agreement then you do have the ability to add your own clauses, however, they must be enforceable by law in order to be valid. These added clauses have to be considered fair because if not then the landlord could come under fire from the Unfair Contract Terms legislation.
The added clauses must also be in accordance with The Housing Act 1988 and comply with both the tenants and landlords statutory rights. If the added clauses infringe on those rights then they are not enforceable by law even if they are signed.
The best approach to adding your own clauses is to seek professional legal advice, as you could inadvertently limiting your own rights. You can use a standard template to create your own tenancy agreement, but these are just standard, generic contracts and won't allow flexibility to tailor or personalise your lease agreement.
Property websites like TheHouseShop.com provide customisable tenancy contracts where you can add the clauses and terms that best apply to your property, and still ensure that you have a watertight legal agreement.
Although technically landlords can let out their properties without having a written agreement (AST) in place, or a verbal agreement with their tenant, it is not advisable to do so. The problem with a verbal agreement is that it is hard to prove should a dispute arise, so it is better for each party to have a written copy of the contract to hand should there be a dispute. The other problem with the lack of a written agreement will mean that the landlord is unable to use the accelerated repossession process to take back the property without a written agreement in place.
Read more about tenancy agreements using our FAQ's below:
Free Bespoke Tenancy Agreements

TheHouseShop have launched a Free Online Tenancy Agreement Tool to help DIY landlords create professional AST contracts and stay on the right side of the law.
Create a bespoke, professional and legally-watertight AST rental contract in minutes!
What Voids a Tenancy Agreement? | How to Terminate a Tenancy Agreement for Tenants