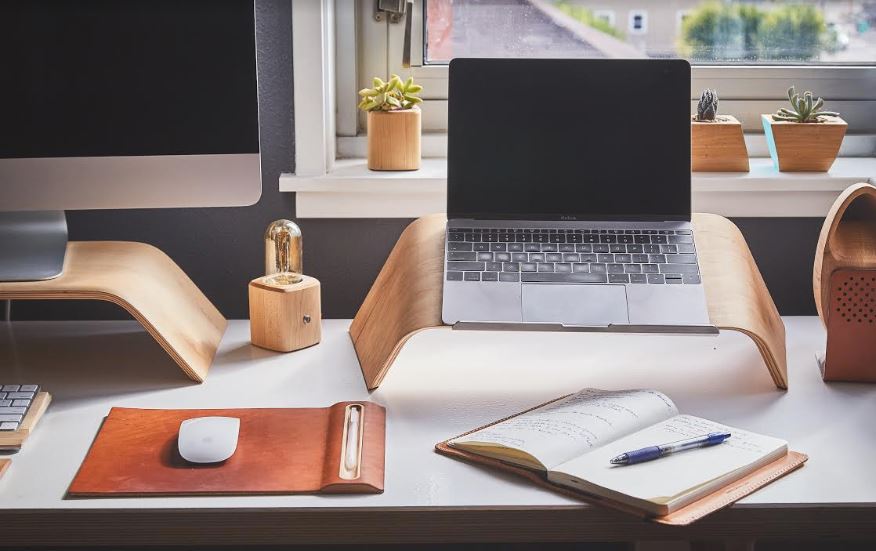 Working from home can be the best thing ever: you don't have to bother with commuting, you can easily work in your PJs without anyone giving you weird looks, and you can always roll out of bed just five minutes before your shift starts.
Still, being shut between the same four walls can be nerve-wracking – especially if you are in a boring environment. To freshen things up, you might want to personalize your "office."
Not only will this help you finish tasks more efficiently, but it will also make you less inclined to start your shift grunting and grumbling – all because "you're here again." And here are a few ideas.

Decide on Important Office Elements
Who will be using this space? Will your kids also be doing their homework here? How long do you plan to work every day from this office? If the place will only be seldom used, then you can invest in something less expensive and professional.
Also, will you be the only one to work here, or will you have to bring clients to this "office"? Depending on the answers to these questions, you may have to take different redecorating choices.
Decide on a Budget
Before you start on anything, you need to have one clear question in mind: how much are you willing to spend? You may want to start by making a list of everything that you need to purchase. Once that is done with, make an estimate of how much it's going to cost.
If you see that everything has gone over your available budget, you have three options:
You save up until you can afford it

You take out a few items from the list that are not all that necessary

You look for affordable or used furniture in different stores
If you still feel that your budget is not enough, think about ways in which you can repurpose things from around your house.
Start with a Clean Slate
If you've decided to turn a room from your house into an office, the first thing you will have to do is get rid of the clutter. Everything that's not essential goes bye-bye. This way, you'll be able to look at your office as a clear canvas.
Once you do that, one good tip would be to paint your walls a sophisticated, rich color. This way, your home office will feel luxurious without you having to spend enormous amounts of money on it.

Keep an "All Must Go" Mentality
While this does not mean that you'll have to throw away everything in your office, you'll still have to carefully decide what stays and what goes – regardless of its "sentimental value." This means that if that 10-year-old lamp sitting in the corner has to go – then it has to go.
It's much better when you start fresh, with new (or updated) furniture. A good idea would be to upgrade a plain wood desk with some fancy knobs and some bras corner braces from the local hardware store. 
Go for Basics First
Before making other purchases, focus on these three things for your home office: a comfortable chair, a good desk, and some ample lights. No office can work without these three; the others can be added gradually.
For displays, calendars, or other things you may want to "pin" to the wall, you may use clothes hangers. Look online for discounts on office supplies that you think will be of use to you. A good set of curtains will also offer a stylish look, without actually overcrowding.
Use Storage Wisely
There are many ideas on Pinterest or other websites on how to make the most out of your space. For instance, while cabinets may not be the most attractive pieces of furniture, you need somewhere to put your papers away. Magazine-type racks or library-style furniture might be a good and classy way to go.
If you need more space to store books and papers, try going for a bookcase – but one that's large enough to not seem overcrowded. Also, if your home office has a closet or a wardrobe, try to trick some shelves into it. They will certainly save you a lot of space, minimizing the need for extra storage areas.
Add Comfy Spaces
Sure, we use our desks for active work – but we need a place to relax every now and again, to read a book or listen to some music in peace. Get a chair that curls up or a small plush couch with some colorful pillows. If you throw in a coffee table and a good lamp in the mix, you have created yourself the perfect corner of heaven.
Embrace Natural Lights
Many people working from home believe that the best place for a desk is against the wall in the darkest corner of the room. However, by doing that, they only manage to create a corporate cubicle.
It's best that you place your desk close to the window and use the opposite wall to hand a large mirror. This will reflect natural light – and therefore, brighten up the room.

Bring Plants
Greenery has its way of making people happy. Plus, you'll feel like you are outdoors when you're actually indoors. Moreover, since plants can usually go 2-3 days without water, you don't have to worry about watering them on a daily basis.
Working from home does not have to be dull. You can create an environment that says "home" without losing on productivity and elegance. The best thing about working from home is that you can go crazy with the personalization – and there will be no boss to complain about it.