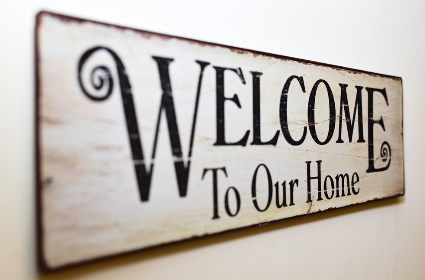 Your home is your safe space, your sanctuary where you find peace, comfort and can truly be yourself. It's a place to feel free and have fun without any worries. Your home should reflect your own personal style, so when customizing and decorating, you should find little ways that express yourself throughout. Little details can go a long way.
Whether you want to add color, update your exterior landscaping, swap out old fixtures, or simply just want to put your stamp on your home, there are so many ways to accomplish this. Not sure where to start? Here are 10 ways you can customize your home to make it feel more personal, warm and inviting.
1. Display Photos & Artwork
One of the quickest and easiest ways to make your home feel like home is to hang some of your favorite photos and artwork up on the wall. Decorating your home with a little glimpse into your life is a simple way to add instant personality to your space. You can place a few framed photos on an end table, on the fireplace mantle, open shelving or on the wall. Gallery walls are a great way to use various colors, textures and dimensions to make any room feel full and eclectic. You can incorporate your favorite photos, drawings or even objects into your wall gallery. The possibilities are endless.
Here are a few steps to take if you are looking to create a unique gallery wall in your home:
Find a Centralized Theme: For example, if you're wanting a neutral theme, gather pieces like wood, plant elements and black and white photography.

Play With Levels: Build layers into your wall art design to add depth to your room. Consider placing your framed pieces both horizontally and vertically.

Be Creative: Don't be afraid to incorporate bold colors, random objects or mirrors to your gallery wall.
Along with your favorite photos, there's nothing more special and personal than displaying your child's artwork for everyone to see. Instead of throwing them up on the refrigerator only to get lost in the mix, frame those priceless works of art in a more formal way. Your photos and artwork are a way to display your interests, hobbies and passions all throughout your home.
2. Roll Out an Area Rug
Area rugs are a great way to bring life into a space. Rugs are perfect for tying in all of the elements in your home while also allowing your furniture to feel more uniformed. There are so many reasons why you should consider adding a rug to your home including: brightening a dark room, changing the color theme of your space, enhancing your home decor, feeling more inviting to your visitors, increasing safety, covering imperfections, protecting wood flooring and providing visual interest that reflects your own style and personality.
Whether you choose to add a rug in your entryway, hallway, kitchen, living room or any other area in your home, they are such an effortless way to transform your space and change the overall look of your home.
The benefits of area rugs; however, are much more than just style and decor. Here are a few added benefits a rug can bring to your home:
Comfort: Especially if you have hardwood flooring, rugs are much more comfortable to sit on than hardwood. Rugs provide a sense of comfort that's soft to the touch and provides a flexible surface for your feet.

Noise Reduction: Carpet is much quieter to walk on than hard surfaces and also absorbs sound from the air.

Warmth: Along with being softer, carpet is much warmer than hard surfaces. It provides insulation throughout the home, especially when layered on top of carpet or a pad.

Allergies: Recent studies have shown that carpet is beneficial to those who suffer from allergies because it actually traps in allergens.
3. Swap Out Old Fixtures & Hardware
Swapping out old fixtures and hardware is a simple change that will make a big impact in your home. If you have old lighting fixtures, swap them for a more stylish light that can make the room feel new again. Accessorize your cabinets with new hardware, preferably that are the same size as your existing ones so you don't have to re-drill the cabinets. Small cosmetic changes like these can really make a difference in the aesthetics of your home.
4. Update With Paint
Another cost-effective way to personalize your home is with a little paint. Studies show that paint color choice has a huge impact on a person's overall mood and happiness in their home. There are various ways you can customize your home both indoors and outdoors with paint:
Front Door, Shutters & Fences: The front door of your home is usually the very first thing people look at when they see your home. Shades of green, red, grays and black all make great color choices for the front door. Painting the shutters and fence is a quick and inexpensive way to make your home look polished and well-kept.

Exterior: The quickest way to change the look of your home to match your personal style is to paint the exterior. Repainting your home is a huge change, but can dramatically increase its curb appeal and even increase the value of your home.

Interior: When painting the interior of your home, try matching the paint color to best fit the mood of the room. Your bedroom color choice should be a calming, restful color while your living room should be something more warm and inviting. Bathrooms are a fun room to paint since you can choose colors that are energizing and eclectic.
5. Upgrade Your Bathroom
Upgrading your bathroom can get pretty pricey unless you've been saving up for a complete renovation. A tight budget doesn't mean you can't freshen up your bathroom a bit with a few small and simple touches. Consider changing the faucets, hardware, towel bar or light fixtures for small changes that can still make a huge difference. Another way to customize your bathroom is to replace your mirror, paint your cabinets or add wallpaper. You would be surprised at how adding a little wallpaper, even to just one wall can truly transform your bathroom.
6. Add Front Porch Appeal
Your front porch serves as a way to greet guests as well as enhance the curb appeal of your home. Decorating your front porch adds unique style to your home and truly expresses your personality before anyone even walks through the door. A few upgrade options for your porch could be adding a welcome sign, hanging a wreath on the door, updating your porch light fixture, painting your front door, adding additional seating or including flowers to customize your front porch area to reflect your own comfort and style.
7. Create Your Dream Living Room
Do you have the perfect vision of your dream living room? Maybe you've clipped a few home design magazine spreads that you'd love to create in your own living space. Often times people decorate their living space for their visitors, instead of a personal space to actually spend time in. So instead of wasting all of that time and money on decor pieces you think your visitors will love, here are a few ways to customize your living room for you to admire and enjoy:
– Choose a Theme: Think about whether your living room will include artwork, elements of nature, or another theme that interests you. Do you love the nautical look? Do you love animal print? Focusing on a particular theme will make decorating much easier.
– Decide On Your Color Palette: It's a good idea to choose a color palette that makes you feel the most relaxed and comfortable. Justin Poile from VisionBedding.com says colors like ivory, cream, burnt orange, deep reds, and mustard yellows are perfect for a fall inspired living room. Colors like white navy, green, gray and black are perfect color choices, no matter what season it is. Consider a lighter color choice for the walls and incorporate these accent colors for pillows, rugs and other furnishings.
– Include Scents: Do you have a favorite scent that calms you? Scents like lavender, vanilla, jasmine and citrus are a few popular scents that are known for their calming aroma. Place your favorite scented candle or a dish of potpourri on an end table or coffee table to instantly add that relaxation element to your living space.
– Keep Furniture to a Minimum: An uncluttered space is sure to help you feel relaxed and comfortable. Consider only having a couch, a couple of chairs, coffee table, shelving and area rug for a more minimalistic approach. This is also a great way to splurge on the quality of those pieces to really make your living room your favorite area of your home.
8. Organize Your Storage Space
Having ample storage space in your home is key. Once you have the space to store your belongings, you'll notice how uncluttered your home looks and feels. Built-ins are the ideal space saving solution for organizing your belongings. Take time to consider where you need the extra storage space and plan accordingly. A few areas of your home where you can incorporate additional storage space are:
Closets

Window Seats

Bookshelves

Office Desk

Pantry

Cabinets

Bathroom Vanity
Bookshelves are probably one of the most cost-efficient and easy organizational pieces to add to your home and customize to your liking. Bookshelves not only have to hold books, but can also be used to store items like picture frames, plants, art, memorabilia and some of your other hobbies, interests and passions.
9. Decorate with Plants
Adding live plants to your home instantly brings life into your space quite literally and fits any home decor style. Although maintaining plants indoors can be tricky, there are tons of varieties of greenery that thrive indoors. Plants have a way of making any space feel more bright, gorgeous and lively; not to mention added health benefits. Here are a few ways you can incorporate those natural elements indoors:
Use a small table or bench to add tons of plants collectively, without going overboard. A simple style featuring a variety of plants serves as a beautiful shrine in any room of your home.

Plant hangers are great for saving space or for smaller areas of your home. They also are a great way to add a new layer to your decor.

Quirky pots in all colors, shapes and sizes speak volumes about your own personal style.

Create a plant corner in a room of your home that feels bare or empty to revitalize the space.

A large plant propped next to the sofa or chair instantly gives your living space more of a natural and lively feel.
Since plants look great in any room, don't be afraid to tuck them away into unexpected spaces. Little pots of succulents or ferns would fit perfectly on a dish in the bathroom or even next to the coffee bar. Plants that hang or drape down are perfect for open shelving in the bathroom or kitchen. There are so many ways to bring those natural elements indoors.
10. Add an Outdoor Feature
For the outdoor area of your home, think fire pit, outdoor kitchen, grill, hammock or lounge area. By adding an outdoor feature to your home, you are also extending the living space of your home. Statistics show that home buyers say that having an outdoor area was a key component when deciding on which home to purchase.
Think about what outdoor features you would like to add in your home. Could you use more seating? Do you want an outdoor eating area? What about a safe place for your children to play? — Designing your outdoor space should be a fun project no matter what your budget is. Let your own personal style dominate with these super easy ideas to consider for your ultimate backyard oasis:
Build a fire pit.

Hang a hammock.

Plant a garden.

Build/Purchase outdoor furniture.

Put down an outdoor rug.

Illuminate walkways with solar lights.

Hang string lights on your pergola.

Create a stone path.

Build an outdoor kitchen.

Install a play set.
One of the biggest joys of having your own home is the ability to make it truly yours. You can customize it any which way you'd like and personalize it to fit you and your family's lifestyle and needs. The possibilities are endless when it comes to giving your home that polished look that is a reflection of your personal style. Start with one area of your home and continue adding little touches here and there until your home is uniquely you!