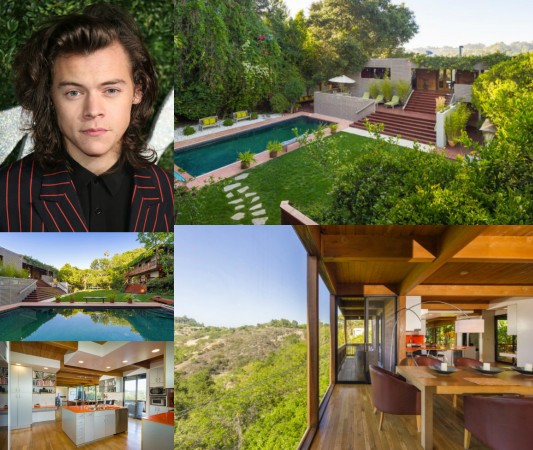 In this modern age, we all have a somewhat unhealthy obsession with celebrities. We try to mirror their lives in an attempt to make our own boring existence seem more notable and interesting. We dress like our idols and do our hair like theirs, as well as stalk them on social media at any given opportunity. If they weren't famous, this would by all means be creepy and weird; but considering they are, and it's not weird and creepy (is it?), here, we give you a look inside your favourite celeb homes.
1) Kendall Jenner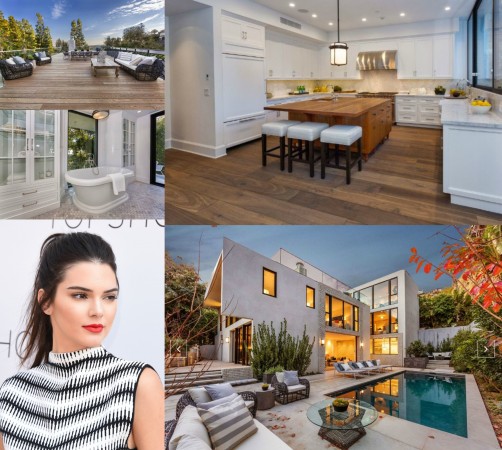 Kendall Jenner, model and second youngest of the Kardashian-Jenner clan, brought this luxury pad for a reported $6.5million. 
The property, located above the famous Sunset Strip, is spread across three floors, has 6 bedrooms (perfect for clingers on), four bathrooms, swimming pool and rooftop terrace. But, the best bit about this house isn't how spacious and beautifully designed it is- the pad used to be owned by none other than sweethearts Emily Blunt and John Krasinkski. Pretty impressive.
2) Britney Spears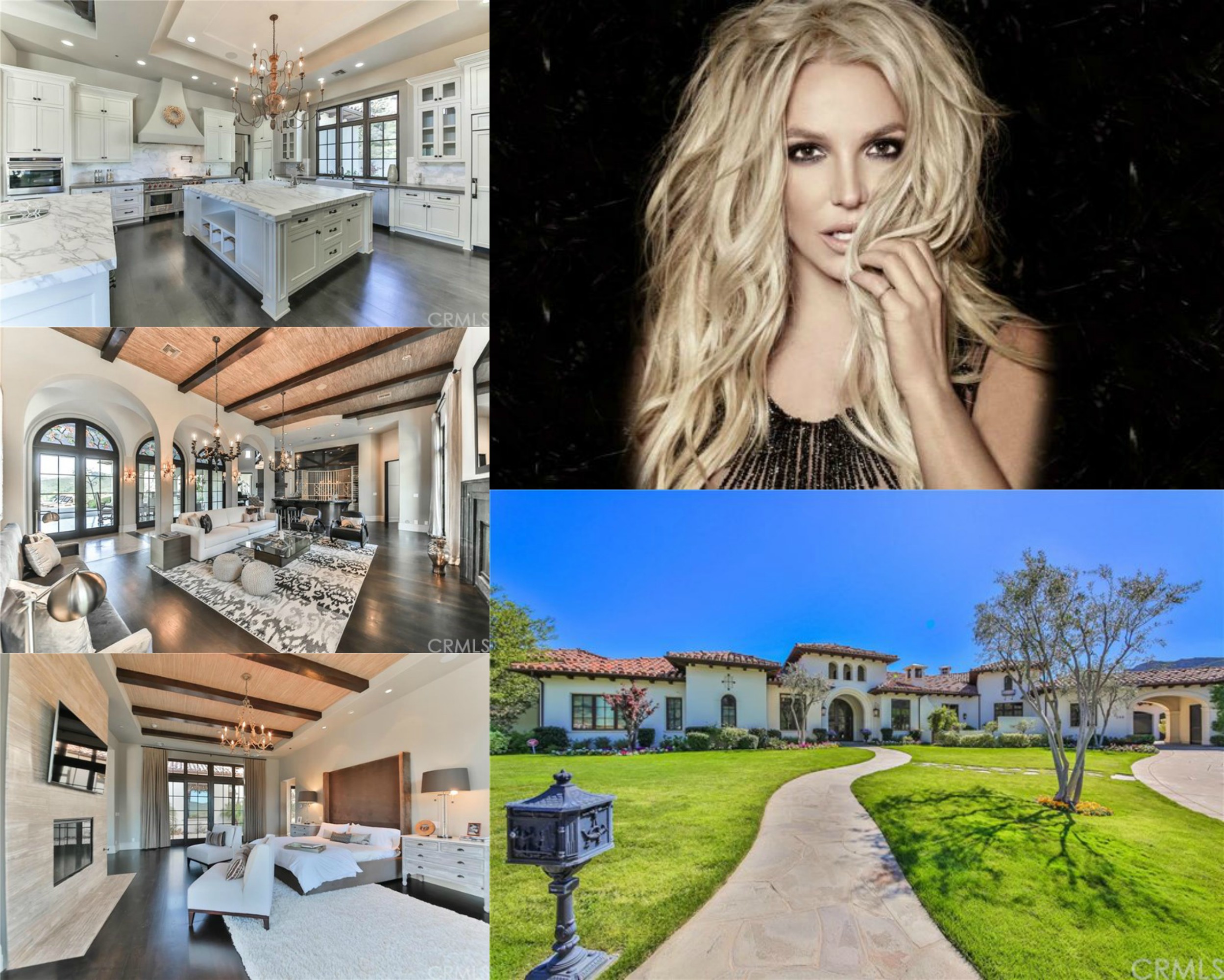 Back in April, princess of pop, Britney Spears, listed this Spanish-style home in Thousand Oaks, California, for a cool $9million- reportedly to move into a bigger house just around the corner.
Set across just one level, the property can barely be described as a bungalow. With 5 bedrooms, 7 bathrooms, 2 offices, movie room, games room, formal dining room and more, there seems to be a room for every occasion…
3) Taylor Swift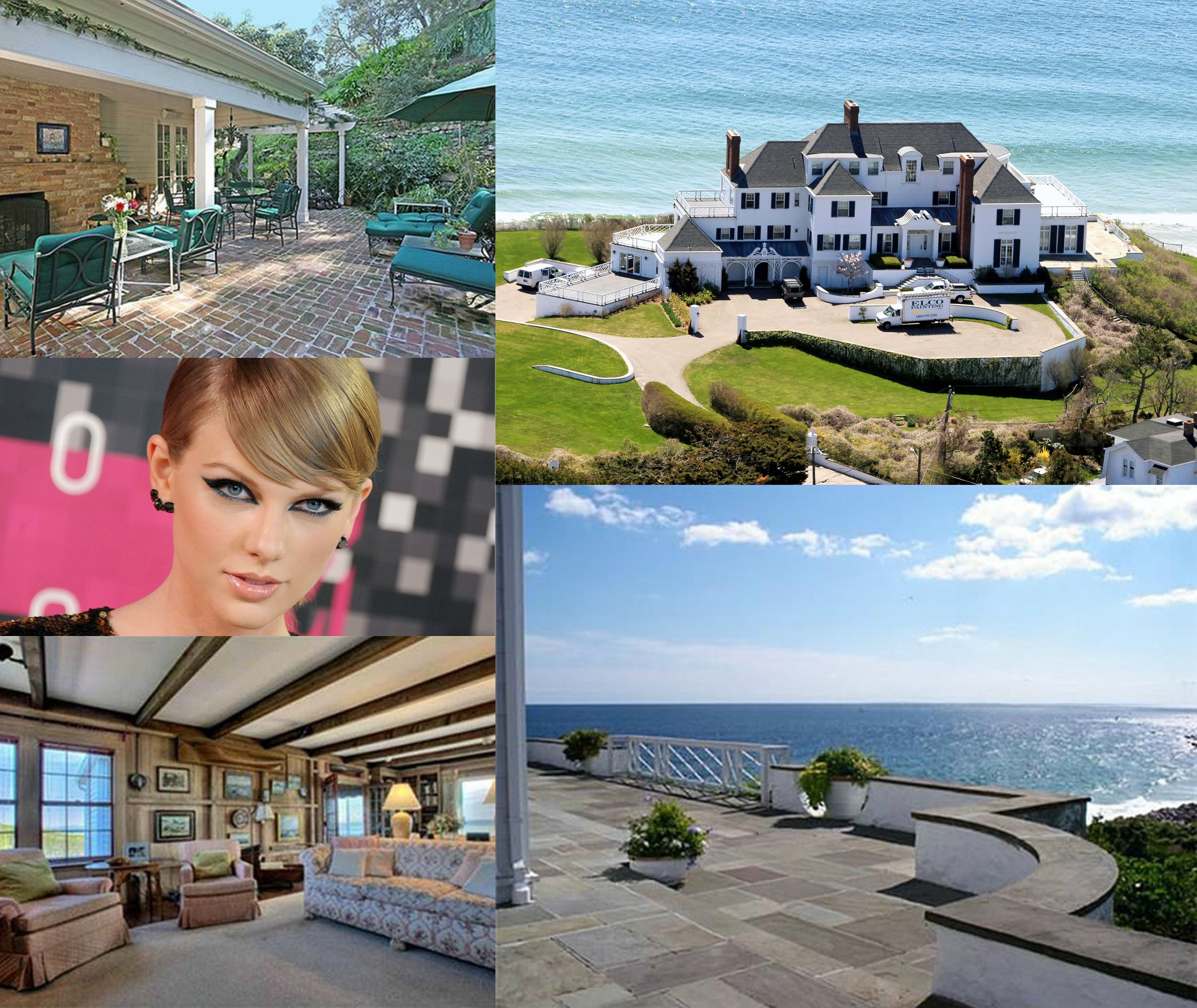 Have you ever wondered where Taylor Swift hides all of her squad when she hosts her famous 4th of July parties? Well, wonder no more, as it turns out that Taylor owns this mansion in Rhode Island, which she picked up for a reported bargain of $17 million – cash. 
I can't help but feel that Taylor's Style needs a bit of updating though- although the interior is clearly trying to keep in with the traditional Victorian feel of the house, it also looks like the kind of interior my nan might have in her Sussex bungalow
4) Miley Cyrus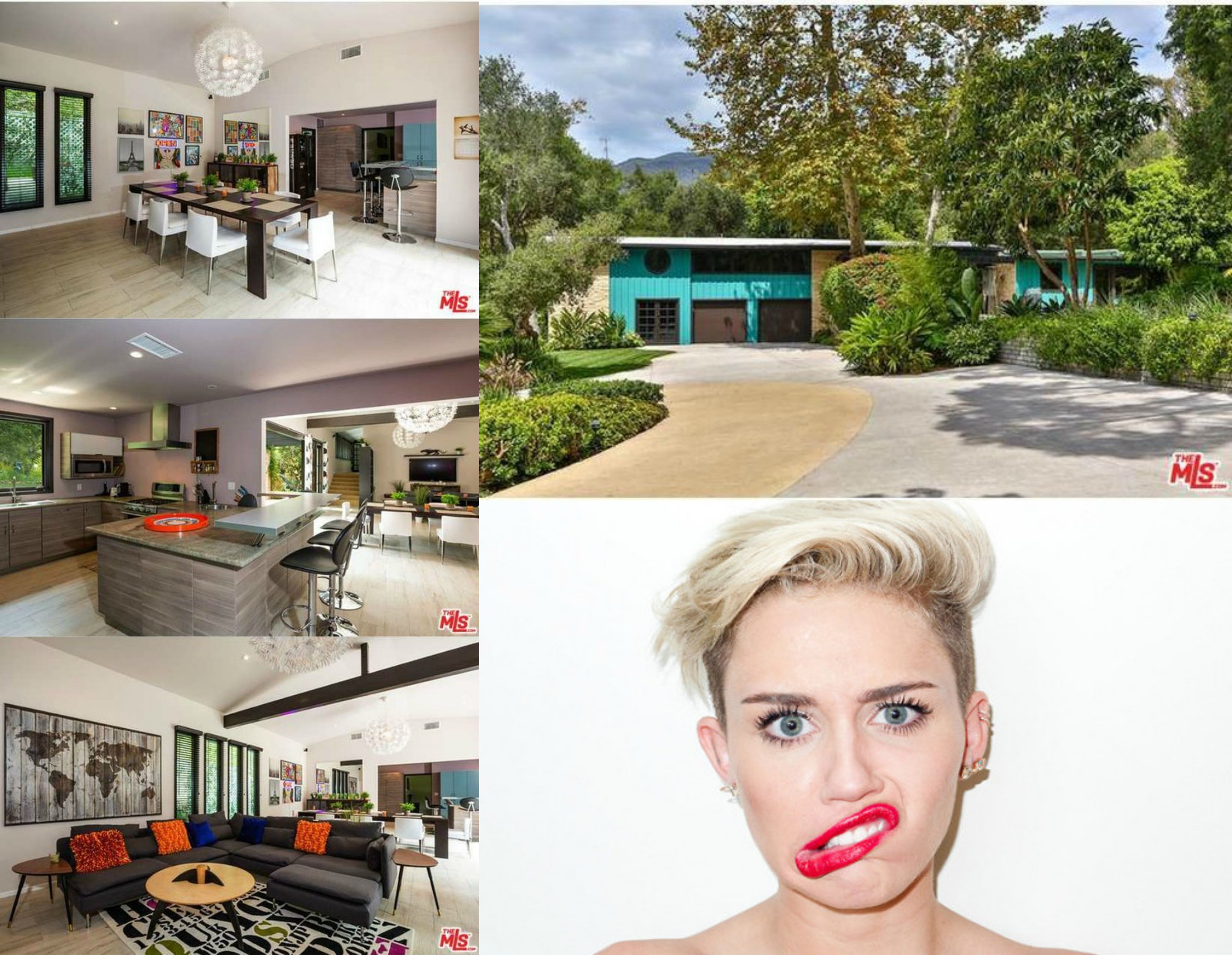 The Wrecking Ball hit maker recently purchased this Malibu pad for a reported $2.5million. The mid-century home is situated just around the corner from Cyrus' beau, Liam Hemsworth, and has four bedrooms and three-and-a-half bathrooms (no, I don't understand how you have half a bathroom, either), and sits on two lush acres of land– sounds like there will be plenty of room for Miley's selection of precious pups!
5) Kim Kardashian and Kanye West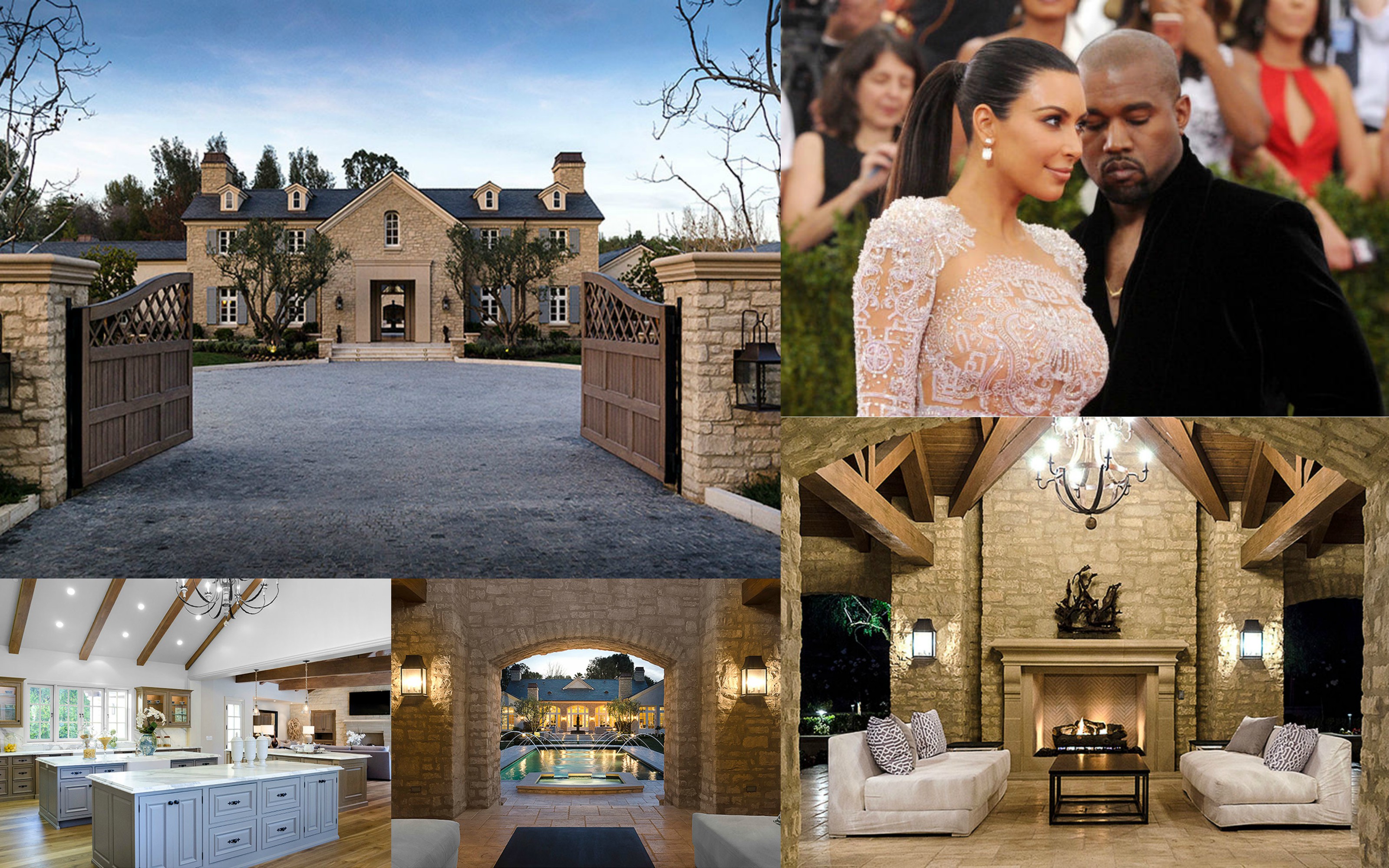 I'm not sure that houses can get more beautiful than this Hidden Hills abode. The $20million mansion includes two swimming pools, two vineyards (because just one of either would make you a peasant), a spa and an entire entertainment pavilion: glad to see they got all of the necessities in there.
With the sheer size of this home, Kim and Kanye must only use half of it- which means that they can let a few of us live in the other half free of charge… right?
6) Kylie Jenner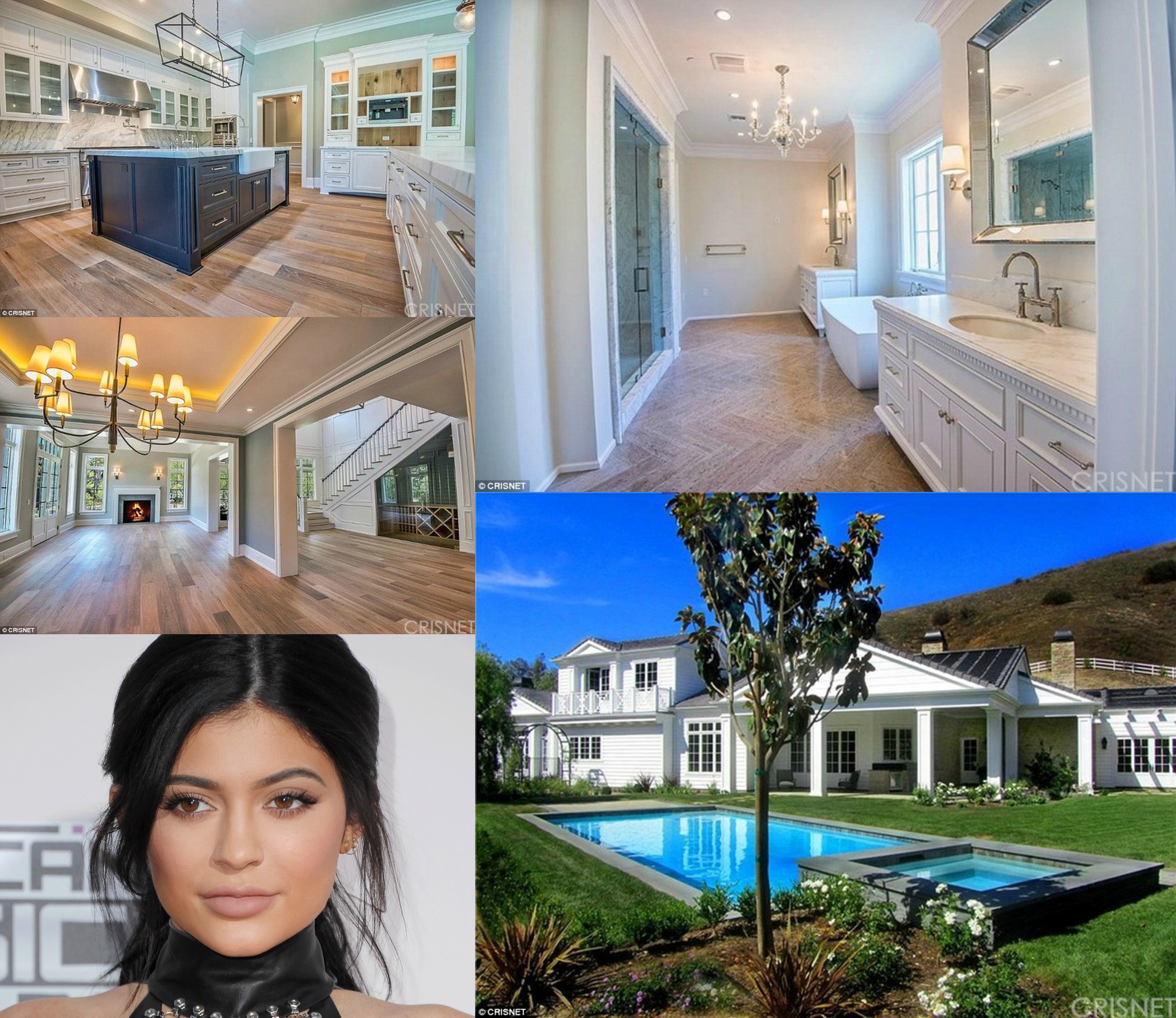 The youngest Kardashian/Jenner, Kylie, picked up this Hidden Hills crib back in June, which is pretty handy considering she is just around the corner from big sis Kim and 'momager' Kris.
The property comes with a swimming pool and large walk-in closet (obviously) and even its own wine cellar- even though Kylie is only 19 and can't legally drink alcohol in the US for another 2 years. Meanwhile, us twenty-something year olds will continue to live with our parents until we're in our thirties. Let's all hope that Kris gets bored of her kids and adopts us instead.
If you want to recreate Ms Jenner's modern home decor in your own abode, then check out TheHouseShop's "Kylie Jenner: Steal Her Style Guide" here.
King K is currently in the process of updating her mansion – check out what she's doing to her bedroom. 
7) John Legend and Chrissy Teigen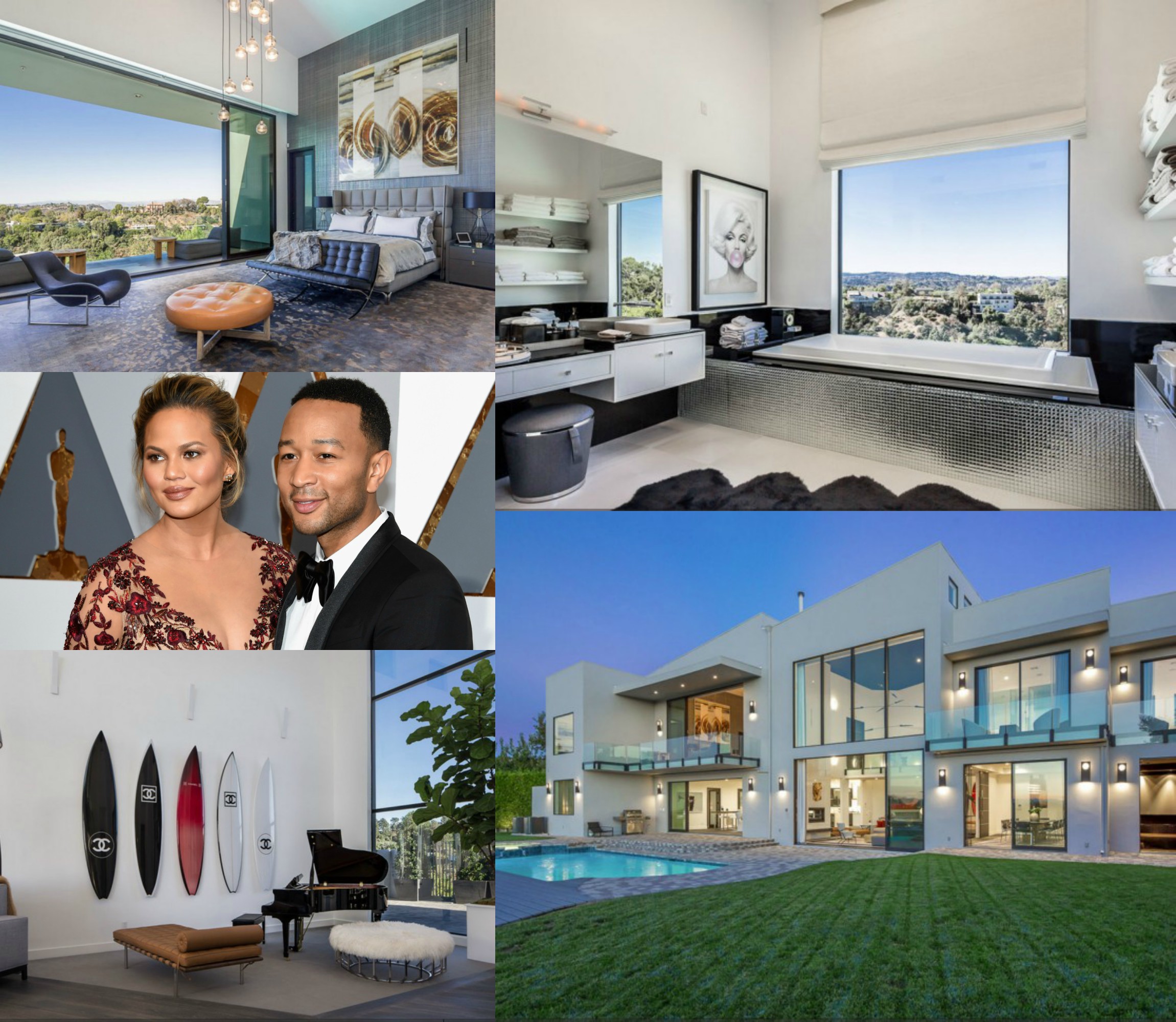 Apparently famous people like buying other famous people's homes. Super couple John Legend and Chrissy Teigen brought this super-luxury home in Beverly Hills off of none other than Rihanna, for a bargain price of $14 million. The mansion sprawls over 8,520 square feet and has an impressive 5 bedrooms, 8 bathrooms, a bar, snooker hall, gym and library. Not bad!
8) Jennifer Lawrence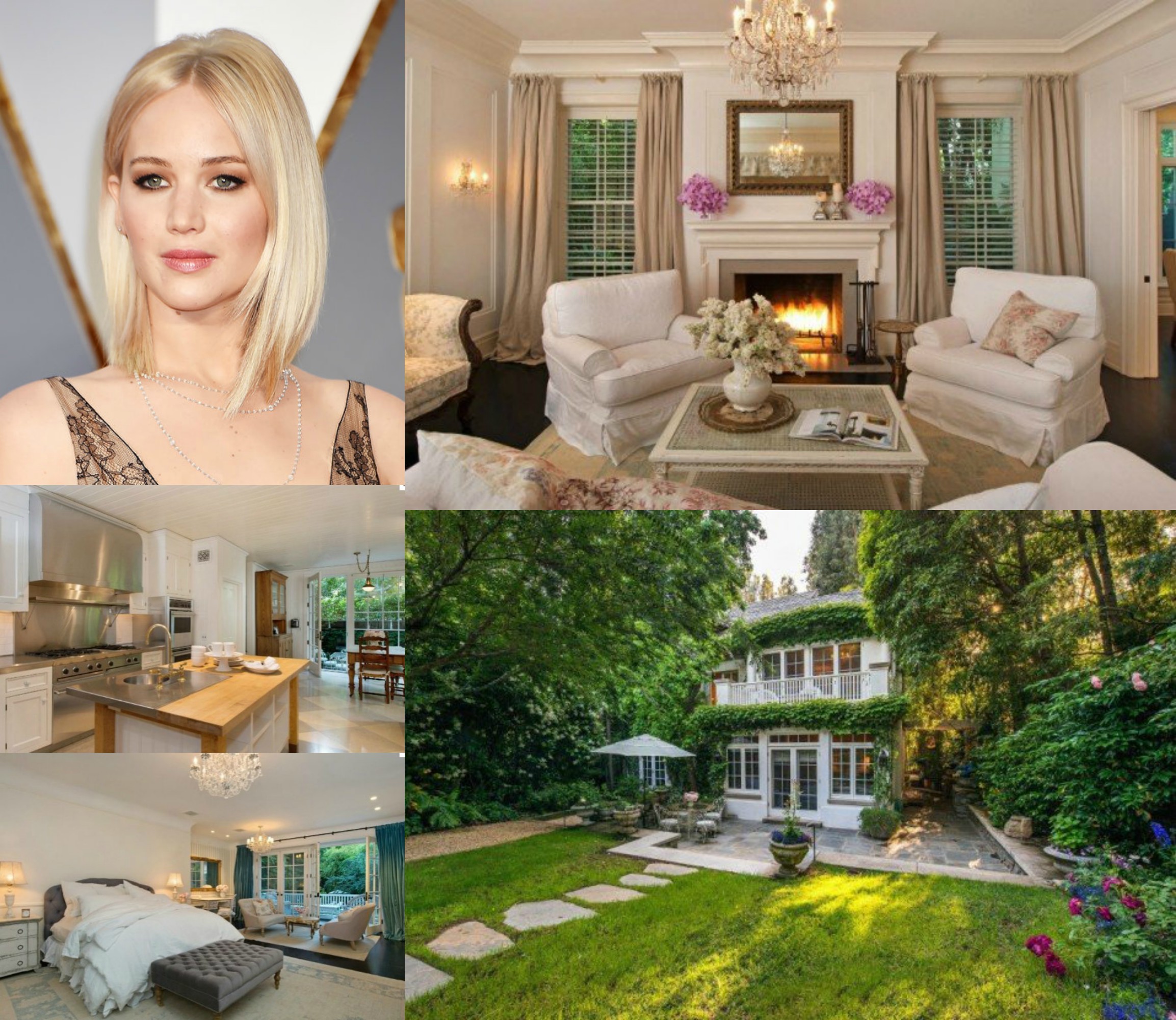 Sticking true to tradition, Jennifer Lawrence brought this Beverly Hills home from Ellen DeGeneres (who brought it from Jessica Simpson), for over $7 million. Compared to other celeb homes, this one is much more understated and charming, a bit like Jennifer herself.
Jen also recently sold her starter home for $1.15 million, which is much cheaper than her current abode, but still more expensive than the average starter home.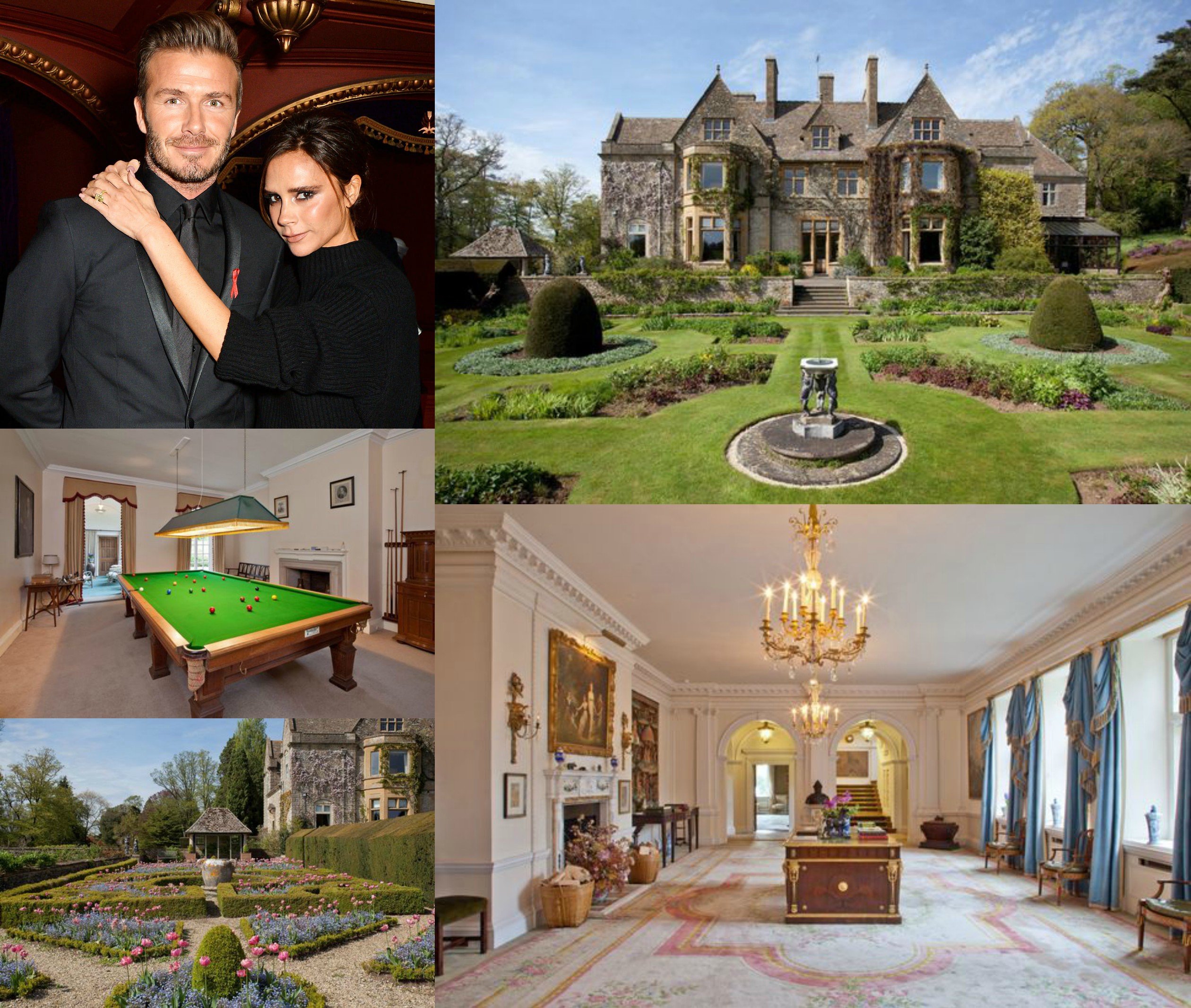 Let's face it, the Beckhams are effectively British royalty, and now it looks like they have a palace to match their status. The couple are rumored to have purchased this countryside estate for £27 million late last year. The estate boasts 10 bedrooms, 6 bathrooms and 13 out buildings. Is this the new Beckingham Palace???
10) Sia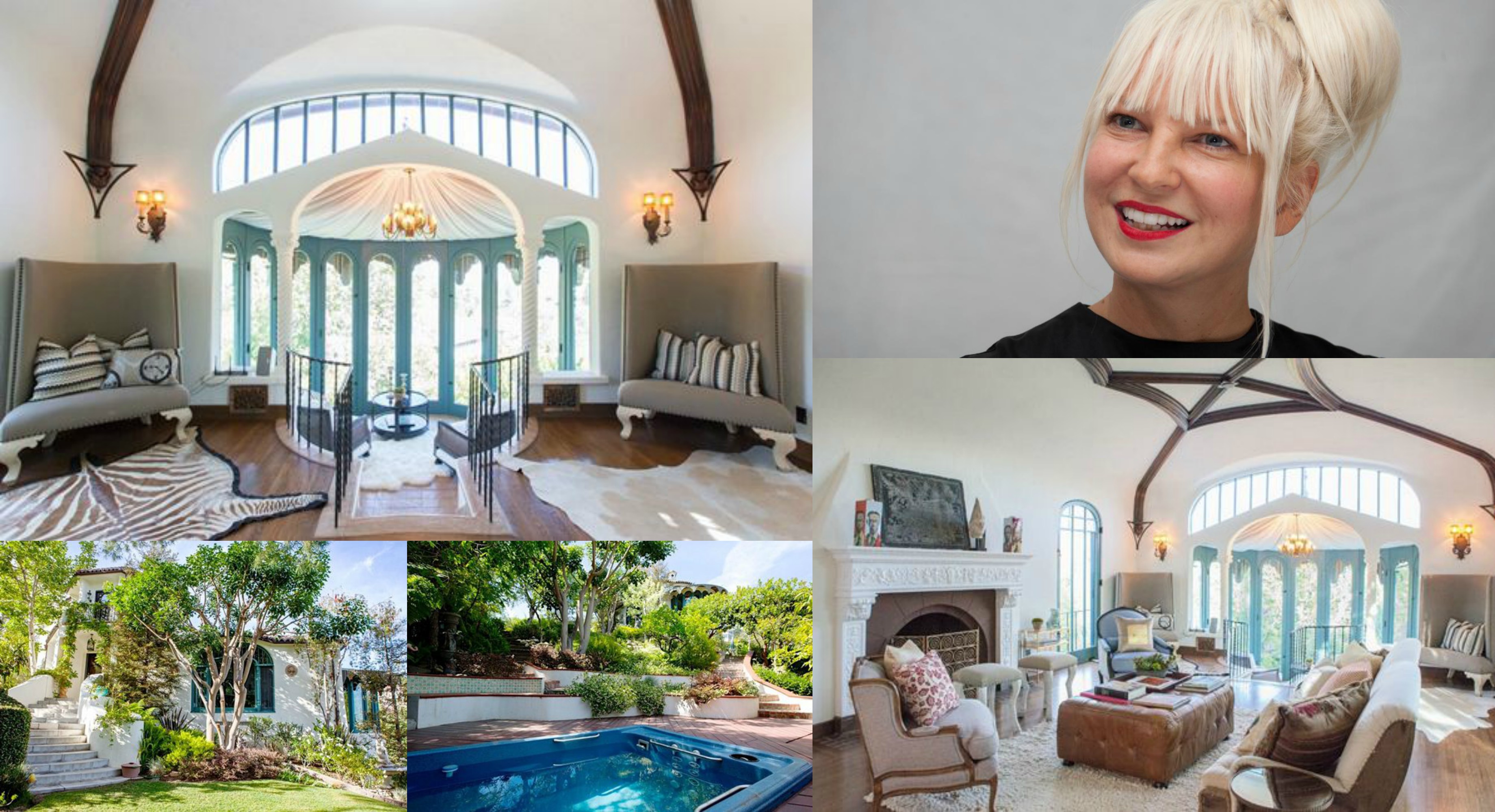 The 'Cheap Thrills' hit maker reportedly owns this LA mansion, which spreads over 5,161 square feet. The home has five-bedrooms, four and-a-half bathrooms and was even designed by AF Leicht – a revered architect famous for Mediterranean-style homes in the '20s – costing Sia a cool $4.3 million.
11) Caitlyn Jenner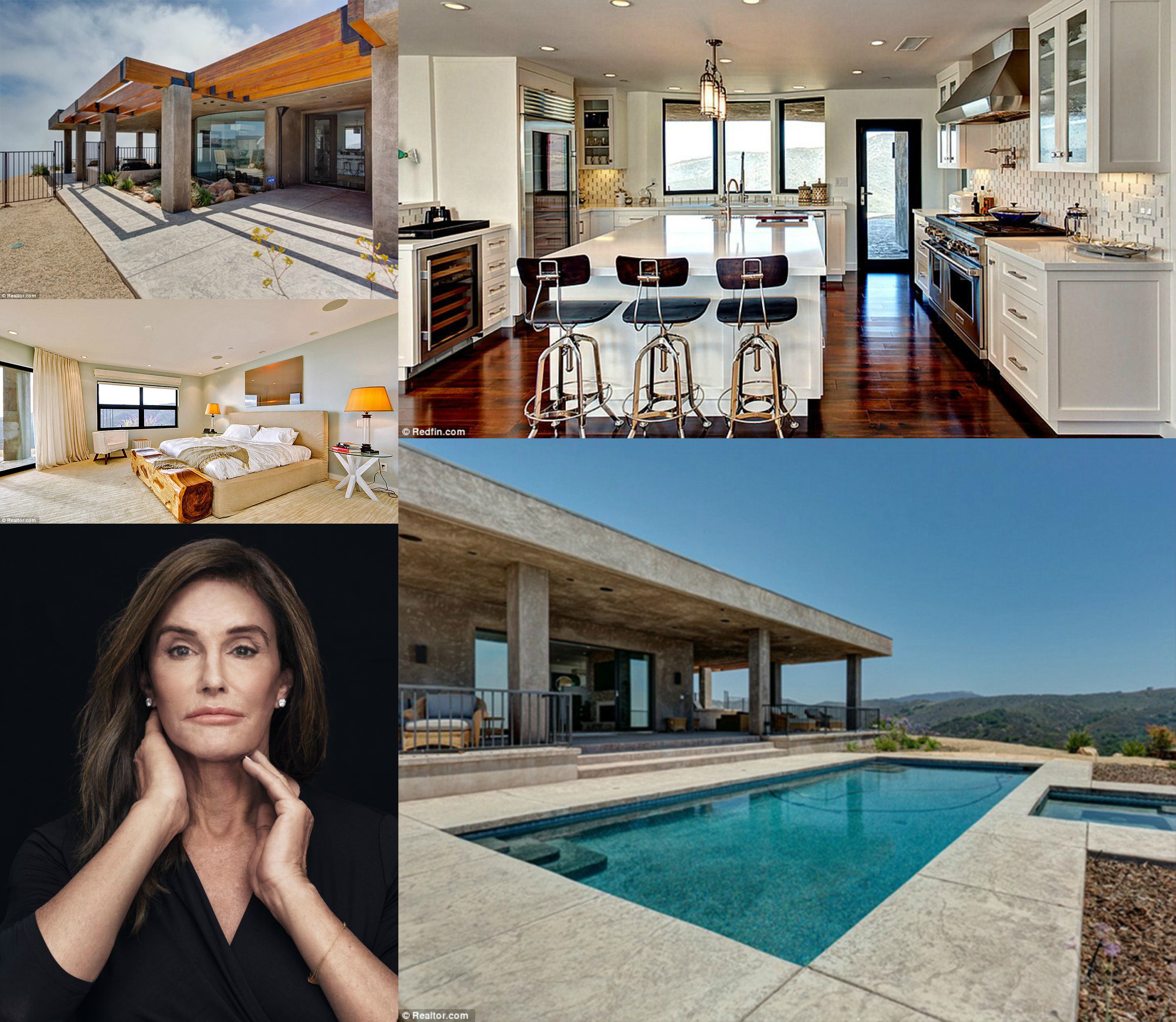 As a part of her transformation into Caitlyn Jenner, the star purchased a $3.5 million home nestled in the Malibu hills. Interior designer, James Hernandez, gutted and redecorated the home years before Jenner had purchased it, and Caitlyn has kept it mostly the same, opting to keep the understated 'California-living' look. Jenner's favourite part of the home is reportedly the 'glam room', where the former Olympian keeps all of her dresses- something that she has always wanted.
12) Justin Bieber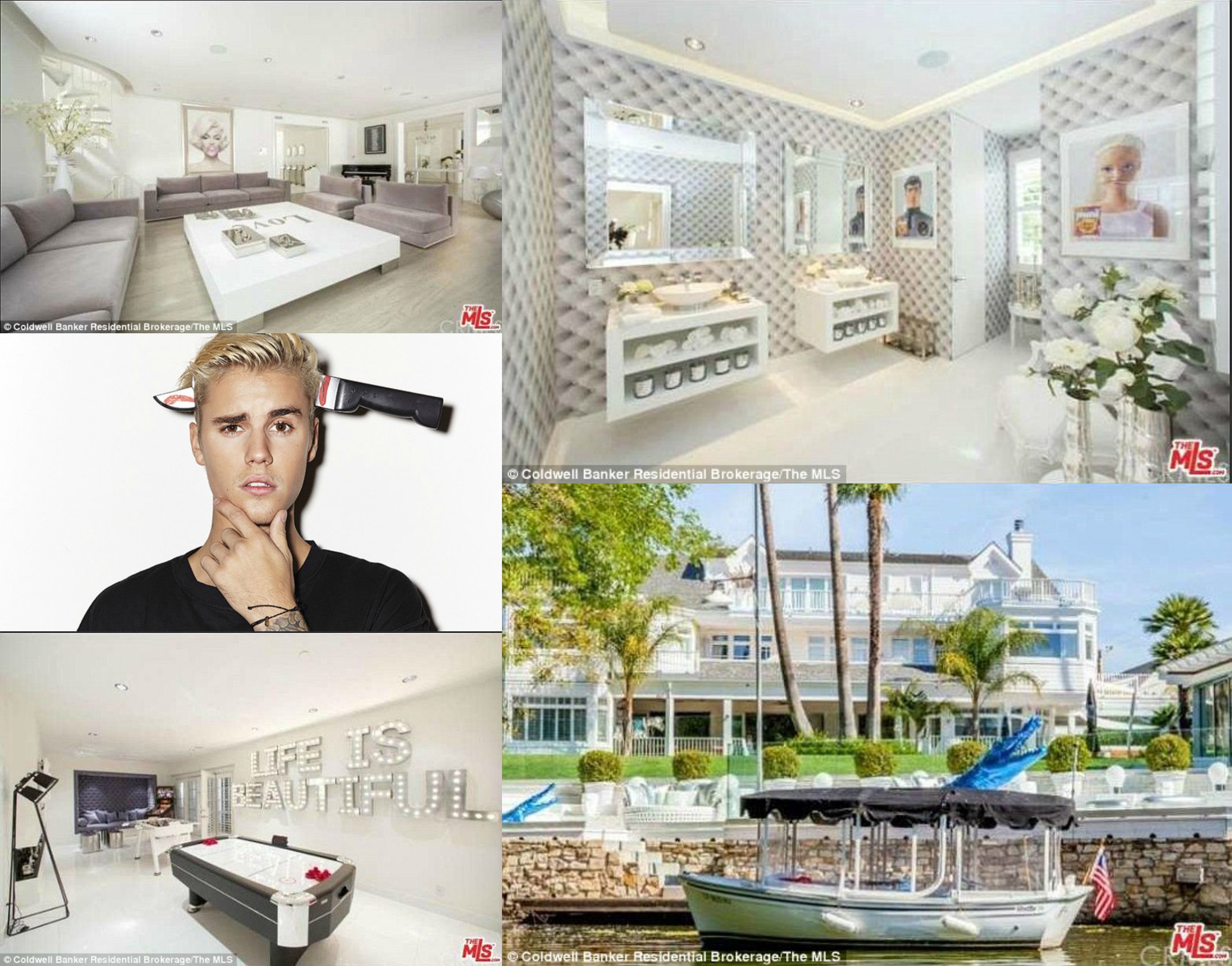 So, back in May 2016, Justin Bieber rented this lavish lakeside mansion for an eye watering $80,000 a month. But, with 10 bedrooms, a game room, screening room, gym and 16 bathrooms, there is plenty of room for the whole of Justin's entourage in the Toluca Lake home. Plus, the swimming pool is pretty nice too, which almost justifies the hefty price tag.
13) Lana Del Rey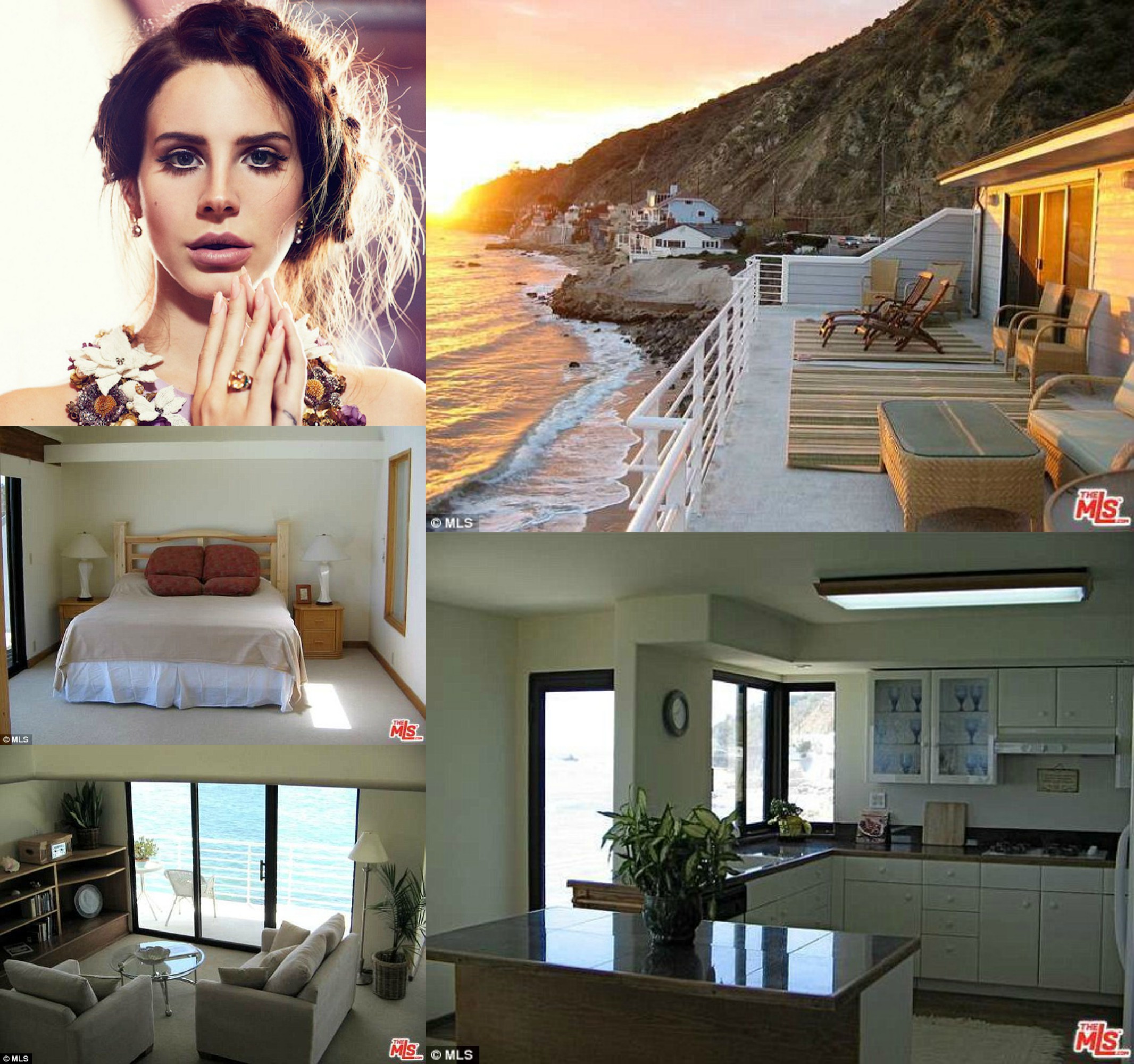 The songstress, Lana Del Rey, was reported to have paid $3million for this beach-side property back in 2015. Surrounded by rocks, and the sea, this coastal pad makes it hard for the paps to get a glimpse of Lana in her downtime. As dreamy as the views are, we really hope that Lana updated the outdated decor a bit…
15) Blake Lively and Ryan Reynolds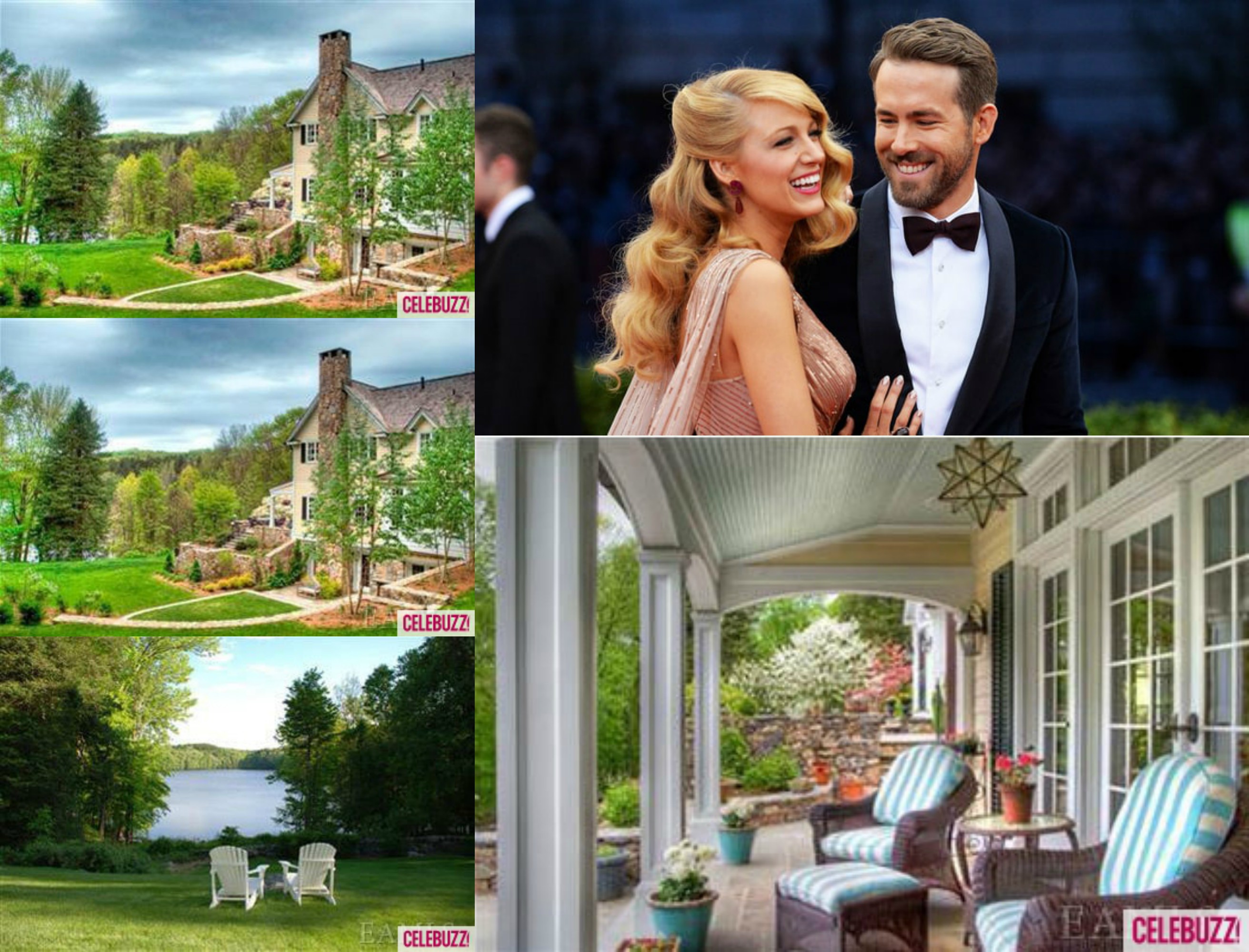 According to CelebBuzz, Blake Lively and Ryan Reynolds bought their first home together in 2012. And unlike many couples their age. they didn't have to settle for a cramped studio flat. This suburban detached house is set in 1.7 acres of land, has 4 bedrooms and 4 and a half bathrooms and cost a reported $2.3million. Not bad!
16) Nicki Minaj and Meek Mill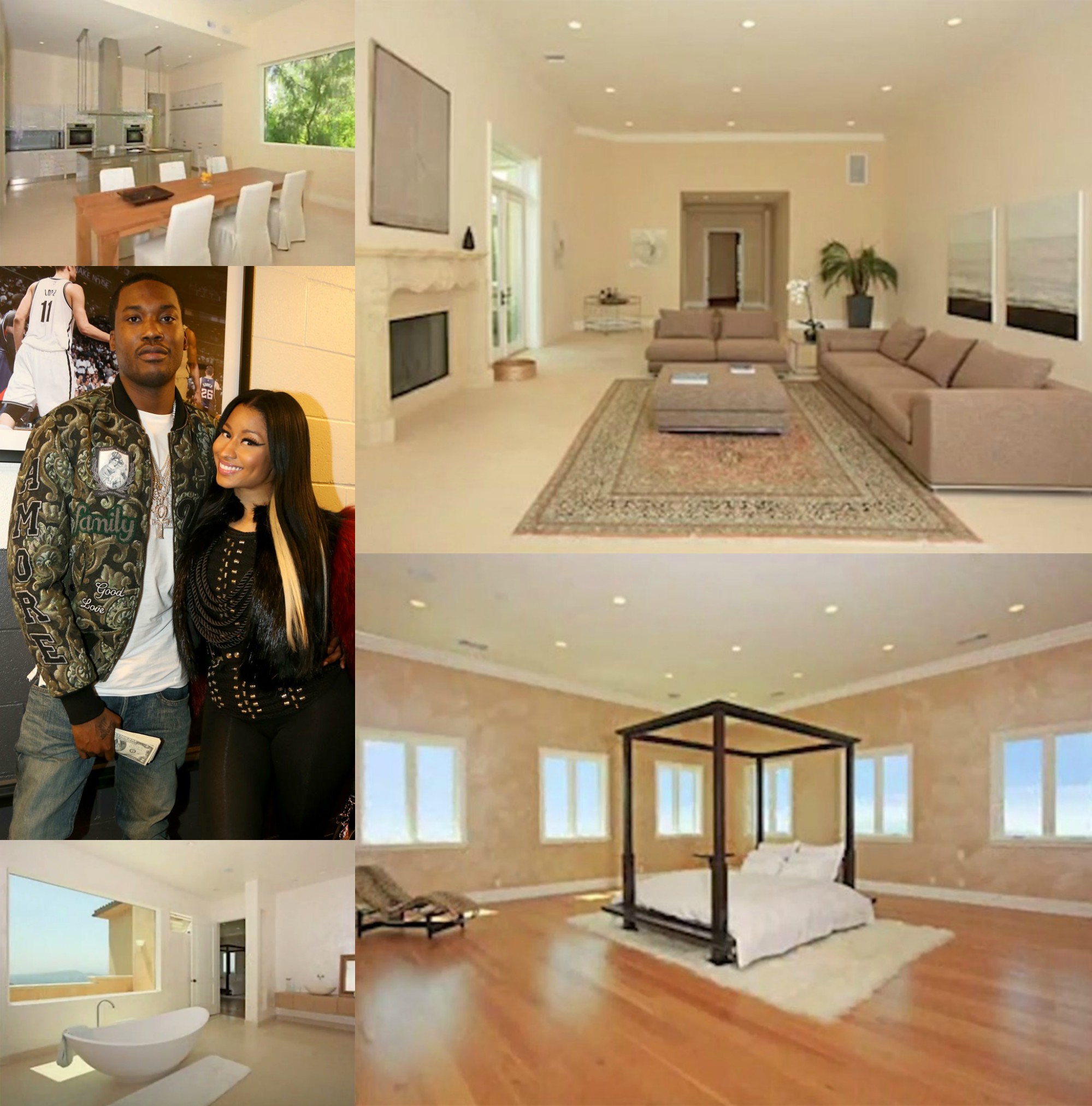 Nicki Minaj and her beau, Meek Mill, have just moved into this Beverly Hills luxury mansion. Coming in at over 11,500 square feet, their new sprawling mansion boasts nine bedrooms and eight bathrooms. The home also includes a gated entrance, a five-car garage, a modern kitchen furnished with stainless steel appliances, and a spacious master suite with not one, but two walk-in closets, which is the least you'd expect when the rent is costing the couple $30,000 a month.
17) Rihanna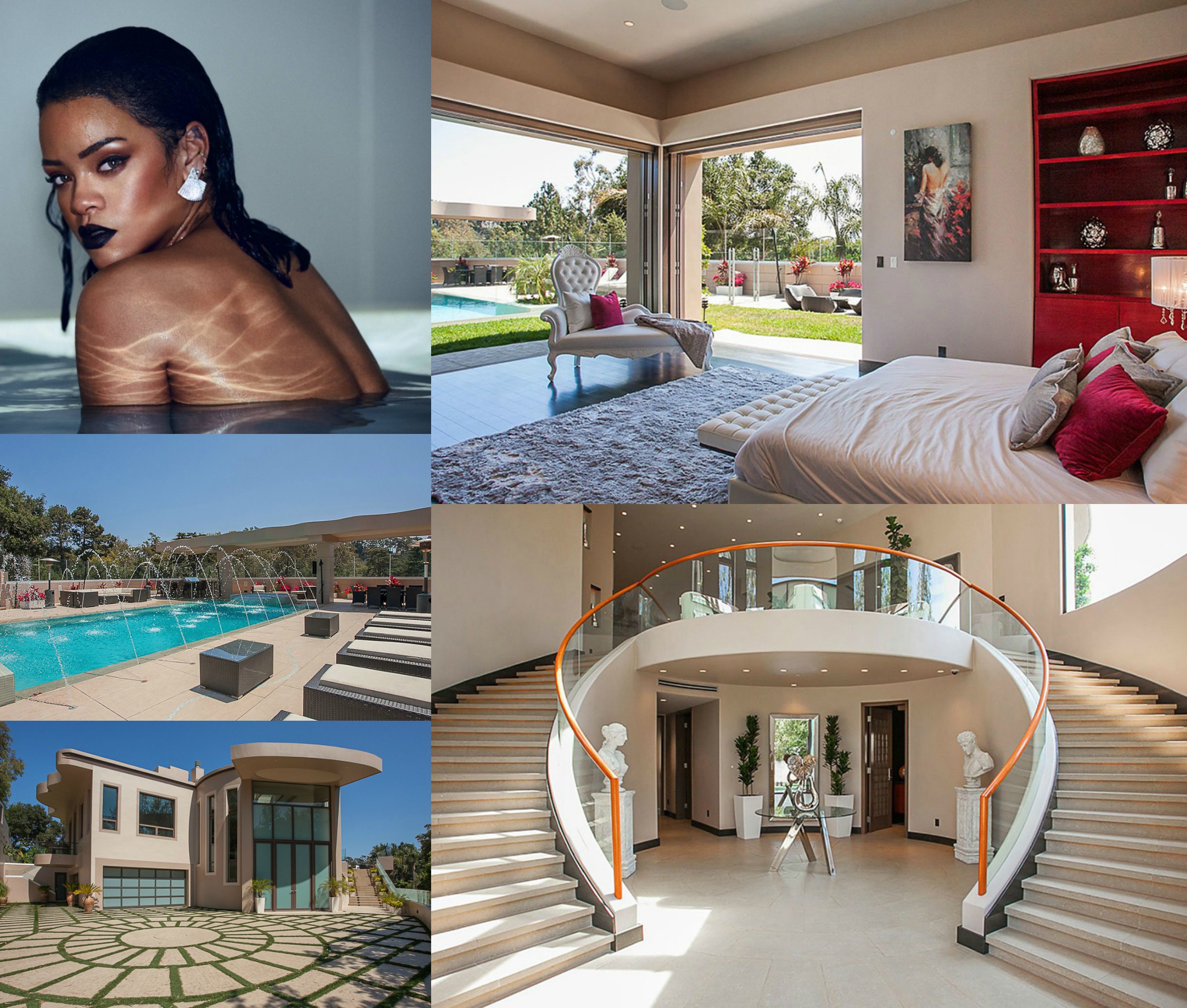 Ok, she doesn't live here anymore, but this is Rihanna's former mansion in Pacific Palisades, Los Angeles. The singer's gaff went up for sale this August for a massive $14.59 million, with a rental value of $100,000 a month. The LA home brags seven bedrooms, eight bathrooms, a master suite with a double-sided fire feature, a rooftop deck that looks out over a 6,000-square-foot garden and a pool with water jets. The water jets are probably the best feature, tbh.
18) Lady Gaga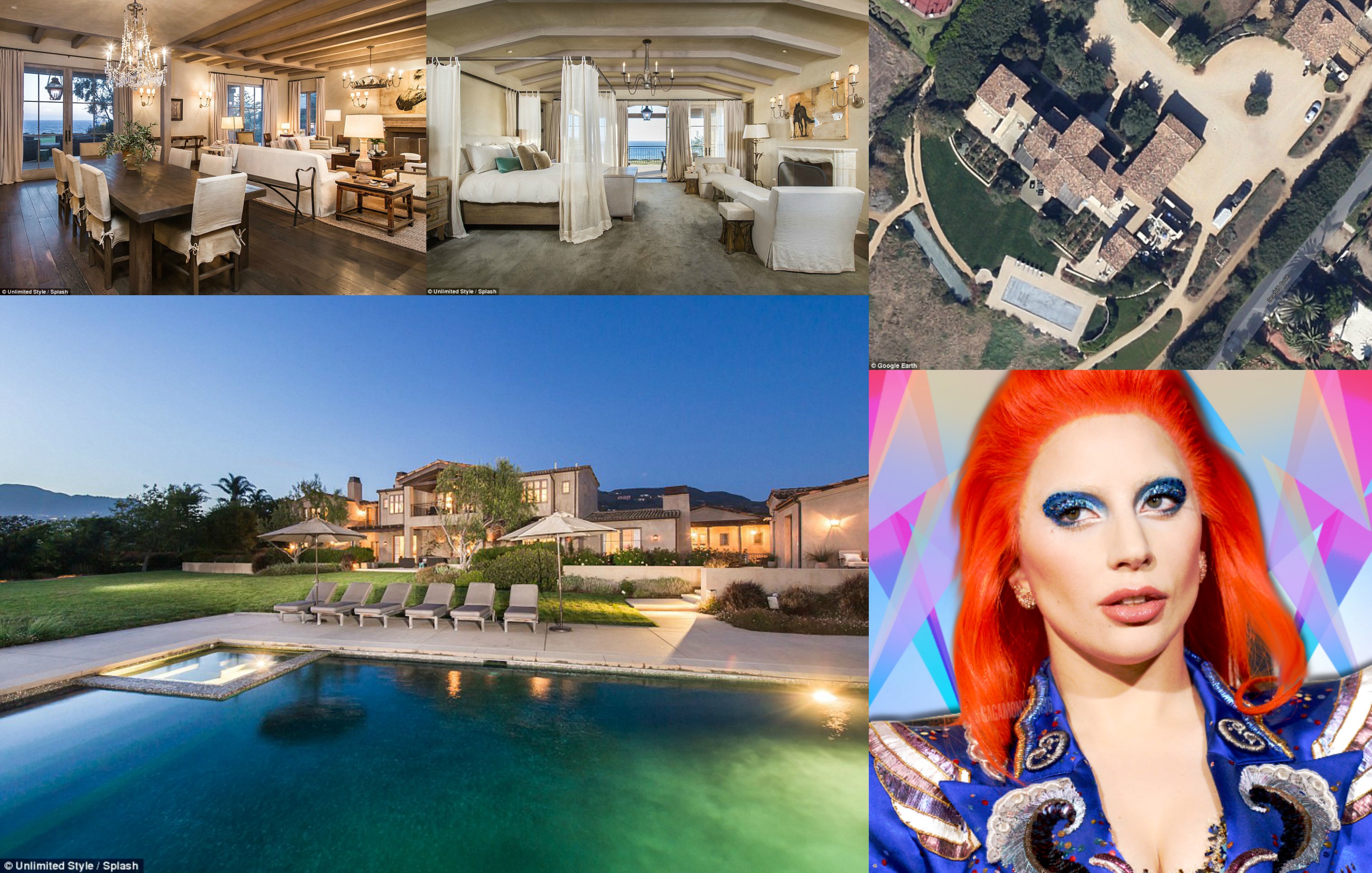 In 2014, pop sensation, Lady Gaga put down an astonishing $24 million on this stunning Malibu compound. The home was previously owned by Warner Bros mogul Dan Romanelli, who founded the Worldwide Consumer Products Division of the corporation, and comes with everything you could possibly imagine- a 6 acre spread, private gym, salt water pool and Jacuzzi, wine cellar, two lane bowling alley, bocce ball court, eight horse stable block and extensive equestrian facilities, which include a riding trail.
19) Leonardo DiCaprio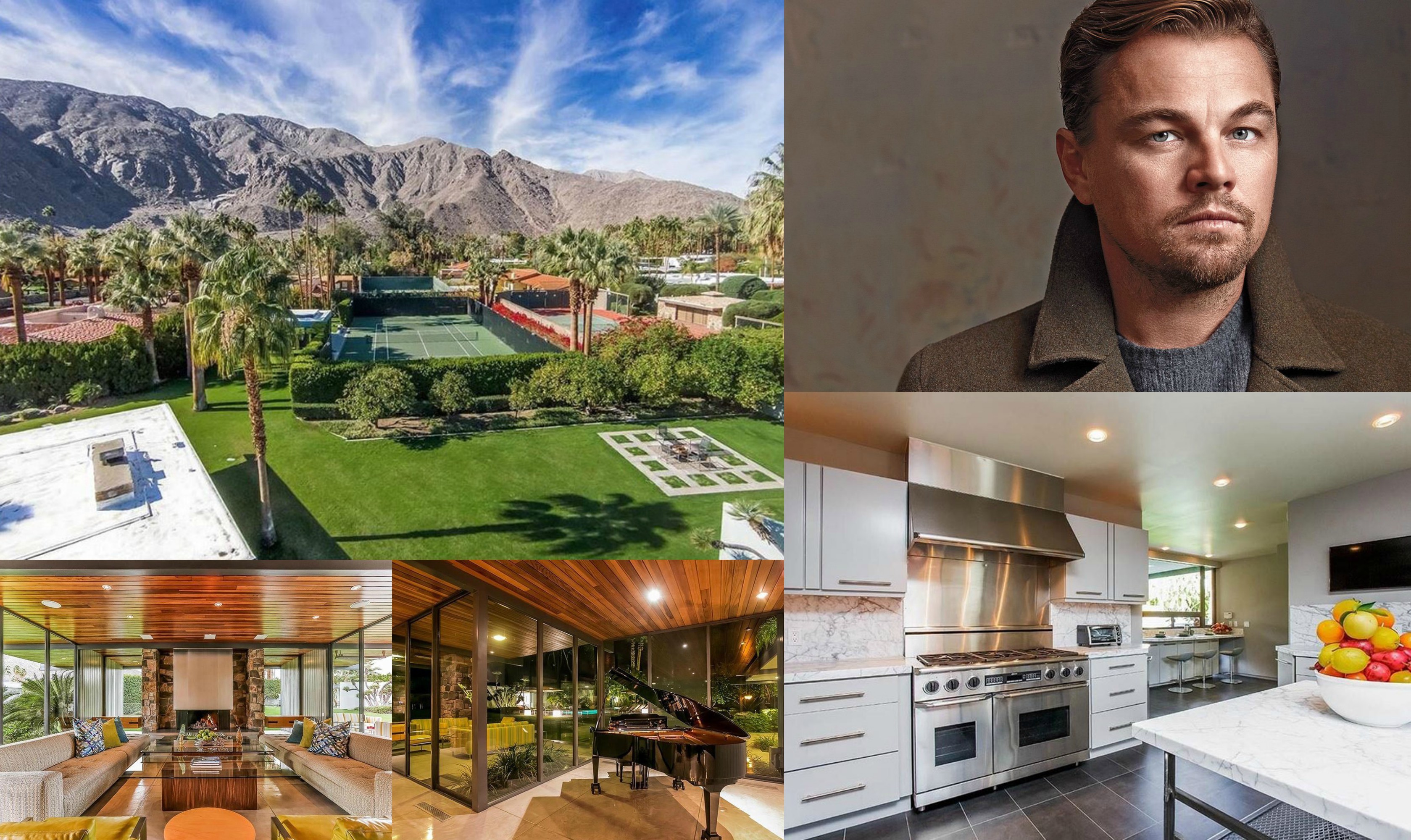 Apparently celebs are just like us…kind of. When Leo isn't at home, he rents out his swish Palm Springs home, which is set in 1.34 acres of land and is spread across 7,022 square feet – plenty of room for the house's 6 bedrooms and seven and a half bathrooms. There's also a tennis court and a pool! If you happen to have a spare $4,500 to spend, why not stay at Leo's for the night?
20) Jennifer Lopez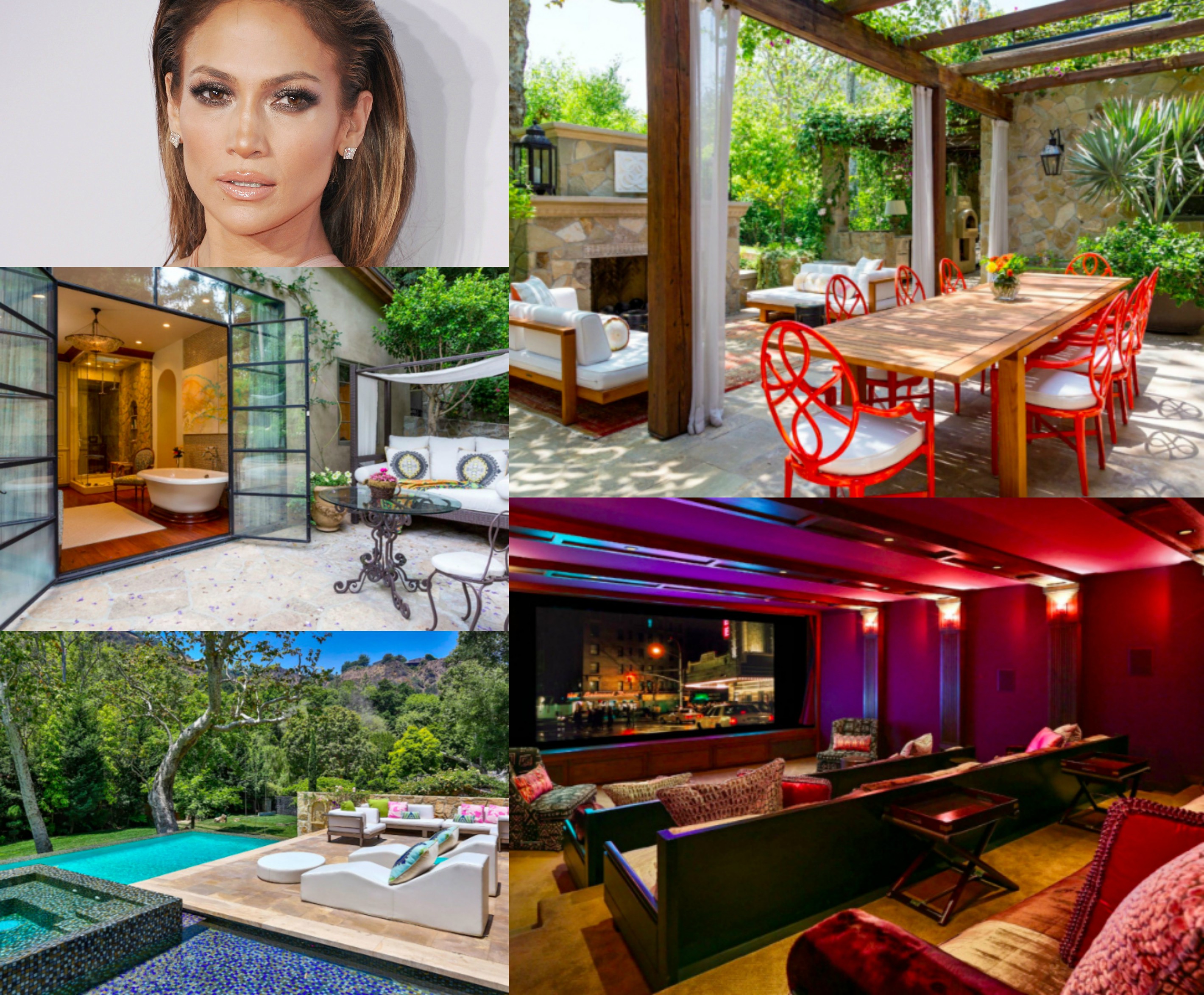 Looks like Jenny has upgraded from 'the block' a bit. J'Lo's Bel Air mansion sprawls across 13,000 square feet, has 7 bedrooms, 13 bathrooms, and all of the other bare necessities, such as a 3 level infinity pool, cinema and games room. The pad cost a massive $28 million, and looks as though it was worth every penny
21) Ashley Tinsdale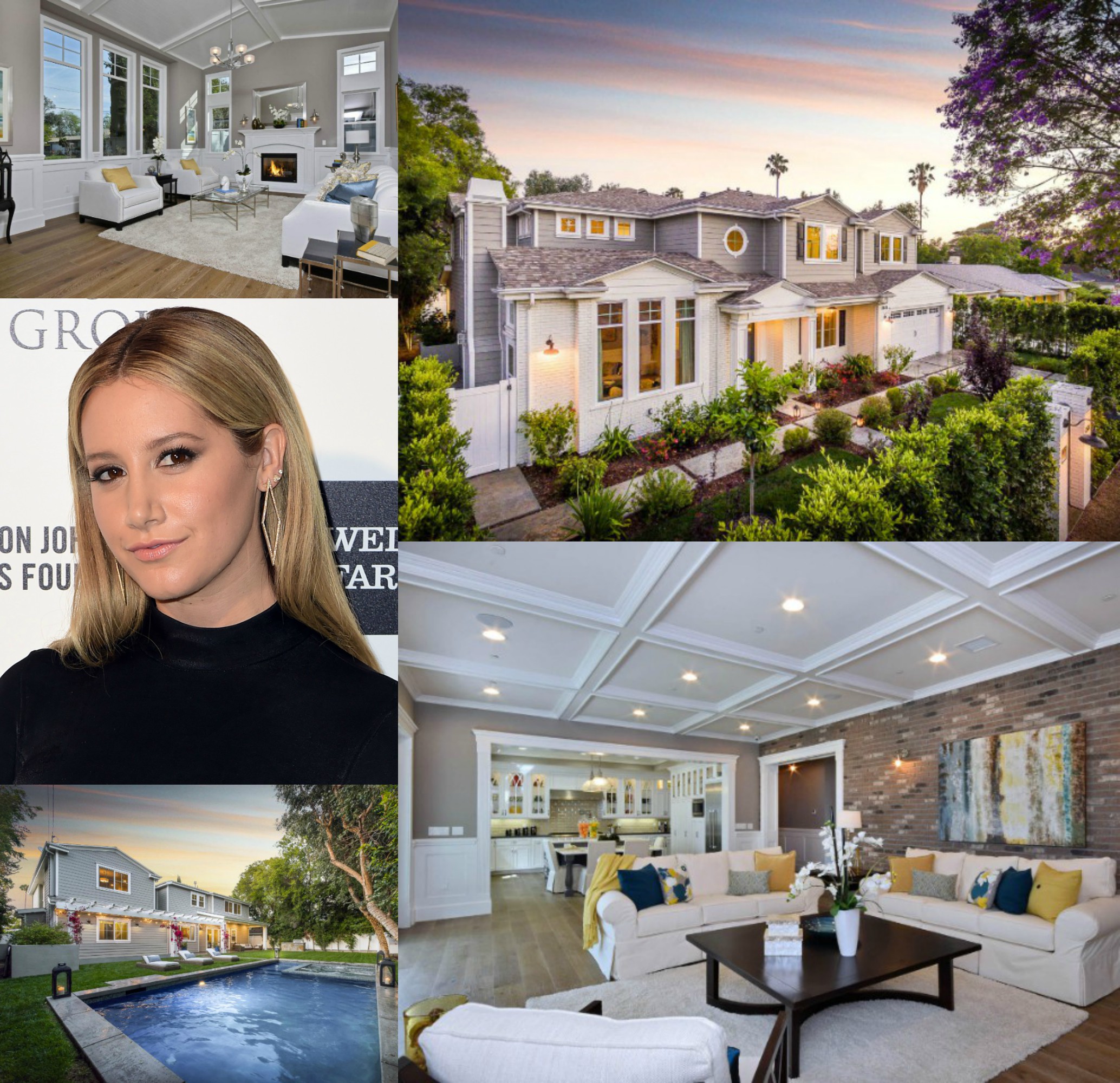 So, Disney actress, Ashley Tinsdale, is selling her Cape-Cod mansion, and it's pretty nice. The residence spans over 5,000 square feet and has 5 bedrooms with en-suite bathrooms, dual walk-in closets, a state of the art kitchen and even a cinema room with a 90-inch projection screen. All of this could be yours for just $2.7 million.
22) Harry Styles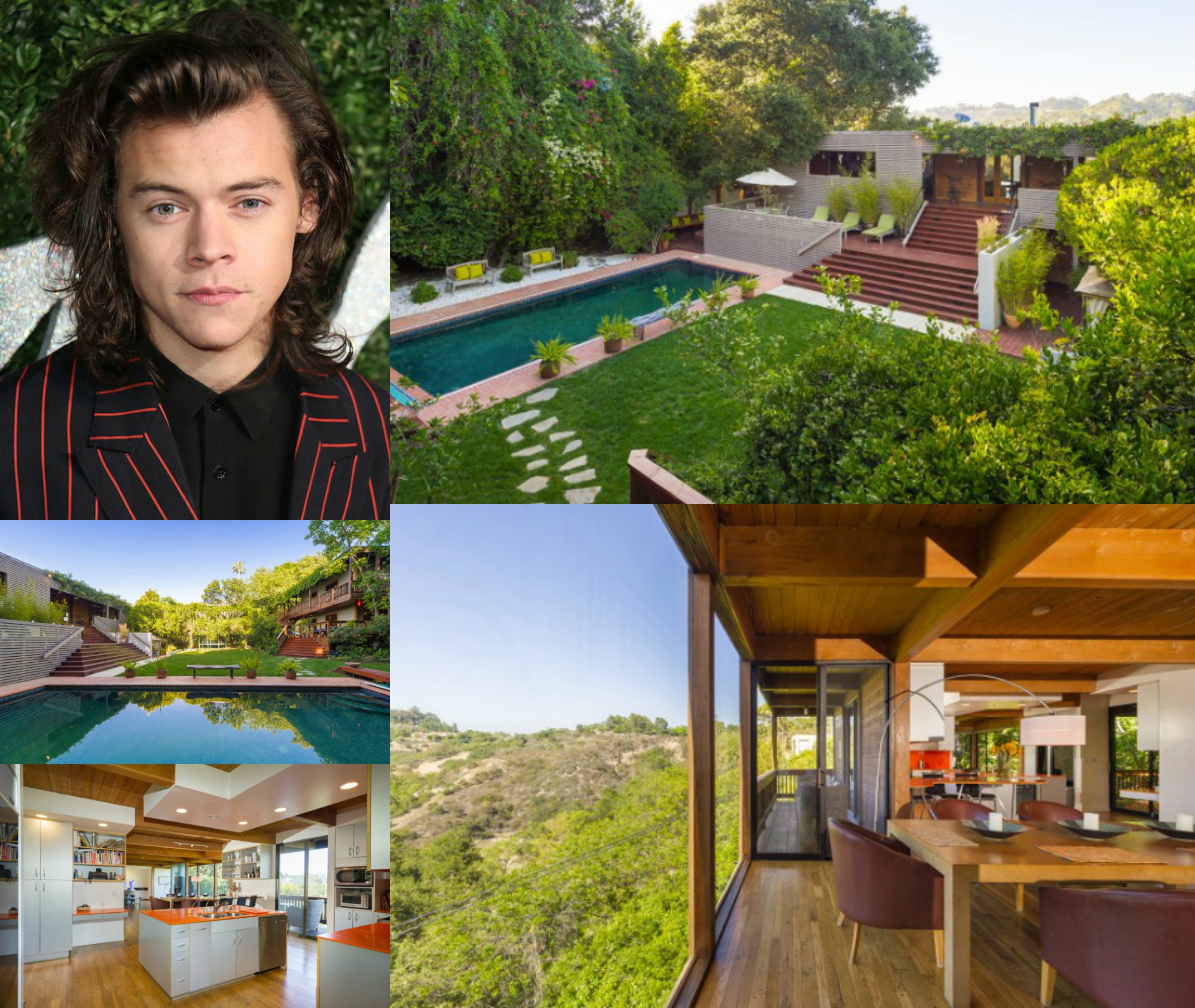 Everyone's favourite member of 1D, Harry Styles, sold his Beverly Hills home back in January this year. Quite why, we're not sure- the property sits at 3,000 square feet, has 5 bedrooms, three-and-a-half bathrooms, a salt water pool, and some impressive decor. But that's not the best part- Style's neighbours are none other than Channing Tatum and Jenna Dewan-Tatum.
This pad sold for an impressive $3.175 million…but considering that Hazza spent $4 million on it, the loss makes it less impressive.
23) The Playboy Mansion/ Hugh Hefner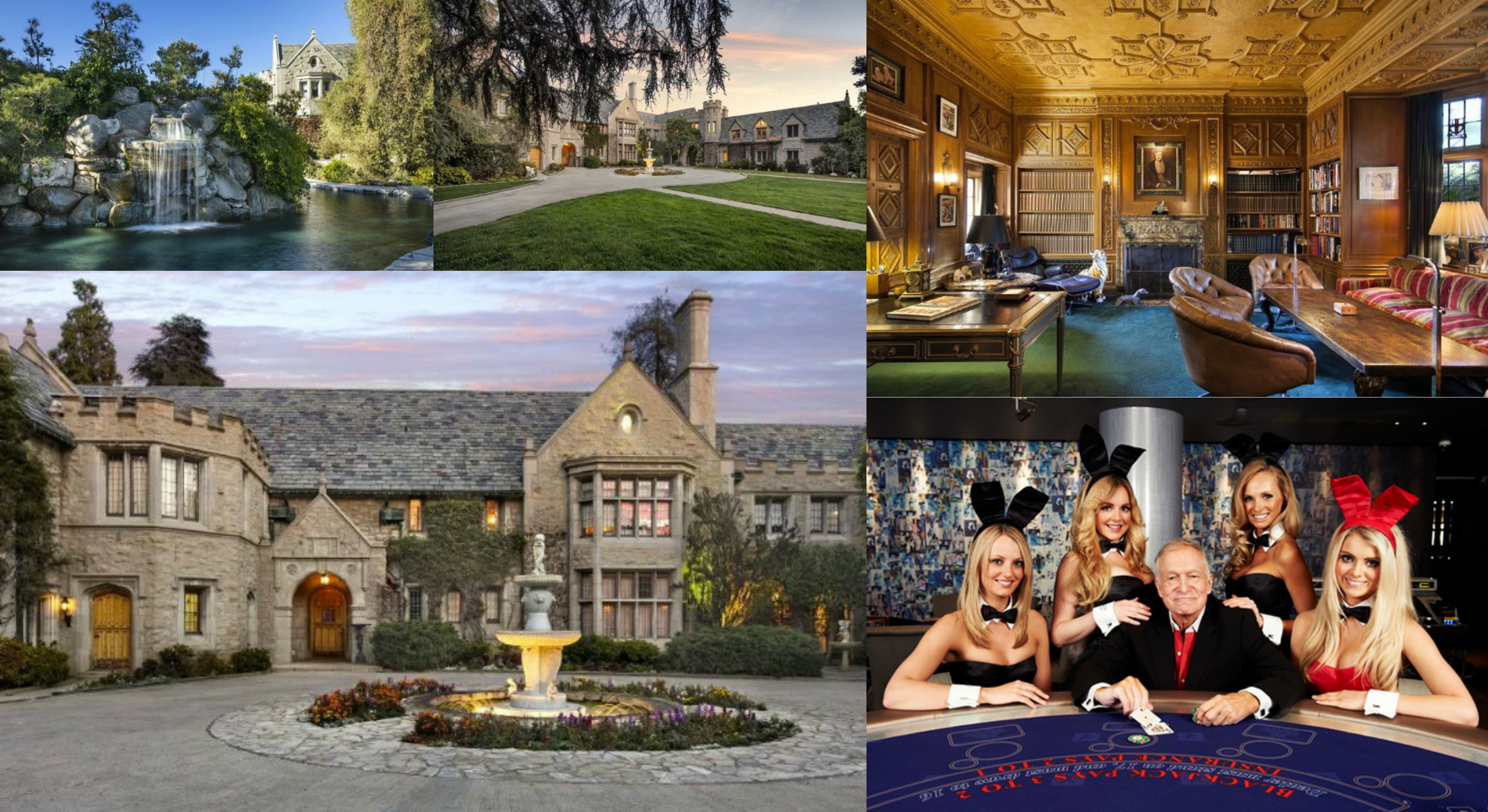 It's officially the end of an era…kind of. The infamous Playboy mansion has been sold. The iconic Hollywood mansion has all the regular features you'd expect, like plenty of rooms and bathrooms for all the bunnies, a swimming pool and games room, plus some extra- with the home being built during prohibition, there is a secret wine cellar, library (complete with a bar) and even a miniature zoo. The Playboy Mansion was sold for $100 million (half of its original price) and comes with the condition that Hef and his wife can live there until he dies.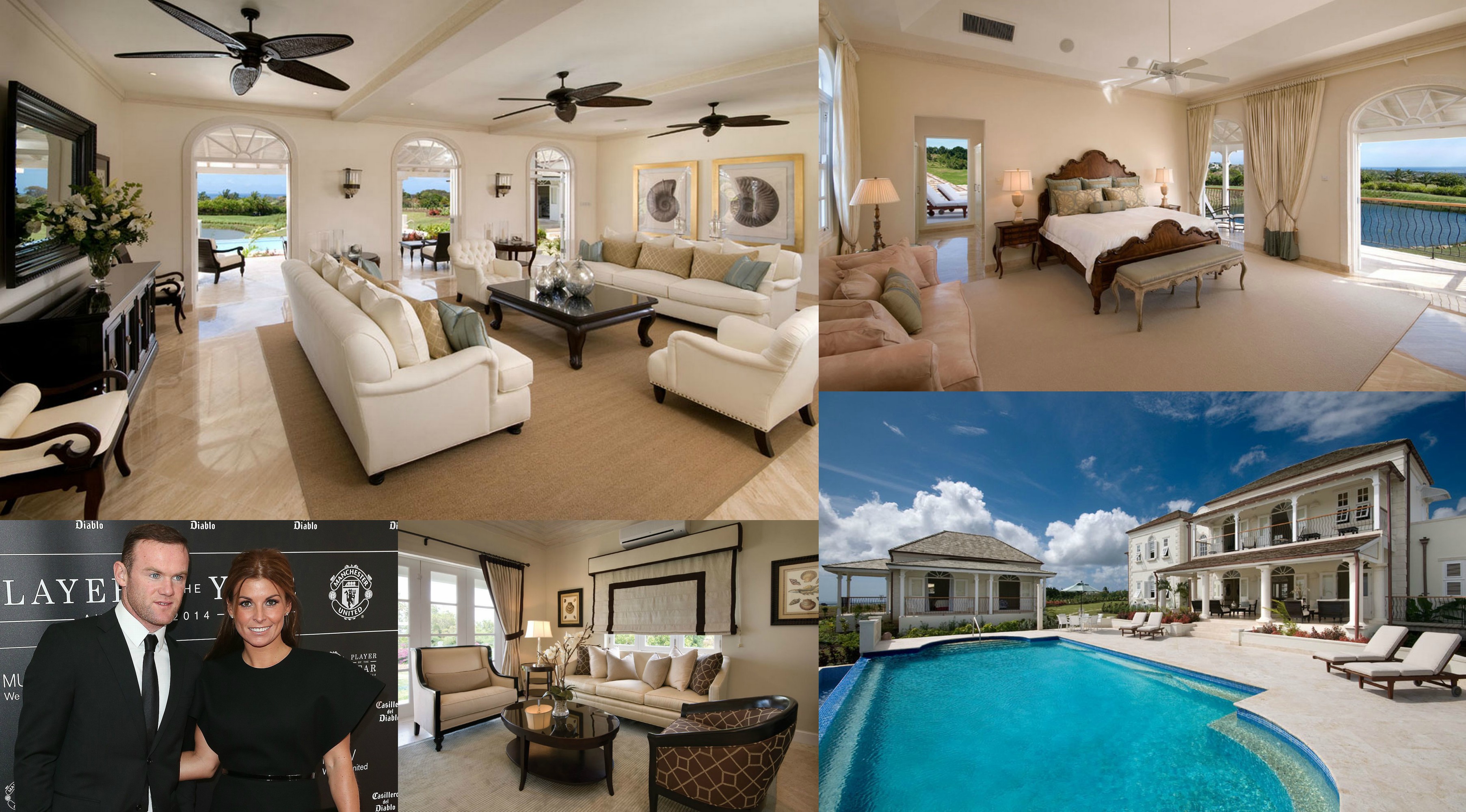 When you're a premiere league footballer, you can probably buy a home anywhere that you like in the world- which must've been why Wayne Rooney bought this Barbadian home. The impressive resort has 5 bedrooms and is built on a golf course- perfect for holiday season! Wayne may have sold this home last year, but up until then you could've rented the property out for £8,000 a week….
25) The Smith Family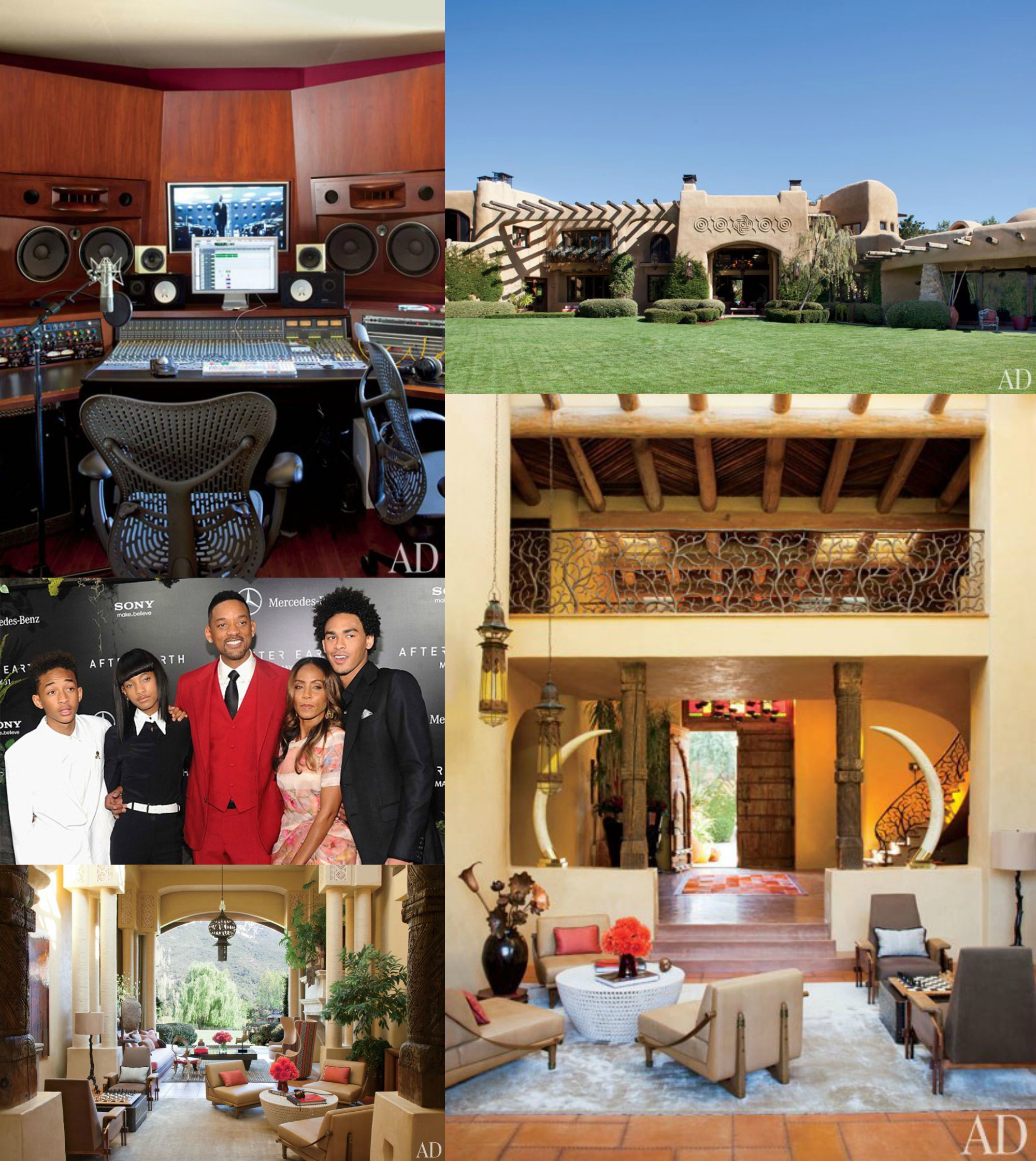 The Smith family is an interesting one, and it looks as though they have a home to match. This unique build in Malibu was designed by Samuel Stephenson and architect Harry Perez-Daple, and is home to all of the Pinkett-Smith clan- Will, Jada, Jaden, Willow and Trey. We're not quite sure what the markings on the outside of the house are supposed to mean, but it looks as though the rest of the estate has been heavily influenced by Indian and South Asian culture.
26) Frank Lampard and Christine Bleakley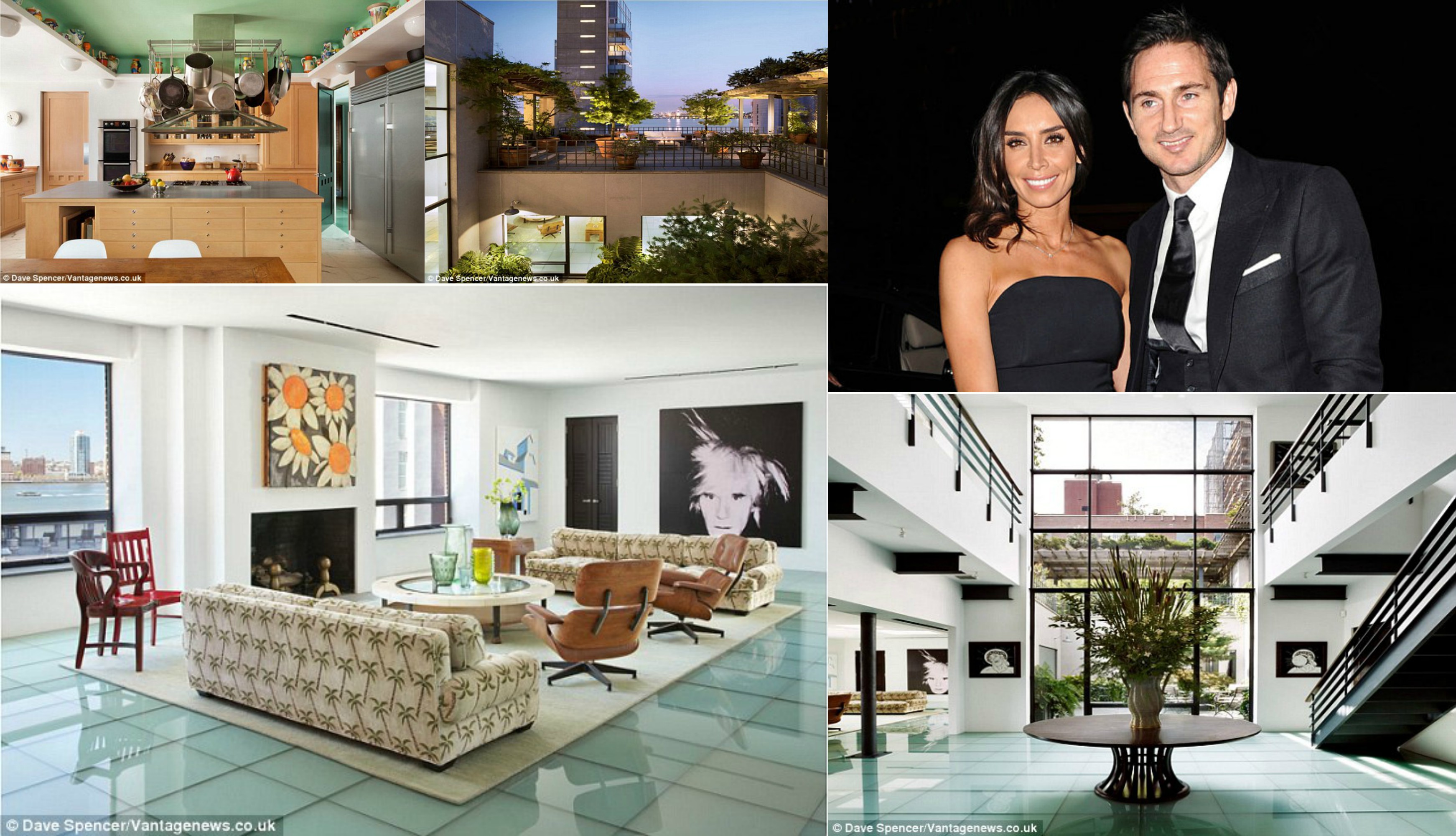 Since moving Stateside last year, Frank and his Mrs, Christine, obviously had to find some new digs to live in. In March 2015, the couple were seen scouting out this 9,000 square foot NYC apartment, which also comes with some terraced gardens that span across 5,300 square feet. Being one of the most expensive cities to reside in, this pad in the Big Apple costs £64,000pcm in rent.
27) Steven Gerrard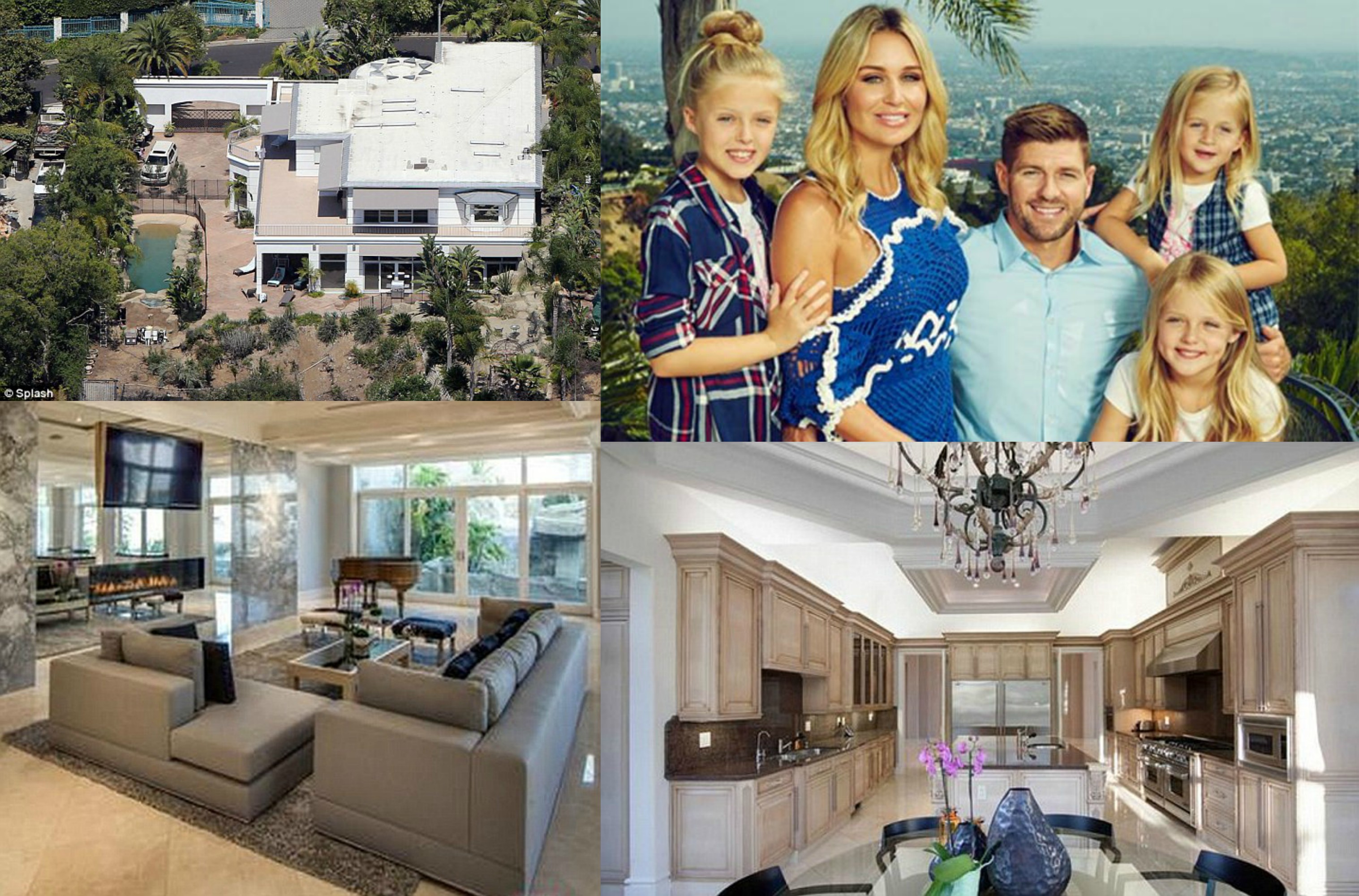 Another of our favourite footballers, Steven Gerrard, also made the move across the pond last year, but unlike Lampard, headed for the sunnier climate of Beverly Hills. This £18 million mansion has enough room for all of the family, with 6 bedrooms, a pool (obviously) and its very own cinema. The rent on the property is £35,000 pcm, we can't imagine that him and wife Alex will be left out on the streets, as Gerrard is reportedly earning £76,000 a week- although he was earning £140,000 a week at Liverpool.
28) Slash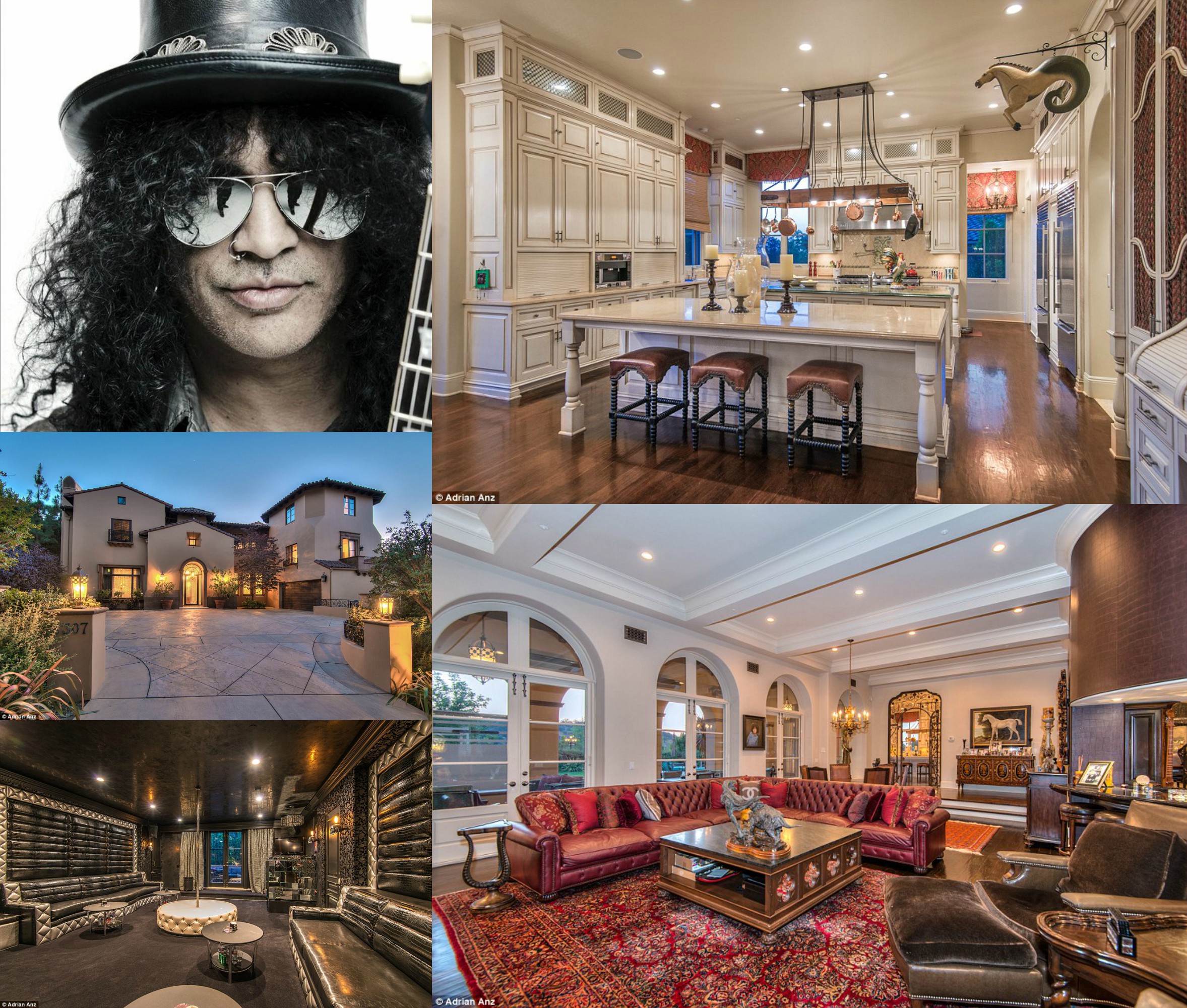 Following his split from wife, Perla Hudson, Slash has listed his LA home for $10.995 million. The marital home of the pair brags the regular 7 bedrooms, 8 bathrooms, but also some more features that are expected from a rock star, such as a night club room complete with a strip pole, screening room with stadium seating and a recording studio.
29) Pharrell Williams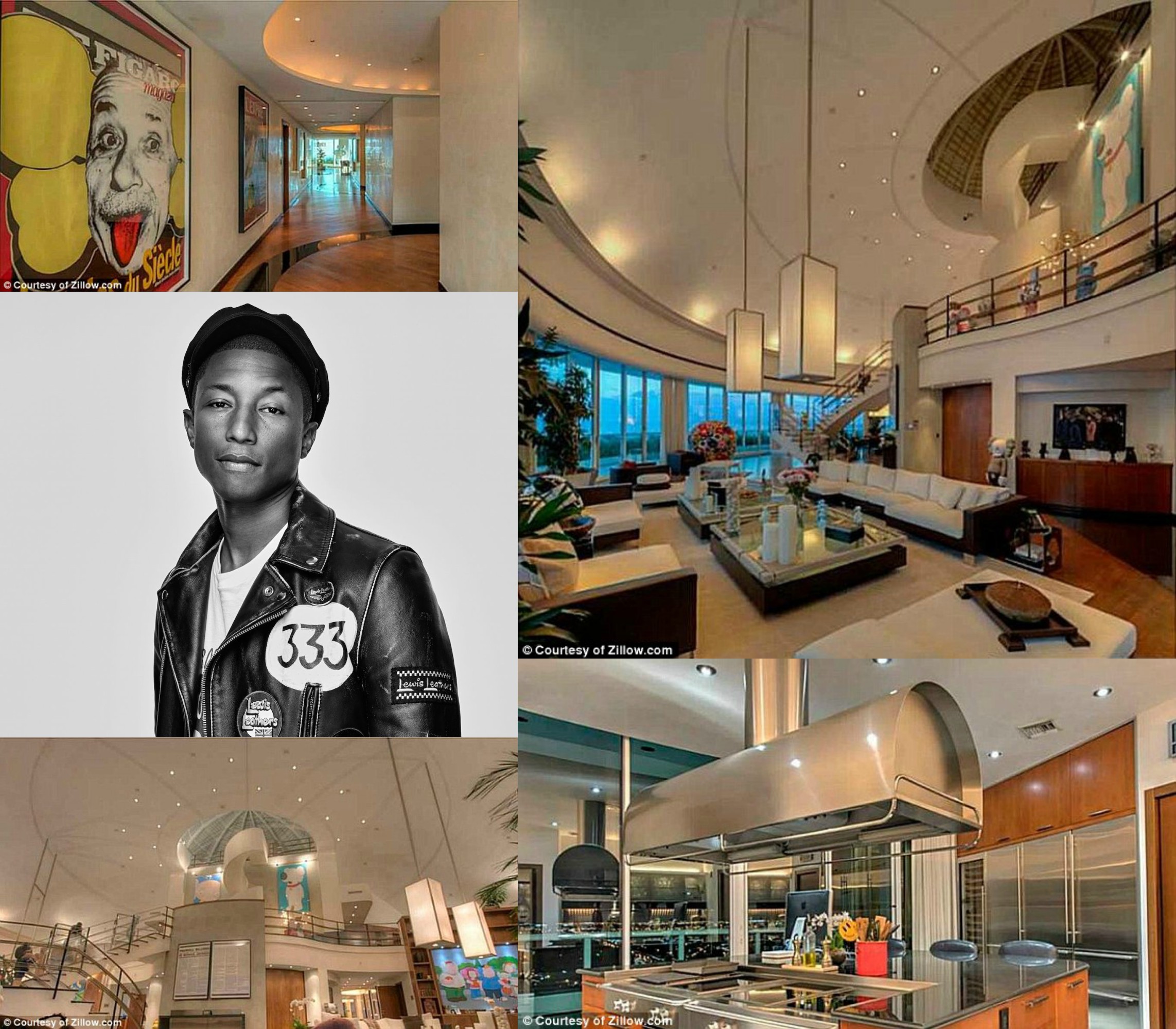 Wacky and eccentric is pretty much exactly what you would expect from Pharrell Williams, and this Miami condo does not disappoint. The property is set across 2 floors and has five bedrooms and 6-and-a-half bathrooms. But the best part about the condo is the Family Guy art and stylish architecture, which must make you feel like you're living in a contemporary art gallery. The property was listed for sale in December 2015 for a cool $10.9 million. The singer originally purchased the home for $12.5 million in 2007 – it seems that even celebs aren't exempt from a property market crash!
30) Markus 'Notch' Persson
In 2014, the creator of Minecraft, Markus 'Notch' Persson, outbid Jay Z and Beyonce for this dream home in Beverly Hills. The self-proclaimed geek and multi-billionaire paid $70 million for this pad, which was originally listed for $8.5 million- what a bargain!
The 23,000 square foot property comes with 8 bedrooms, 15 bathrooms, a cinema, an oynx dining table, a replica of James Dean's motorcycle, iPad controlled water fountain infinity pool….and a candy bar.
31) Margot Robbie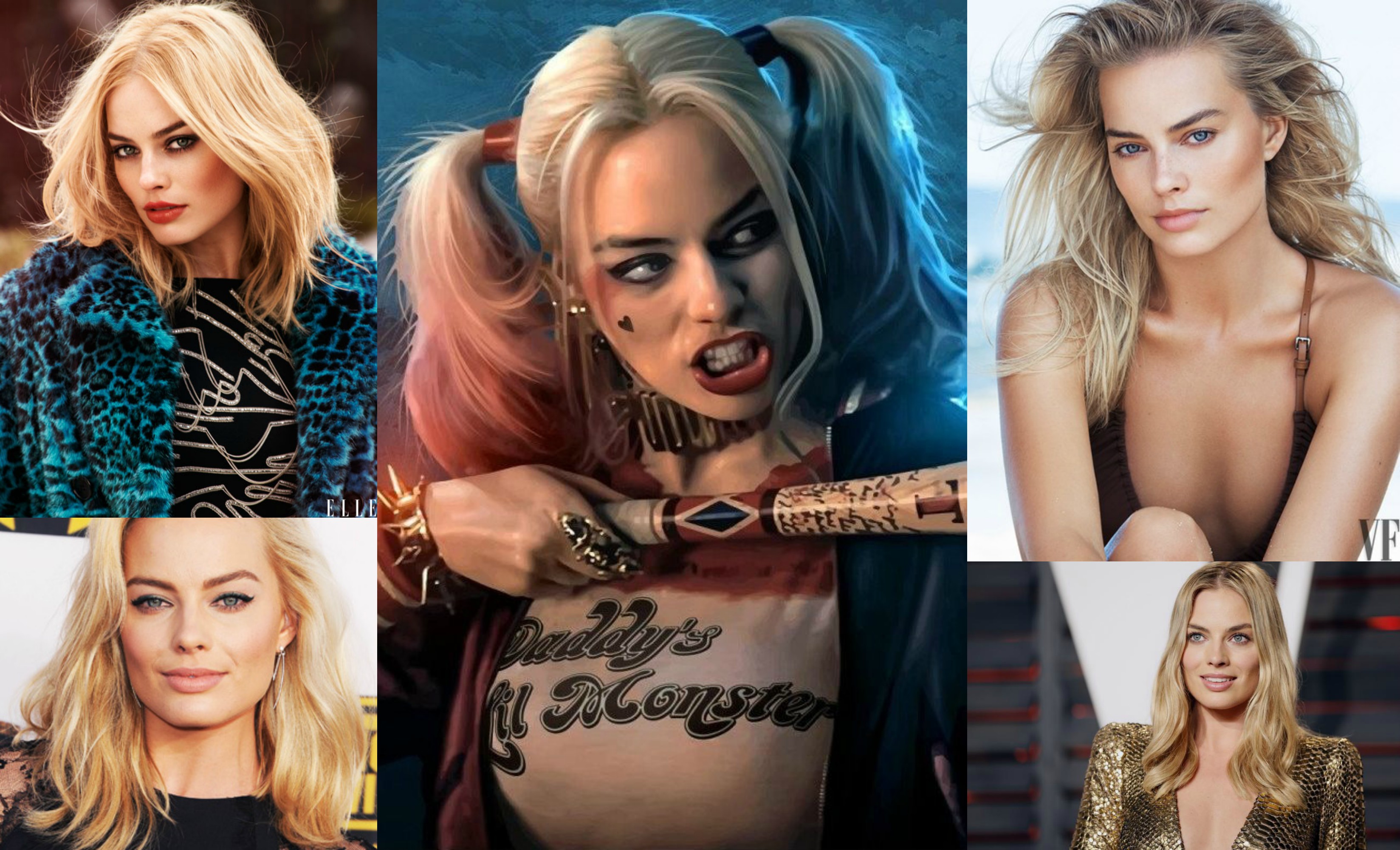 Other than being impossibly good looking, it turns out that Margot Robbie is exactly like us! The Suicide Squad actress shares a home in Clapham, London, with boyfriend, Tom Ackerley, and 4 other people, too! The actress says that she doesn't like spending money, especially on things that she doesn't need. We couldn't find any photos of Margot's place (understandably), so you will just have to compromise with photos of the actress herself.
So there you have it – Our Top 31 Celeb Homes!
Don't forget to check out the thousands of unique homes for sale and to rent on TheHouseShop.com right now!