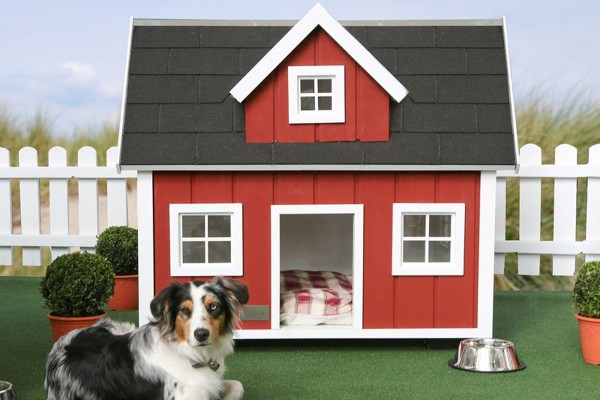 According to the RSPCA, there are 20 million pets in the UK.
So there's a good chance that you share your home with creatures like dogs, cats or birds.
But pets present a challenge in terms of keeping a property neat and tidy.
And any permanent damage can make it harder to sell your home when you want to move on.
So here are four housekeeping hacks for pet owners that take the headache out of cleaning up after pets.
Cat and dog flaps
Active pets that love exercising outdoors can become frustrated if they're locked up inside the house until you return from work.
And this cabin fever can lead to them causing damage to floors and furnishings. For dogs, it can even lead to excessive barking that will disturb your neighbours, in this case, having an anti-bark device for your dog is definitely helpful.
But a cat and dog flaps offer pets the opportunity to get their daily dose of fresh air and exercise in safety.
Felines are more independent than dogs, so they can roam far from your property before returning unperturbed.
But if you have a dog , you'll need to ensure that you have a decent-sized garden and a secure perimeter fence so it can use a dog-flap safely.
Pet-friendly carpets
Some dog breeds are prone to shedding amazing amounts of hair and this can make carpets look bad and smell strange.
But firms like Mohawk manufacture pet-friendly carpets that have inbuilt stain protection and odour control.
So, investing in this type of product could mean you no longer have to tear your hair out worrying about pesky pet hair.
Powerful pet vacuums
If you don't want to splash out on a pet-friendly carpet, then paying for a powerful vacuum cleaner that's capable of lifting pet hair is the next best bet. These speciality appliances are better suited for cleaning up pet fur, dirt, and even kitty litter. While most cat products like litter not only make a mess, they also can get super stinky unless you opt for one of these options for the best odour control cat litter available these days.
But be sure to purchase a model that's specifically designed for pet households — a normal device won't be tough enough for the task.
Look online for a lightweight model with a motorised brush bar to get rid of the ground-in dirt that pets often trail into your home — it's worth paying a little extra for the peace of mind it will bring.
Durable door mats
Sometimes you're responsible for bringing pet mess into your home.
If you take your dog for walks across muddy fields and don't have a mat allowing you to thoroughly scrape your feet, then your hallway can become a quagmire in no time at all.
But dirt trapper door mats from The Mat Factory are specifically designed to keep your feet pristine clean, so they make muddy footprints things of the past.
And if your pet is particularly well trained they might be able to wipe their paws on your mat prior to re-entry too — otherwise, a gentle hose down should remove most of the muck.
Constant cleaning can take some of the pleasure from pet ownership and animals don't naturally have the same standards of neatness as their owners.
But these four housekeeping hacks for pet owners should enhance your pet relationships and protect the cleanliness of your home.
Do you have any housekeeping hacks for pet owners? Share your stories in the comments section.
Ref number: THSI-2173