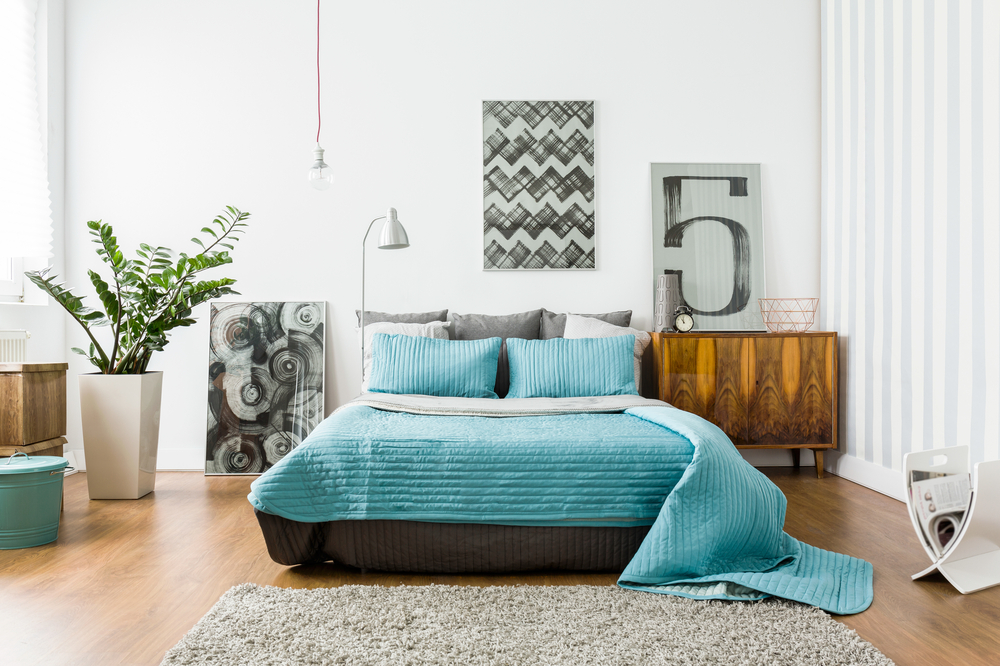 Your bedroom is your respite. It is where you retreat after a long and tiring day. However, the wrong furniture arrangement, colour scheme or lighting can affect your mood and ultimately your comfort levels.
Let's take a look at how you can turn your bedroom into a cosy and relaxing space.
Many people are not aware of the correlation between colour and how a person is feeling. Certain colours can make you feel more lively and jovial. Think of bright oranges and yellows. On the other hand, dark colours such as dark greys as well as faded colours can lower your moods and make most people feel dull.
Find out how to choose the best colour for your bedroom and use a single colour for your walls. That said, feel free to use a light colour for your ceiling.
You might also want to consider wallpaper. The great thing with wallpapers is they come in all manner of colours, and designs. For your bedroom, pick a wallpaper with a soothing and calming effect.
Choose the right bedding material
Wallpapers and colours may be one thing but the type and quality of bedding material you choose will influence your quality of sleep.
Consider your budget and get only high-quality bedding materials. These are often not only durable but they are also made from high-quality fabric. Experiment with different textures and find one that you enjoy. The colour and patterns that you choose for your bedding material should also be calm and soothing.  
Duvets come in different sizes and designs. Start with finding the right sized duvet for your bed. Next, choose the design. Always make sure that the design complements the colour scheme on your bedroom walls. You want to avoid designs that seem out of place in the bedroom space.
Secondly, you might also want to find something soft and cosy that provides extra comfort and gets you to want to snuggle down and snooze.
Bamboo sheets are a great choice. They have some amazing benefits such as temperature regulating and moisture-wicking properties. Moreover, bamboo sheets will keep you warm in the winter and cooler in the summer.
Light is another feature that has a huge effect on people's moods. Granted, people normally go to bed when the light has faded and it is finally dark. However, having plenty of light when you wake up in the morning will help uplift your moods. This can affect how you spend your day.
You can increase the amount of light getting into your bedroom by installing larger windows. Furthermore, extra light can help bring out the bedroom colours. While this is not a choice you may have if you live in an apartment, it is something to consider for those living in their own homes.
And if you plan on moving to a new apartment, take special consideration to the size of the windows. The larger the windows, the more the light.
Add your own personal touch
Your bedroom needs to feel like your own personal space. You can achieve this by adding some personal touches and ideas. For example, you can have custom made vintage side tables, a dusty rag, warm and breathable flannel sheet or your preferred indoor plants.
You might also want to place a large picture at the head of your bed with a significant or personal meaning. Furthermore, you can add your own choice of light fixtures and pendants. Play with your imagination and create your own stunning ideas and designs.
Also, consider the design and colour of your bedroom window curtains. These provide you with an extra opportunity to play with your imagination. Think of white curtains with flower or tree patterns that let through maximum light.
Sometimes you might bring work home. For those late-night projects, having a desk in your bedroom is a great idea.
Not only does it provide space for your laptop, but it also acts as a platform to place other items such as food, or a flower vase.
When bringing in a desk, make sure that it is just the right size for your space and that it doesn't get in your way. The desks should also complement other furniture found in your bedroom.
Conclusion
While there are many other ways to upgrade your old bedroom, these top 5 ways have the most impact when looking to upgrade your bedroom. Use your imagination, choose your favourite colours and create a soothing and comfy respite.
Ref number: THSI-1942