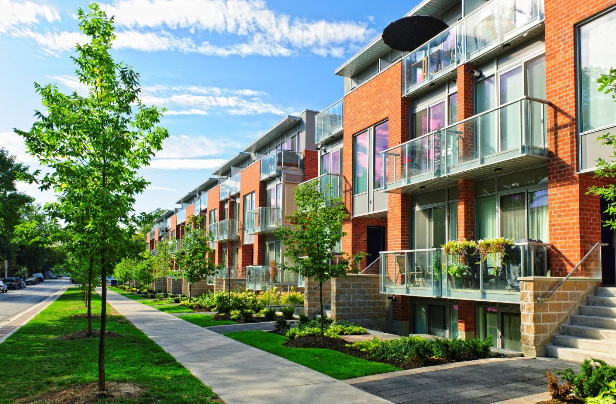 Landlords and property managers are responsible for a wide range of duties and responsibilities, including creating aesthetically pleasing curb appeal for their apartment buildings. Because the overall look of their apartment buildings is the first impression that a prospective renter sees, the decisions that they make is essential to successful management. Therefore, creating the best looks for their property is a necessity and not just a luxury for enticing people to stay.

With this in mind, if you are a property manager or landlord of an apartment building, here are five great tips that can assist you in taking the curb appeal on your apartment buildings to the next level.



1. Create a park-like space out front.

Today's renters are often focused on living a certain type of lifestyle. Based on the age of the renter, they may be looking for an apartment that will accommodate the way that they want to live. For instance, if they want to live in an apartment building that looks like a great place to relax and provides a peaceful ambiance, it is important that the property that surrounds their apartment building provides this type of atmosphere.

Usually, in this case, the type of curb appeal that this person is actually looking for is a park-like environment. Therefore, dedicate the front of the building to greenspace with park benches, a small garden, and perhaps even a water feature.  You can meet the needs of these types of prospects and their families.



2. Implement upscale lighting fixtures.

Another key to creating and designing the best curb appeal around your apartment building involves the lighting that you provide. For instance, if you want the best response, add a touch of elegance to the property's facade. Some landscape lighting along the pathways and ornate wall lighting adorning the front gate will surely catch the eye of passersby in the evening.



3. Replace your front gate with a wrought iron door.

It is common for people who are looking for a new place to stay to seek out areas that are safe and secure. The same is true for anyone who is looking for an apartment in the area that they are looking to move. Therefore, if you want to make sure that you can meet and exceed the expectations of this type of apartment renter, you can use one solution with one simple installation. One of the most notable and beneficial involves installing wrought iron doors. 
A wrought door can easily replace the traditional front gate. This is because the wrought iron door concept is aesthetically pleasing and helps to add an extra layer of security to the property that you are trying to protect. Also, when people drive up, it is a very nice expensive touch that is very pleasing to the eye.



4. Pay attention to the smallest detail.

When you are thinking about upgrading the curb appeal around an apartment building that you are responsible for, it is important that you pay close attention to details. Since many of your serious prospective renters will be looking for the smallest things that are pleasing or displeasing to their eye, you need to use the same viewpoint to catch things before they do. 
For instance, does the paint in some areas around your apartment building look old and worn? Is the trim around street-facing windows and doors cracking or fading?

Though this may be normal wear and tear, these are still areas that can make or break the decision for new prospective renters. If the façade is not well-groomed, they may be wondering what kind of disrepair the apartments themselves have to offer. 



5. Work around garbage receptacles.

Yes, garbage is garbage, but it does not always have to be an eyesore. There are ways for building managers to keep waste receptacles discrete and the areas around them clean. Make sure groundskeepers sweep and landscape the vicinity in which dumpsters are located. 
Similarly, consider keeping the dumpsters within a fenced area out of sight. Don't just do so with a chain-link fence. Opt for a vinyl fence that matches the building's general façade and tuck the dumpsters into this fenced area. Out of sight, out of mind – at least until trash pickup day comes.

Creating the right type of curb appeal for an apartment building does not have to take a lot of time or money. However, it will take a certain amount of planning to create a look that takes your property to the next level in elegance.