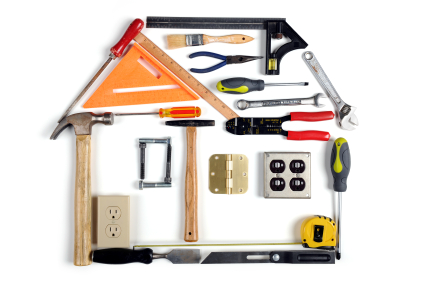 This Is Money recently posted about our current property market, branding it the "lost decade"; the interesting article discusses how houses in the UK are stuck at the same price as they were in 2004 once the inflated London property market is disregarded from the data. It's no secret that the UK property market has faced serious fluctuation since the economic downturn, leaving home-owners with unpredictable paths. But now the UK housing market has been showing signs of slowing down according to various property reports, so for home-owners looking to sell, it's important to make your property stand out.
With the ever-shifting market, there has been one thing that has never changed; there are certain elements which can greatly increase property value, simple renovation/design changes you can make easily.
Here are 5 ways to boost your property value:
According to property experts, a decent outdoor space can add up to 20% to your house value. If you have a garden, you're halfway there. But it's no good to you if you don't look after it. Investing money in a landscape gardener can really help you maximise your garden's potential. But at the most basic level, keep your plants well kept, your grass and foliage tidy, your patio clean and always make your garden appear welcoming.
A summer house or an outhouse can be a quick and simple way of creating an extra room. Many home-owners use summer houses or outhouses as an extra study room or office, or even as an extra guest room. This can also add to the attraction of your garden, as many buyers will be looking for extra storage space or just somewhere to relax during the summer months.
The great thing about a conservatory is that it acts as an extra reception area, which will add to your property's value. But the added bonus is that the conservatory will boost the natural lighting in your home. Natural lighting is one of the most attractive features for a potential buyer, so the more light you let in, the better. Conservatories are extremely versatile too and you can show buyers how to use the space by transforming it into a summer dining room or a second living area.  
#4 Create a Luxury Bathroom
Bathrooms are very personal spaces; for most, it's either love or hate when they go house shopping. But there's nothing more attractive to a home buyer than a contemporary bathroom that doesn't need any work doing. Create a stylish design that screams luxury and you're onto a winning formula. Whilst most buyers can use their imagination for a tired living room or an outdated kitchen, a poorly designed bathroom is extremely off-putting. Bespoke bathroom designers such as this one can help you create something elegantly extravagant. It's also important to keep your bathroom clean and tidy for viewings.
If you're under a strict budget, it's not easy to make your home appealing to others. One thing that always wins with buyers (and will also help to boost your property's value and appeal), is creating more natural light in the home. More windows can help you do this, or for a simple trick, place mirrors and reflective surfaces around the home to reflect light around the building. A fresh lick of paint using a light and neutral shade will also help and don't forget to choose bright lighting for evening viewings.