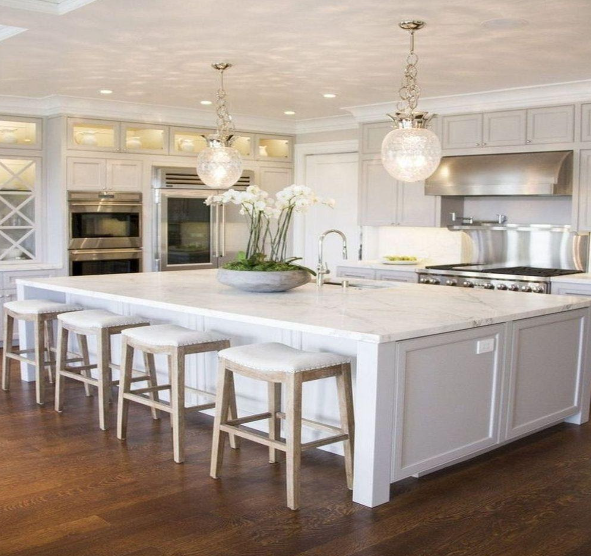 Apart from any other area, the two-room regions that can make or break the curb appeal of your lovely dwelling during the resale. And these are the kitchen and the bathing room of your house. And the kitchen is the most commonplace that homeowners renovate or modify, may that be to get 'a change' in their lifestyle or, more importantly, drive more curb resale value.
This is a known fact that smart renovations and interior decor changes can help you fetch much as 80% of what is spend and boost your home value in return. It is also one of the places where the changes that you can dream of making is seamless, and the budget can be equally varying at both the high and the lower ends.
Interestingly, there is no upper limit to this renovation cost, and the prices never go below the expectations when it comes to the expense. The cost of renovating a 250 square foot of kitchen space can cost you as much as $200000, including the high-end equipment, appliances, and renovation plans to add the best of the best!
With some smart tips and decisions, you can still cut down these daunting prices and the best out of your kitchen renovation in terms of looks, and overall value. So here are 6 awesome home decor ideas to increase the overall curb appeal of your dwelling.
Countertop Styling Matters
The countertop redo is a mid-budget makeover and does not hamper your finance too much. Countertops, however, are somewhat typical as most of your kitchen's beauty depends on their style and design. On the other hand, a countertop is one of those areas where a makeover with a quality product is always expected. Any mismatch in the same may tend to make it loose its actual value. Depending on your kitchen style, there are several options that you can go for. This can include granite countertops, laminated countertops, solid surfacing, and Quartz countertops.
Replace The Outdated Appliances
If you are not too tight on budget and are not able to stand the sight of the old dishwasher, microwave, and other appliances, then this might be the right time to get these equipment replaced for better and new ones.
There are a few things that you can always look for in your set of kitchen appliances which is, their onboarded set of features and their energy ratings. Both of these things need to match perfectly to make the upgrade worth it and in a budget-friendly manner as well. Going for the high-end chef-grade equipment may not give you the expected returns on resale value, and that is one fact you got to take care of.
Luminate Your Kitchen With Attractive Lightings
Falling well under the budget when it comes to expenses, adding new lightings to your kitchen ceilings and walls can give your kitchen a completely new look. This becomes even more amazing and appealing with the right set of color combinations, as in such a case, it delivers an astounding mesmerizing experience. To add more to this, try matching it with other kitchen attics such as countertops, cabinets, and flooring and elevate design and appeal even more.
Such facelifts can be quite inexpensive and may even haul better returns in terms of house value at the same time. Sometimes, it is these little facelifts and makeover that help fetch the expected value and performances in terms of resale and its price manipulation. These are a few things that is more expected from the expensive makeovers, yet less gained in actual terms.
Consider Changing the Hardware and Plumbing Faucets
Hardware makeover is another mid-expense to low expense budget makeover and can add pro-perks and desires looks to the heart of your home. New pipe fittings, modern designs with fancy plumbing faucet, and exteriors can add up to your space value and its overall looks. 
Unwanted watermarks, leakage, corrosion, and regular wear-&-tear is what these equipment are subjected to. For this reason, they are often among the first things that need renovation. 
Besides, a great combination of backsplash tiles and kitchen sink can spruce up the surrounding and add design perks to your kitchen interior decor.
Get Recolored! – Right Choice for Budget-Friendly Kitchen Renovation
The best of the choices for a kitchen decor does not include its painting and overhauling and is one of the best options for users that are a bit strict on their budget schedule. 
Make sure you choose the right combination of colors, that substantially matches with your cabinet design and delivers a perfect matching or contrasting combination. Avoid using wallpaper designs and non-neutral paint colors. They can be quite polarizing in terms of user preference and may not add up to your curb value.
Let's Alter Cabinet Settings
Cabinets make up for the most crucial section of a kitchen interior and are the King of overhaul and decor. Most of your kitchen use and experience would depend on how well your cabinet supports your cooking and kitchen work. 
The cabinet is the most catchy element of any kitchen, and its overhauling is quite varying in terms of budget. A non-expensive less costing idea would be to refurbish and paint cabinet walls and exteriors, with the expensive ones boding for a complete replacement to the integration of entirely new design of cabinets. This one element is available in some of the most comprehensive ranges, maps, and colors, etc. You might want to make sure that you choose the one which suits your style, dwelling appearance, and overall experience.
Deciding the right combination of kitchen interior makeover-&-budgeting is both a science and an art. It would require a lot of analysis, calculation, and brainstorming to choose the best designs as per your preference. This task may be fun for DIY enthusiasts, but then, one size doesn't fit all, and for such instances, we suggest taking help from the professionals. So, whether looking for a casual change in the kitchen or plan to overhaul for better resale value, your kitchen is bound to give you more than you expect. Make sure you do it smartly. 
The best suggestion would be to go for professional guidance to get proper estimates, desired designs, and assured returns!