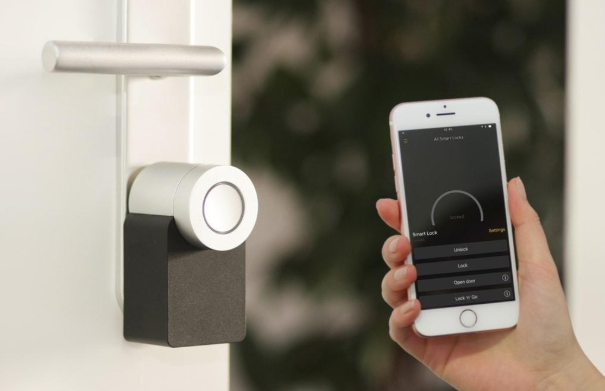 Are the recent reports of robbery making you worry too much about the safety of your house? Do you think you should upgrade the door locks to your house or garage? If your answer to either of the questions is yes, you have reached the right place. With the increasing incidents of theft, it has become essential to care about the safety of your property. To keep the thieves away, you can start by installing a keyless electronic door lock at your house. If you are looking out for the best smart door locks, read on to find the best six locks you can invest in.
Top 6 keyless electronic door locks:
With the advancement in technology and an increasing need for smart door locks, there is an abundance of products floating in the market. Choosing the most suitable one can get tricky. Here are the best keyless electronic door locks for your house and garage:
1.
August Smart Lock Pro:
If you're on the outlook for a keyless door lock that has it all, the August Smart Lock Pro is your best pick. It is an easy-to-install lock that goes on most single-cylinder deadbolts. You can install an app on your phone to unlock the door without a key. If you don't want to use a phone, you can install a keypad on the door that provides you easy access through code. You can connect the lock with all smart-home devices, like Alexa, Google Assistant, and Apple HomeKit. The lock is ideal for landlords who can change the passcode as and when the guest leaves.
Pros:
 

Easy to install and use

 

Easy auto-lock and auto-unlock

 

Compatible with Alexa, HomeKit, and Google Assistant
Cons:
2.
Yale Real Living Assure SL:
The Assure SL by Yale Real Living is a well-designed lock that can complement your home. It comes with an app and touchpad, but there is no manual key. You can connect it to the smart home devices with ease. It is compatible with Google Home, Alexa, SmartThings, and HomeKit. You can access the smart lock with Android phone, iPhone, Amazon Echo, and Google Home. The keyless door can have 250 codes at once. If the battery ever runs out, you can tap the 9v battery twice from underneath the keypad to give a boost.  
Pros:
 

Aesthetic design

 

Compatible with all major smart home platforms.
Cons:
3.
Kwikset Halo:
While the world is moving on to keyless locks, you might not be fully ready to adapt to it. If this is the case with you, you can get a Kwikset Halo lock. It also comes with a re-keyable lock that you can use if you are worried that your tenants might have made too many copies. This device can store unlimited passcodes, and you can change them as and when the need arises. It is compatible with Alexa and Google Assistant.
Pros:
 

Rekeyable lock

 

Intuitive app
Cons:
4.
Nest AND Yale:
The household where Google dominates, this smart lock is the best pick. The Nest X Yale is an intelligent door lock that works well with Google Assistant. It is the ultimate solution that caters to all your security needs if you are using Google Assistant systems. All you have to do is say 'Google, lock the front door,' and your smart door lock will do the rest. It is ideal for your house as well as a garage door handle.   
Pros:
 

Easy to install

 

Compatible with Nest devices
Cons:
 

Doesn't support Alexa or HomeKit
5.
Wyze Smart Lock:
The ones who are looking for a basic keyless electronic door lock, your search ends here with Wyze Smart Lock. Wyze is known for making budget products, and the smart lock is no different. It is inexpensive and easy to install door locks. While it may not be compatible with Alexa, Google Assistant, or HomeKit as yet, the Wyze Smart Lock is compatible with other products from the company.
Pros:
 

Can add a keypad

 

Simple design

 

Easy to install keyless lock
Cons:
 

Doesn't support smart home platforms

 

Requires Wi-Fi connectivity
6.
Lockly Secure Plus:
The Lockly Secure Plus is a unique door lock. It comes with a fingerprint reader, so the only key you need to open this lock is your own finger. You can touch the fingerprint reader given on the right side of the lock. This lock also has a keypad that you can open with the code. To avoid robbers from guessing the code with your finger smudges, the lock shifts the numbers on the keypad. While most of the other smart locks are deadbolts, the Lockly Secure Plus is a lever lock. Although it doesn't support smart home devices, you can invest in a separate Wi-Fi adapter.    
Pros:
 

Fingerprint lock

 

Smart keypad
Cons:
 

Not compatible with Alexa, Google Assistant, and HomeKit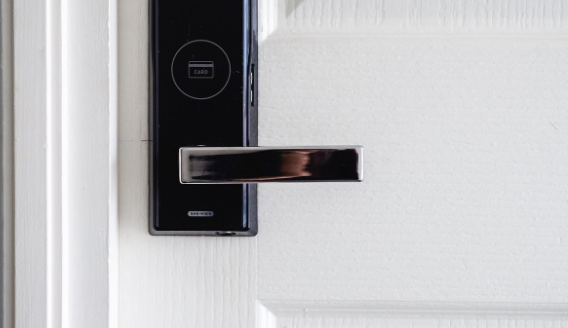 Final Thoughts
A smart door has become more of a necessity today, rather than a luxury. It allows you to open and close the doors to your house without using an actual key. You can not only access the front door through your smartphone or the keypad but also smart home devices. With a single click or voice command, you can make your home the safe place that it is.
Author's bio:
Sophia Cooper Is a thorough and meticulous Content Analyst passionate about helping businesses succeed. She commits herself to continuous learning and focuses on sharing ideas and techniques learned from her experiences. She is a passionate writer who loves to write in a concise manner so that the information is helpful for everyone. Currently, She's working with a company that provides Garage Door Service.