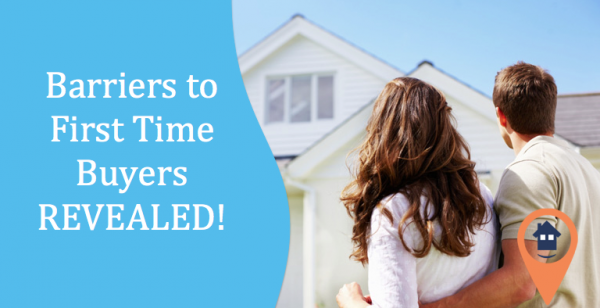 A major survey has revealed the main reasons why first-time buyers are struggling to get onto the nation's property ladder and most point to the price of rent preventing them from owning property.
The survey by Tiles Direct questioned more than 10,000 people about what they thought was the biggest barrier that prevented people saving up for a deposit on their first home.
Respondents placed high rent prices in first place, followed by the cost of living and in third place was a lack of well-paid job opportunities.
From the data, the survey reveals that more than half of tenants aged between 25 and 34 years of age, and it's an average of 30% for all respondents, believe that the rents people are paying are too high for them to save for a house.
The average rent in London is now around £1,500
According to a survey published recently by HomeLet, the average rent in London is now around £1,500 – but from the first time buyer survey, just 31% of Londoners said the price of rent was the biggest stumbling block to buying a house.
In comparison, 59% of people who live in the North East of England said rents were preventing people buying.
Campbell Robb is the chief executive of homelessness charity Shelter and he says: "Generation Rent are resigning themselves to a life in unstable, expensive private renting."
However, not all respondents said the high price of rents was the biggest downfall for first-time buyers; 6% said first-time buyers had irresponsible spending habits which prevented them from saving.
First time buyers lack the motivation to save
Another 9%, said first-time buyers lack the motivation to save – and this proportion doubled in the 55 to 64 years of age band with 18% saying this.
One of the surprise issues that comes out of the survey is that 17% of those aged between 18 and 24 also agree that spending habits prevent them from saving – the figures breakdown as 10% saying they have an inability to save, while 7% say they are guilty of 'reckless spending'.
Among the other responses, people pointed to the country's housing shortage for being to blame, fast rising house prices and the domination of landlords snapping up buy to let properties which prevent first-time buyers accessing cheaper homes.
The survey follows research conducted by Halifax which found that first-time buyers need to save, an average, a deposit on their first home of more than £30,000.
However, it should come as no surprise that for first-time buyers in London the situation is much worse and they need, on average, a deposit of £90,000 to get onto the property ladder.
The survey also revealed that the first-time buyers are buying a property worth, on average, £190,000 with the average deposit being 17% of its purchase price.
The bad news for first-time buyers in London is that they have to fork out £368,000 and need a deposit of £91,400 just to get onto the capital's property ladder.
Find Properties for Sale in London and the Surrounding Area: