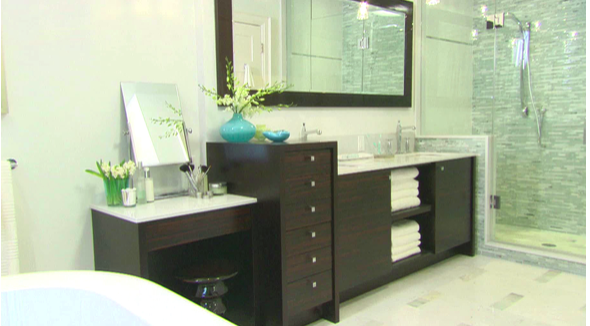 Bathroom is one of the most important rooms in one's home. In the end, this is the space where you want to relax and have some personal time. That said, it's rather important that you find your bathroom environment pleasant and practical. After all, if you don't, that can cause additional stress. If you do believe that your bathroom needs some redesigning and remodeling, don't waste time just thinking about it and act! There are plenty of things to be done, even if you're on a budget!
Combine tiles with paint and vinyl wallpaper
Using tiles all over your bathroom can get really expensive. Of course, you should use tiles for the flooring and shower wall, but you can save a bit on the rest by using paint or waterproof vinyl wallpaper. You can add a tile strip to unify the look if you want. In case you'd like to add an artistic touch with more uniquely patterned tiles, which tend to cost more, use them sparingly as accent pieces, with the majority of matching but plain and more affordable tiles.
Add more storage without spending too much
You don't need to worry about small space or buying more expensive cabinets in order to add more storage to your bathroom. Actually, installing a floating shelf (or a couple) can significantly change the game for you. For starters, you can do this yourself. And open shelving is a really popular trend in interior design. You can keep smaller towels there and/or your beauty products. A scented candle and a glass jar filled with cotton buds are also common and very effective ways to spruce up the bathroom look without making clutter and these shelves can be perfect for those details as well. Aside from floating shelves, utilize the space under the sink if the sink you have is a stand-alone one. Hanging door racks are also an affordable yet very effective solution for adding more storage.
Take care of the fixtures
Updating your old fixtures with new ones can be a relatively inexpensive way to elevate the look of your bathroom. Items such as faucets, light fixtures and even towel racks can be replaced. If you're not handy at all, however, it would be best to leave the replacement to professionals, as this won't cost too much. That said, if you have any issues with the plumbing or the shower, it's paramount that you call for a plumber, as an ignored plumbing issue can turn into a considerably costlier damage. With R&G Plumbing emergency services and similar, you can get 24-hour assistance.
In case you don't want to replace fixtures, yet you still want to give them a good makeover, you can always go with waterproof metallic spray paint over the metal elements in your bathroom. It's possible to choose a more interesting shade such as gold, antique gold or rose gold, and pick between mat and shiny finish.
Add more personality to the space
We all tend to invest ourselves in decorating our homes in a personal manner, but more often than not, bathrooms remain overlooked when personality is concerned. But, even a small bathroom and a tight budget can let you play with your own creativity and personal taste in décor and design. Why not try your own hand with an airbrush compressor kit or hire a professional artist to realize your design. As mentioned before, you can use statement tiles and even statement wallpaper. Scented candles and glass jars can be mixed with other, more unique details and even plants. If you have room on the walls, don't hesitate to hang a picture or two, and play with the idea of gallery wall in general. Finally, you can get an interesting frame at the flea market or thrift store and use it as a mirror frame. The options in this regard are endless.
Keep in mind that one of the most important aspects of every bathroom is that it's kept clean. So, make sure that you maintain it regularly and get rid of excess water when necessary. Aside from the usual cleaning, you might want to look into the possibility of freshening caulk and grout. This is also a project that can be easily DIYed, but even if you personally don't feel confident in your skills to do it, it won't cost you an arm and a leg to have someone else deal with it.