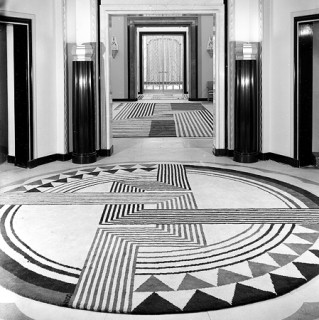 The twenties was an era famous for prohibition and party-going. While in America political events led to the banning of alcohol until 1933, here in Britain cocktail parties were more popular than ever and this played a significant part in the décor of many homes.
Hollywood also had a big influence on people's sense of style as the first ever moving pictures were developed, but the decade is also famous for the Wall Street Crash in 1929 which plunged many into economic depression.
The Look
The 1920s had a very strong look with instantly recognisable features such as geometric prints and oriental touches as well as the use of chrome, glass and heavily polished wood. A monochrome colour scheme and use of mirrors as well as lighting displaying women holding globes were popular motifs.
Art Deco was introduced during the decade, as well as a modernist style inspired by the Bauhaus art school. Many artists and architects began designing furniture and accessories for the home which gave way to a minimalist feel that was far removed from the décor of previous eras.
Important Figures
Le Corbusier was an iconic designer, artist and architect who had a huge influence on the landscape of not only interior design, but the art world in general during the early 20th century (there is a retrospective of his work at the Pompidou Centre in Paris from 29th April to 3rd August 2015).
Eileen Gray was an Irish architect and interior designer who popularised famous designs such as the Bibendum chair and other modernist styles. Many of her designs are still popular today.
How to Recreate the Look
The 1920s look can be recreated in a number of ways; try using mirrors or mirrored furniture, and Bauhaus-style furniture with its minimalist, streamlined shapes. Adding modern metallics such as copper or pewter will update the look; or add splashes of bold colour to the traditional monochrome colour scheme.
There are plenty of options for incorporating strong geometric prints into any room through the use of wallpaper and textiles, or try hanging art prints by Georges Barbier and replica posters for galleries or shows, capturing the fun and glamour of the era for a look even Jay Gatsby would be proud of!
Whatever your style, the décor of the twenties has something to suit most budgets and homes, and its clean, timeless look will no doubt continue to be popular for many years to come.