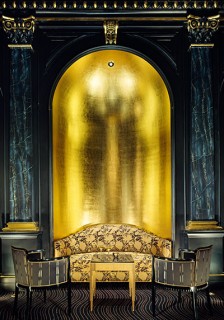 Art Deco is an artistic style which was particularly fashionable in the early 20th century, mainly around the 1920s and 1930s, and was prominent in every form of visual arts, from fashion and jewellery to architecture and fine art. Instantly recognisable through its bold, geometric patterns and stylised motifs with Egyptian and Mediterranean influences, the style is still popular today as a result of its associations with the Jazz era and old Hollywood.
Some of the world's most famous buildings are examples of Art Deco architecture, such as Manhattan's Chrysler building (pictured). There are also many across the UK; in London there are even specific 'architecture walks' taking in the capital's most famous Art Deco buildings. But you may have to pay a little more to see some of the real Art Deco gems in the city, such as the Beaufort Bar of the recently renovated Savoy Hotel.
The style was not only used for grand structures or public buildings; there are many examples of Art Deco architecture in houses and apartment blocks across the country. The Telegraph's 'Art Deco homes' gallery includes residences both at home and abroad.
When it comes to interior design, Art Deco is great way to add a touch of retro appeal to your home while avoiding the typically vintage look. There are many different ways to incorporate it subtly into your home interior décor while still keeping a modern feel overall – just remember that minimalism is a key characteristic of the style. It can also work well alongside other styles, especially the current fashion for geometric prints and accessories.
There are many examples of Art Deco print wallpaper available, in a wide variety of designs and colour palettes. Smaller designs may be suitable for a whole room, but for more striking prints it is a good idea to use it as a feature wall and choose coordinating furniture and accessories to maintain a contemporary feel.
Details such as lighting and mirrors are a good place to start, but even if you don't want to go for the complete look, you could always keep it simple by choosing just a few feature pieces, whether they are original antique ornaments or contemporary accessories that hint at the distinctive shapes and prints of the nineteen twenties and thirties.
If you are interested in architecture and would like to find out a lot more about it, take a look at Newtecnic who have worked on some amazing projects such as the Great Ormond Street Hospital in London and many more great buildings.
Read more about Art Deco and its history here.
Find Properties for Sale in London and the Surrounding Area: