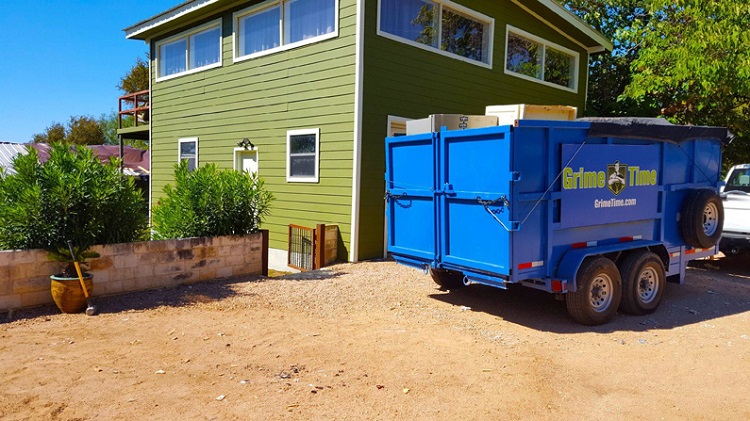 Whether taming your garden jungle or preparing your house for sale there are many uses for renting a dumpster over the traditional skip.  If you have a sale looming on your property or your taming the jungle in the back garden or even emptying the garage to get your property ready for a sale it will need to be cleaned up so you can get the right (highest) price for your property.  
Alternatively, there could be other things you need to take care of for this like clearing out your loft of all those years of clutter you have accumulated, all will need to be sorted and got rid of in the process.  Everything from old baby clothes to cardboard boxes has to go and for the most part, a basic skip just won't fit the bill and this is where you're going to need something a little bigger, to say the least.
If you are more into property developments and renovating property then this is all the more reason to go for a bigger rubbish removal aspect especially in the fitting of new kitchens and or bathrooms people would be amazed how much waste needs to be removed from old tiles off the walls to bath and shower units let alone flooring and other such debris that will need to be disposed of at the end of the rip out section of the job.  In cases like these, you can spend much more money if you have to have replacement skip's to move all of this and it will cost you more to do things this way than hiring a large one tip skip.  People would be amazed at the costs of hiring vans, trailers and so on to conduct many separate trips to the local tip and how little at a time you could move (if they allow you to tip it at the other end.)  
Many local tips nowadays will only accept standard household waste in black plastic bin liners for example and not things that might be construed to be building and other "business" waste.  If you are suspected of doing a business type project while dumping even DIY waste you could be subjected to a hefty fine for all of your troubles.  Rubbish disposal firms have to pay for a yearly licence to do the job and the tipping can often be many miles away from your pick up location so all of these aspects can be avoided if you get the right people in to do the job in the first place.
Combining all of this waste with the addition of (possibly old carpets and alike that is) it's more efficient to get a one haul load done and will save you mega money running van to and from the local tip "if you are lucky enough to be able to do this."  This is why we at Grime Time have a fully staffed and professional team at your disposal ready for any of these occasions so please think of us next time you are planning a move or a building project were there for you all the way!