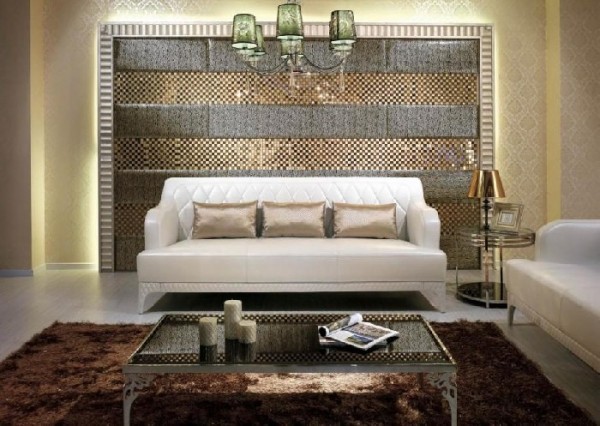 Feature walls tend to always be popular in one way or another. There are trends that come and go but the idea stays the same; one wall decorated in a different style. If done correctly I like feature walls as they allow for a certain style to be used without being too overpowering.
If you are redecorating and are thinking about opting for a feature wall in your home then take a look at some of my top design picks which show you how you can get the look.
1) Block Colour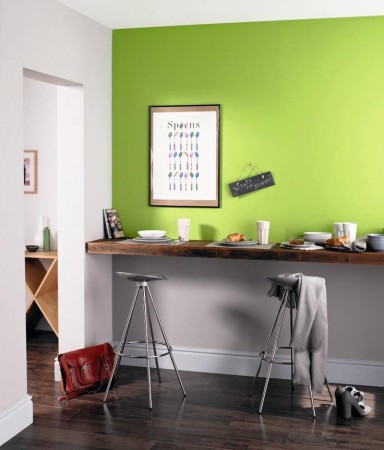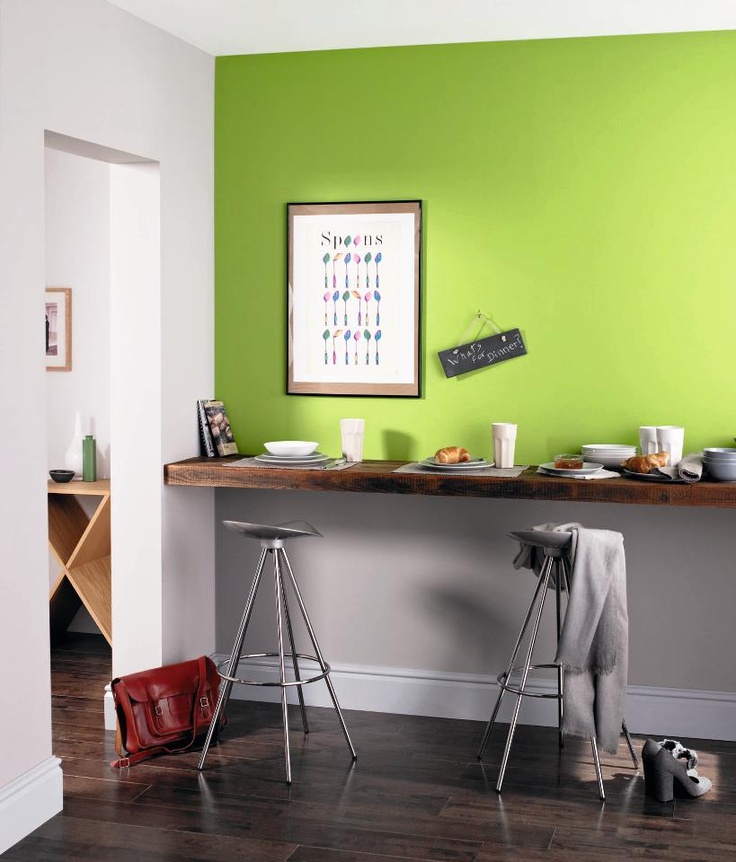 Source: Pinterest
Using a block colour is one of the simplest ways you can create a feature wall. I love the contrast of the green and the grey in the picture above. There aren't too many rules to this but I think it definitely works best when you have neutral colours on the surrounding walls so the colours don't clash.
2) Printed wallpaper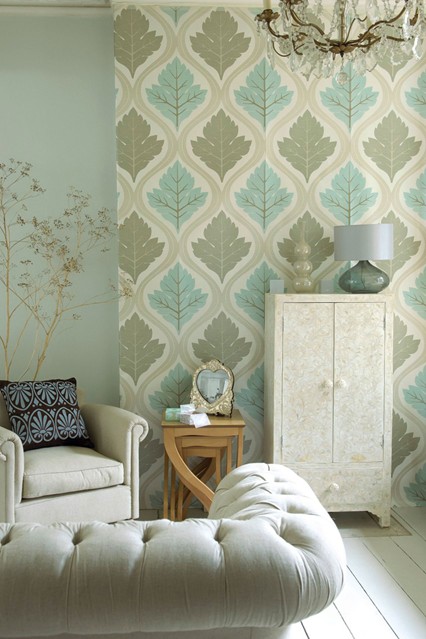 Source: HouseandGarden
Printed wallpaper is another fairly easy way to incorporate a feature wall. There are so many options with this as you can opt for any style or design you wish as long as it fits in well with the rest of the room. You could also do the opposite and have wallpaper on three walls and a neutral colour on a feature wall if you prefer more colour and patterns in your room.
3) Tiling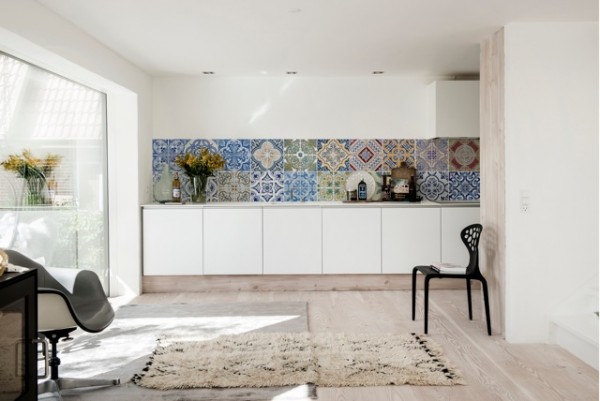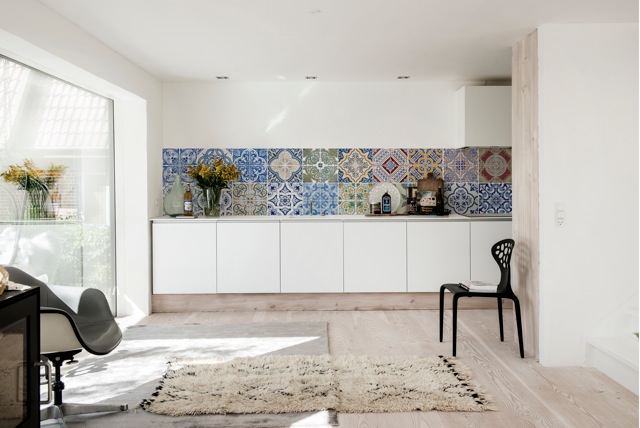 Source: KitchenSourcebook
Tiling is a great trend at the moment, especially Moroccan style prints. This works great in the kitchen as above but can also be used in the bathroom to add a pop of colour and pattern. The great thing with tiles is you can choose a more uniformed look using the same tiles or you can mix and match like above to create a variety of patterns.
4) Texture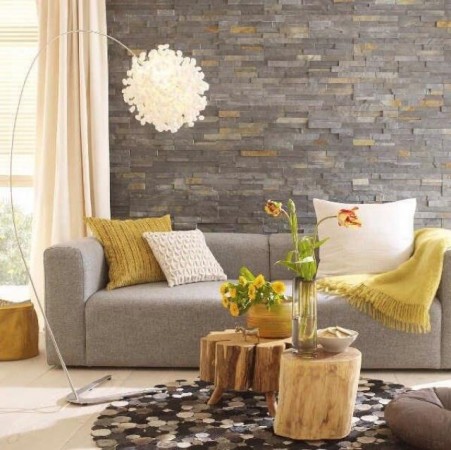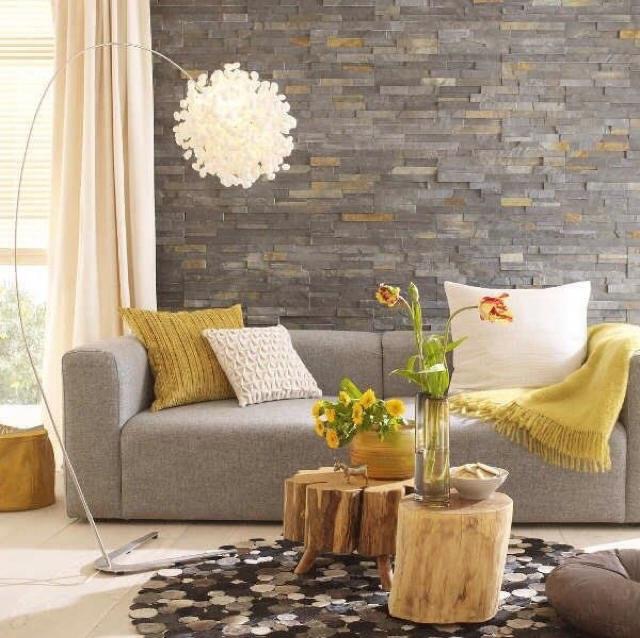 Source: tiersystems
With a feature wall, it doesn't always have to be the colour that is the differentiator. The style above uses texture to add some depth to the room and to draw the eyes focus. I love this style as it is subtle enough to work seamlessly in the room but still gives that wow factor a feature wall should.
5) Fireplace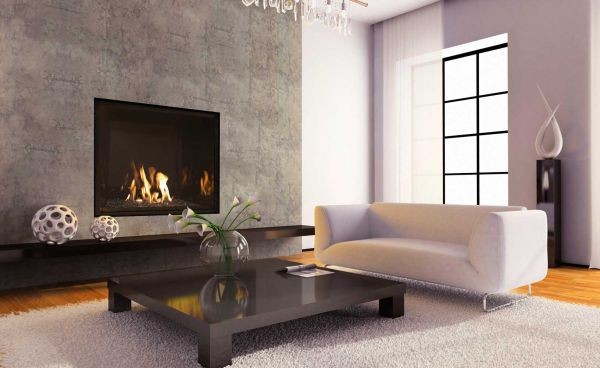 Source: Homedit
Whilst the fireplace may be seen as the feature of a room already, it can be enhanced by making the entire wall the feature. This could be something as simple as painting the chimney breast or wall a slightly darker and warmer colour or adding texture such as the previous picture. I love this idea as the warmer colour of the wall matches with the warmth of the fire to give you a cosy feeling; perfect for those winter nights in.
6) Landscape Picture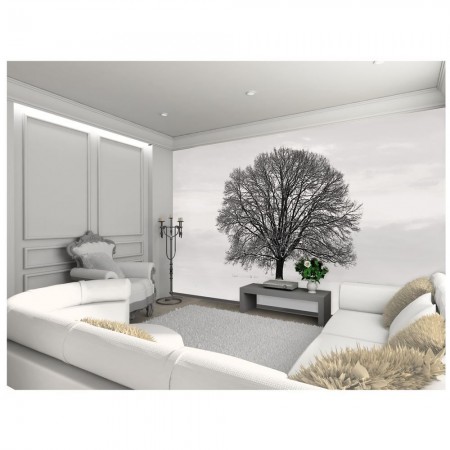 Source: Ebay
If you prefer something with a bit more of an impact and like pictures of nature or landscapes, this is the perfect feature wall for you. There are so many ways you can go with this style and it can be used in lots of rooms in the house. For example, maybe you could include a woodland scenery on a wall in the bedroom, or a jungle scenery in the bathroom. This style can be a bit daunting but when done correctly, it really stands out.
7) Clocks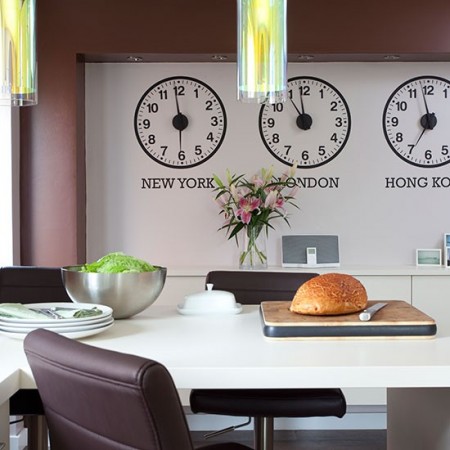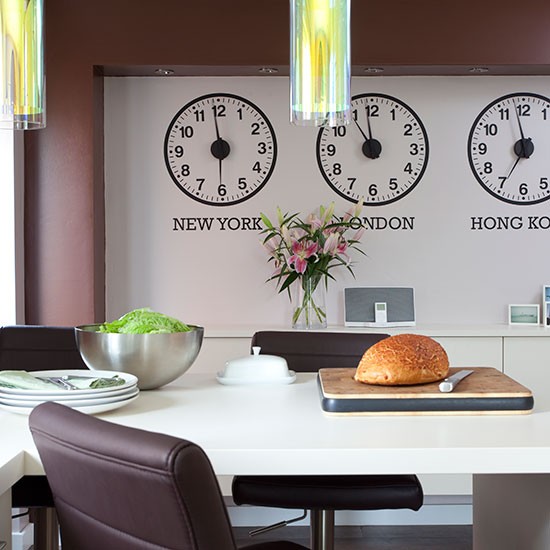 Source: HousetoHome
This style is something I hadn't thought of including in the home before as I've only seen similar in restaurants or cafes. However, the image above shows that it can actually be a great feature, especially in the kitchen. This is especially perfect for those who have family around the globe as there is no more trying to figure out the time difference when making a call! Even if this doesn't apply, I still think it's a great way to make a wall the focus of a room.
8) Bathroom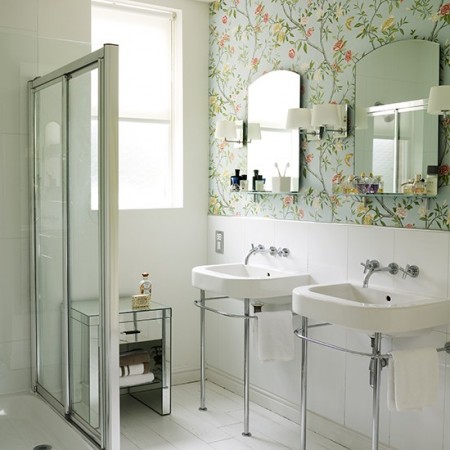 Source: HousetoHome
Most people seem to use feature walls in the living room or bedroom. However, they can work equally as well in the bathroom, as the picture above shows. The best thing about this method is that it is slightly less pressure than other rooms as it's not a room you spend all of your time in. This allows you to be creative and try things you may not have done in a larger room. Another great thing is that as the feature wall is usually quite a small area, you can get away with bright colours and bold patterns.
9) Kitchen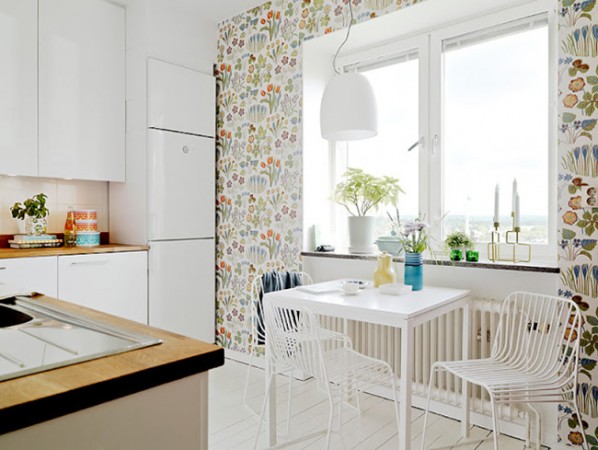 Source: AO
Another way feature walls can be used is in the kitchen. This is often a method people don't think of but there is usually a wall in a kitchen that could be enhanced by some clever decorating. This method is quite versatile as you can opt to choose the more traditional method of making the feature wall the one where your applicances and cupboards are. The other option is to choose another wall to give a potentially higher impact feature wall.
10) Pictures
Source: Homify
Of course, adding a feature wall doesn't necessarily mean you need to redecorate. As shown above, a wall can give high impact by adding items such as pictures in place of repainting. This allows for an easily way to add a feature wall and requires less commitment as if you don't like it you can just take the pictures down! It's also great for rented accommodation (as long as you are careful with hanging pictures, maybe removable adhesive rather than nails) as it isn't a permanent change.
Feature walls can be a great addition to your home as they give high impact with little effort. My main tip for adding a feature wall to a room is to keep all of the other colours and patterns fairly simple to not make the room look too busy. I also think it is better to limit the amount of feature walls in one house as it can be too much to have a feature wall in lots of rooms. This post should give you some inspiration to redecorate your home and give your rooms the wow factor.