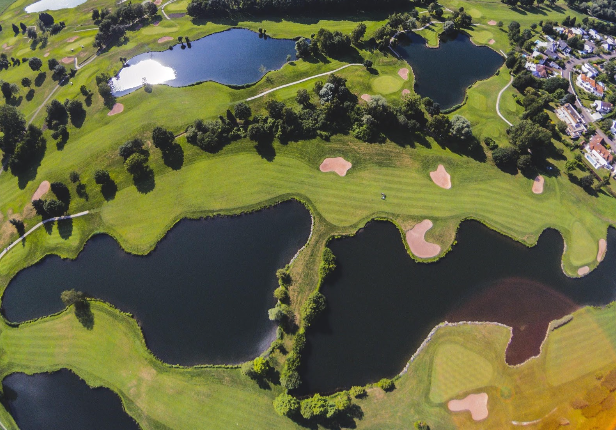 Real estate investors seeking residential properties frequently choose to acquire homes in golf communities. While some experts predict a gradual decline in this trend, others foresee a bright future for developments based around golf courses. They point out capital investment in these concerns has reached a historic high level during this decade.
What accounts for the ongoing popularity of golf course residential investment properties? This brief article explores this fascinating issue. Consider five key reasons to select this type of home:
One: Retiring Baby Boomers Often Welcome Low Maintenance Real Estate Investments
The rapidly graying Baby Boomer age demographic likely accounts for some of the recent popularity of golf course communities in the USA. Statistics reveal this 74.1 million strong segment still comprises a significant percentage of the American population. Older homeowners sometimes search for labor-saving properties. Golf course residential development HOAs usually assume responsibility for performing essential exterior home maintenance.
Two: A Golfer's Paradise May Include Ready Access to The Greens
According to Golfsquatch.com, yet another reason to invest in a golf course property relates to the availability of the links. Dedicated golfers value this feature. Many successful golf course developments also maintain practice facilities and Pro shops. Some employ former members of the PGA Tour as resident instructors. If you enjoy playing golf and you'd like the opportunity to improve your game, then residing in a golf club's residential community might hold immense appeal for you.
Three: Successful Golf Course Developments Enforce HOA Rules
Today, HOAs enjoy widespread popularity due to their interest in protecting real estate values. These organizations serve as watchdogs, ensuring residents comply with all the realty covenants established by a community founder. Successful golf course communities focus upon the vitality of the sponsoring golf club. Property owners typically can depend on them to maintain (and ruthlessly enforce) HOA real estate guidelines. Homes in these locations consequently tend to enjoy robust resale values (especially if the adjoining golf club acquires prestige).
Four: Many Golf Course Communities Experience a High Demand For Vacation Rentals
Another reason to select a home in a golf course community relates to its proximity to recreational activities. Whether a property owner chooses to play Northland Country Club Golf in Duluth, MN or Indian Canyon Golf Resort courses in sunny Palm Springs, the availability of the links contributes to the property's allure. Homeowners who don't choose to reside full-time on the premises sometimes rent out their homes to vacationers. Golf club HOA regulations differ widely on this subject, so prospective buyers seeking vacation rental home investments should check with the development to ensure the availability of this option, of course.
Five: Some Golf Course Communities Offer Valuable Networking Opportunities
Perhaps another reason to select a residence in a prestigious golf course community mirrors the appeal "Ivy League" prep schools and colleges hold for some parents. Residents often enjoy an excellent opportunity to network with neighbors in these locales, establishing business and social connections of value to them in a variety of career endeavors. While sociologists have not yet documented this phenomenon extensively, the steep price of golf club memberships in some sought-after golfing enclaves epitomizes exclusivity. In certain cases, investing in golf course properties may satisfy a buyer's desire to achieve a more influential position in society.
An Important Trend
For a myriad of reasons, investing in golf course investment properties appeals to many people. This specialized real estate marketplace appears well positioned to thrive during the coming years. Purchasers frequently obtain personal satisfaction and financial benefits by building dream homes beside the links!