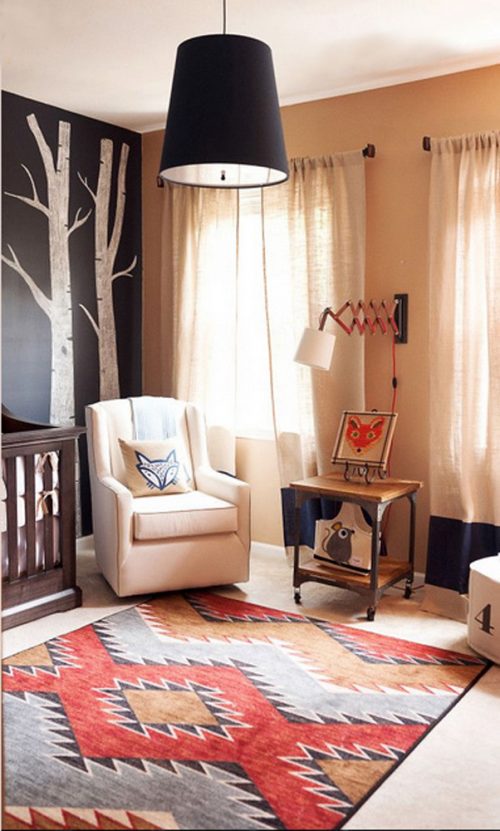 Interior design styles are versatile and for maximum effect should complement each other. Styles that contrast unflatteringly can ruin your overall look. Finding accessories and accent pieces that complement a minimalist design style can be a challenge because they need to blend into this understated style without overwhelming it. 
A southwest rug is the perfect accent piece that will make your modern interior design pop without overwhelming it. Native-American produced southwest rugs are versatile, durable, and Instagram-worthy gems that you should consider incorporating into your modern home for that trendy modern rustic style.
Use as Your Main Area Rug
Your main furniture pieces and walls may, characteristically for modern interior design, be monochrome. Whites, light greys, tans, and pastels all make perfect background colors that highlight this style. 
To contrast the open, airy feel of your walls, ceilings, floors, and doors, why not place a massive southwest rug slap bang in the middle of your living room? The vibrant colors will pop beautifully, make your floor look attractive by covering large open floor areas, and interestingly draw your attention to the clean lines of the furniture pieces placed around the rug. 
2. Use as a Wall Hanging
Modern interior design favors abstract art for accent pieces. One of the hallmarks of a southwest rug is the striking and abstract geometric patterns that make them so attractive, drawing in the eye. 
Hang these masterpieces in your living room, bedroom, or hallway, adding a splash of color to neutral walls. As artistic and authentic tribal masterpieces, they'll certainly give your room a facelift. 
3. Upholster Accent Chairs with Southwest Rugs
Southwest rugs also make colorful and durable upholstery materials because of their tight weave and opaque, dense nature. Be creative and use them to upholster accent chairs, footstools, day beds, and even dining chairs.  
These rugs are easy to clean, so maintenance won't be a headache. The occasional wash with soft eco-detergents before airing out to dry should keep the material on the upholstered furniture in mint condition.  
4. Use as a Bed Spread or Bedside Rug
Add comfort, style, and color to your minimalist design style bedroom by draping a decent sized southwest rug over your silk or cotton bedding.  Express yourself with the abstract patterns they portray. Even better, as these rugs have a comfortable feel, they won't be an inconvenience to you. 
Use smaller southwest rugs alongside your bed for that comfortable woolly feel on your feet the moment you wake up. These rugs are a breeze to keep clean and add a beautiful design piece to the coziest room in the house.  
5. Add a Touch of Color to Your Design
Modern interior design needn't be bland! Monochrome isn't the only way to express your inner modern chic. Contemporary styles are versatile and can take on all kinds of accent pieces to make them more interesting, colorful, and relevant. 
Add a southwest area rug to your interior design profile and still maintain your minimalist credentials. Color, abstract patterns, and the use of natural materials—all hallmarks of southwest rugs—will ensure your home remains relevant, modern, and trendy.  
Recently, in interior design, designers have been finding great success by combining multiple interior design styles.  Modern / minimalist design is on the rise, but so too, are more classic design styles like interior design.  Because designers are starting to no longer stick to one, singular style throughout a home, but to experiment with multiple styles. 
This creates a home décor template that is much more interesting and exciting. Combining multiple style can, however, be risky. It's important to really plan out your strategy before you get started. So instead of periodically purchasing additional pieces of furniture, you should really plan out the furniture buys for the entire space at the beginning of the renovation process.
Keep your eye out for examples of homes and designers that blend multiple styles. It's a trend that is on the rise that will become more and more popular as people realize all of the benefits of tapping into less popular, overlooked interior design styles. 
It doesn't have to be over-the-top to tap into different styles. It can be as simple as just dropping a rustic or Southwest rug on the floor of your minimalist home to achieve the benefits and eye-catching quality of blending these types of décor.