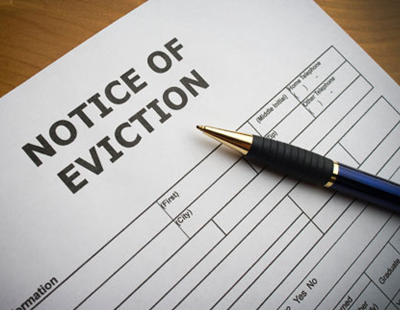 The simple answer is that you can't. There is no assured quick route to evicting tenants, but there are ways that the process can be sped along.
One of the biggest things to keep in mind while going through the eviction process is to keep a calm head. It can be very easy to get hot-headed and storm your property. But this is only detrimental and will not have the desired effect. Knocking down the door will only favour the tenants in the eyes of the judge. Remember, it is a crime to harass or force your tenants out of the property without formal procedures being met. Stick to the law, and your tenants will be gone soon enough.
Accelerated Possession Order
Perhaps the cheapest and quickest way to evict a tenant is by utilising an 'Accelerated Possession Order'.
This, however, can only be actioned if you have already served a section 21 notice (this must give the tenants at least 2 months notice to leave the property and must also allow the tenants to stay until the end of the fixed term).
The accelerated possession procedure can only be applied for if your tenants have not left by the date that was previously specified in the Section 21 notice. This procedure also does not work for claiming rent arrears.
If you want to claim rent arrears then this needs to be done via the longer, standard possession procedure. (However, it is worth noting that when using the accelerated procedure, there is the opportunity to bring a separate claim for a County Court Judgment (CCJ).
Section 21 Notice
So, before you can process the accelerated possession procedure, you will need to serve a Section 21 notice.
This can be given to the tenants either:
After a fixed term tenancy ends

During a tenancy with no fixed end date
Reasons why you cannot use Section 21 notice:
If there has been an improvement notice served on the property by the council in the last 6 months.

If the tenancy started post April 2007 and the tenants' deposit is not secured by a tenancy

deposit scheme

.

You live in Wales and do not have a

landlord licence

.

The tenancy started less than six months ago.

The property is an

HMO

and doesn't have the

correct licence

.

If the council has, in the past 6 months, served a notice of emergency works.

If the fixed term has not yet ended unless the

tenancy agreement

states

otherwise

.
Make sure that you keep the evidence to prove that this notice has been served, as this is required for further court procedures. Proof can be kept via filling in a certification of service form (N215) or writing "served by [your name] on [the date]" on the notice itself. If this is not successful, and your tenants refuse to vacate the property, then you can proceed to an accelerated possession procedure.
How long will it take?
The name may deceive you. With the title 'accelerated' you may expect this procedure to be a quick process, and while it is much quicker than many other alternatives, you can still expect the whole process to take up to 10 weeks. This may take longer if the tenant submits an objection which is agreed by the court.
Applying for an accelerated possession order is a fairly self-explanatory 7-page form which, once completed, needs to be sent to your local court that deals with housing possession.
If the paperwork is all in order then the court will proceed. If the paperwork is incorrect or incomplete then the court will be forced to throw out the case, making you start again.
What next?
Assuming that the paperwork is all in order, from here, the court will send your tenants a copy of your application, informing them that your section 21 has expired and that you have filed for an accelerated course of action. From receipt, your tenants will then have 14 days to file a formal objection to the eviction.
Now the decision lies with the judge.
They will decide to either go ahead with the possession order and thus remove the tenants from the property, or to have a court hearing. A court hearing is not the norm, this is usually only the case if there are issues with the paperwork and/or the tenant's objection is justified and a cause for concern.
A court hearing does not mean that the possession order will not be granted, it is just the chance to look at the evidence in more detail and to speak to those involved. This will, however, lengthen the overall process.
Once the possession order has been granted, your tenants will have either 14 or 28 days to vacate the property. This can, however, be extended if the tenants have extenuating circumstances.
But if even the thought of going through an eviction process is terrifying and very overwhelming then simply give our FREE landlord advice helpline a call.
Mon-Fri, 9am-5:30pm 0800 368 7554
How much does it cost?
This whole accelerated process costs around £355.
All of the above is determined by the existence of an AST agreement. Without a tenancy agreement, a landlord cannot evict a tenant so easily, there are alternative methods that need to be taken in order to have a successful eviction.
A section 21 notice can still be raised, but there are no options for accelerating the procedure. This means that the whole process will take longer and potentially be more difficult.
Read more about evicting without a tenancy agreement here:
Our advice is to make sure that you always have a tenancy agreement in place before accepting new tenants.
They are free and really easy to set up and can be done online!

Property Management
If all of this has given you a headache, then fear not. Plenty of companies offer fixed fee property management. A service that fully takes care of your tenants and, in most cases, can even look after legal issues such as evictions. Property management companies can take away some of the stress that you have experienced trying to evict your tenants.
TheHouseShop has a  fixed price property management service that offers the same comprehensive level of service you would expect from a traditional letting agent, but for a fraction of the price. From as little as £59.99 per month, landlords can keep their rental business compliant and stress-free, without losing a sizable chunk of their monthly yield.
Maybe something to keep in mind for your new tenants…

Or give us a call on 0800 048 8910 for more information.