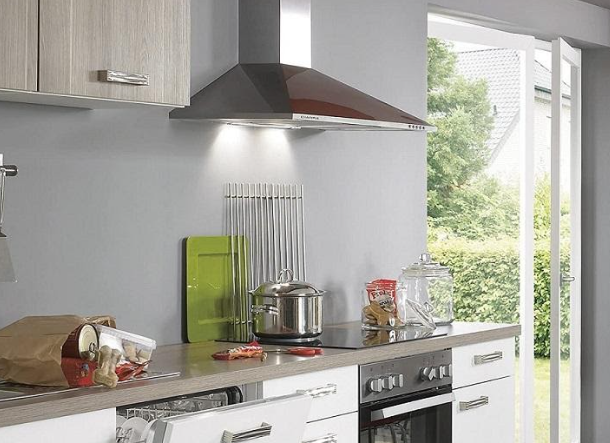 When it comes to cooking in your kitchen, you want to find a cooker hood that will do a great job at extracting moisture, grease and unwanted cooking smells. There are countless cooker hoods available to purchase online, and finding the right one for your kitchen and needs can seem daunting. Cooker hoods are long-term investments that you'll need to make, and it is best to find one that looks good and does its job effectively.
Fundamentals To Take Into Consideration Before Buying:
Recirculation or Extraction?
When you choose a cooker hood, you will have the choice between one that extracts or recirculates the moisture, grease and smells from your cooking. When you want the job done well, go with an extraction cooker hood. Recirculation hoods are often noisier and do not have an external vent. Instead, the air gets filtered through a metal and charcoal filter. An extraction hood will offer you the most efficient and long-lasting solution for your cooking needs.
Best Cooker Hood Features
When choosing the best cooker hood for your kitchen, you will need to take into consideration other important features such as the size, cleaning features and lights.
Height- Choose a cooker hood size by following the recommended height minimum by the manufacturer. Allow enough headroom for you while cooking so you can avoid any discomfort on your back and neck while making your meals.
Width- Ideally, your cooker hood needs to be wider than your stovetop. As a general rule of thumb, your hood needs to be 1.5 times the width of your stove's cooking area. For free-hanging cooker hoods over kitchen islands, it should be twice as wide as your stove's induction hob.
Cleaning- When it comes to cleaning, you want a cooker hood that makes it easy. The filters should be easily accessible, and there should be multiple places for grease to gather both outside and inside of the hood. If you want a stainless steel hood, keep in mind that greasy fingerprints show up easier than other cooker hoods made from other materials. Similarly, glass canopies show more dust than opaque ones.
Lights- Another feature to consider is the light sources available for cooking hoods. LED lights are the best solution because they do not get hot and will not blind you while cooking.
Types Of Cooking Hoods To Consider
Island Cooker Hoods
Also called free-standing hoods, island cooker hoods are large and often pricey. If you are redesigning your kitchen, keep this in mind when choosing where to relocate your oven and hob. They attach to your ceiling and need a lot of room, but they can give a huge kitchen an amazing look and feel.
Canopy Hoods
This type of cooker hood is best when you do not have a lot of space to work with. They sit flush under your kitchen wall cabinets.
Built-In Cooker Hoods
Sometimes referred to as integrated cooking hoods, built-in cooker hoods are built to fit into your kitchen wall cabinets. These are perfect for narrow or standard width cookers and hobs. This is a good choice if you have limited space in your kitchen.
Chimney Cooker Hoods
If you have a large cooker or one that is backed onto a wall where there are no kitchen cabinets, you may want a chimney cooker hood. They can come in glass, stainless steel or a combination of both. These are often larger, so plenty of room is necessary. These can be a stylish feature in a large kitchen.
Downdraft Extractor
For those wanting a minimalist look to their kitchen, a downdraft extractor might be a tempting voice. They are a type of cooker hood that is hidden away under your countertop and behind the hob when not being used. With a press of a button, the extractor will rise and suck any moisture, smells and grease away from your cooking.
Visor Hood
Usually referred to as conventional hoods, visor hoods are the original versions. They're more affordable than other types of cooker hoods and are perfect for kitchens with limited space available. They're installed at a right angle to your kitchen wall under the wall unit. Of course, before fitting your new cooker hood, seek proper installation guidance to make sure you get the most optimal fit.
How Much Do Cooker Hoods Cost?
The amount of money you will spend purchasing a cooker hood for your kitchen depends on the type and style you choose. In general, visor cooker hoods are the most affordable and can be purchased for less than $100. Fancier models with more features and larger hoods such as canopy styles can typically cost between $300 and $500. There are many styles of cooker hoods to choose from to fit anyone's kitchen and budget.