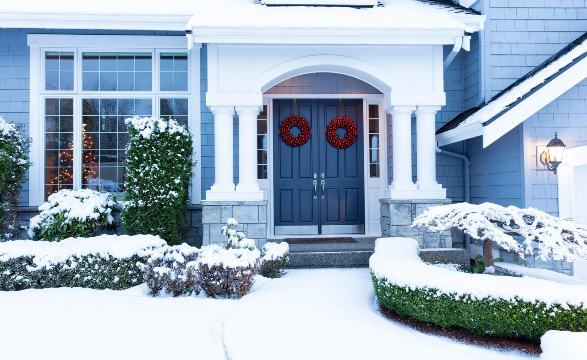 If your windows and doors are drafty, there is no doubt that your home is uncomfortable. Regardless of whether you keep your HVAC system on or not, you will find your home uncomfortable as long as you don't do something on your drafty windows and doors. That is why we decided to research and compile tips on how to insulate doors and windows for a comfortable home. This will not only save you on high energy utility bills, but it will also make your home comfortable and enjoy going back to relax in it after a long strenuous day at work.
The trick is that if you winterize your doors and windows, you will not need to keep running your HVAC system all the time, and that means reduced energy consumption, which is an ultimate goal for most homeowners in Barrie. In addition, your heating system will keep working efficiently during the winter, and as such, this will save you on costly repairs. By adhering to these tips on how to insulate your Barrie windows and doors, you can enhance the life expectancy of your HVAC system, live in a more comfy house, and save money on heating and cooling bills.
Doors normally receive a lot of traffic since people come in and go out regularly. With time, this leads to draft, but the good news is that there are various steps you can opt for to reduce the impacts the doors have on the energy efficiency of your home.
This is a door installed on the outer side of the main door. It is usually light, and this minimizes the time that the front door lets air through. The best aspect is that when you close both doors, the storm door plays a role of a buffer, especially from strong winds. This reduces the impacts of wind on the front door and hinders the entrance of drafts. Another thing that will significantly help you minimize drafts is installing a draft stopper or a door sweep at the main door.
Sometimes, if you had installed weather-stripping around the entry doors, you might find out that it has worn out. If this is the case, you can replace the weather-stripping as if this is left unchecked, cold air, and water can get into your home through the space left by worn-out weather-stripping. There are various materials for weather-stripping Barrie windows and doors. However, the type of material depends on how tight you want your door to hold and also the severity of the weather in your area. The most common weather-stripping material used is v-strip. It performs excellently, but it can make it difficult to close the door. Foam tape is another option, but it doesn't last for long.
Before you install your weather-stripping, first, you will need to clean the groove using warm and soapy water. The strips should be cut precisely to ensure that they align well at all the corners of the door jamb. You don't want to leave gaps around the door frame since that will let through the draft. So, you would want to measure the strips twice and cut only once. 
Weather-stripping is a common tip on how to insulate doors and windows. Windows can make your home completely unliveable, especially if they are old. Remember they are many, and if they are all drafty, your home can become quite chilly. So, it is essential to keep inspecting your Barrie windows and doors now and then to identify and solve any issue. Sometimes, you will discover that the stripping has worn out, or the windows are warped and can't close well to keep weather elements out.
So, if that is the case, you should consider weather-stripping them using the same v-strips. Before installing your v-strips, wash the grooves using warm and soapy water. Then put the weather-stripping precisely, ensuring there are no gaps left around the window frame.
This another great way on how to insulate doors and windows. For windows, they aid in keeping cool breeze in pocket around the windows. Windows facing in eastern and western direction, you may want to opt for blackout curtains since they reduce sunrays penetration through the windows.