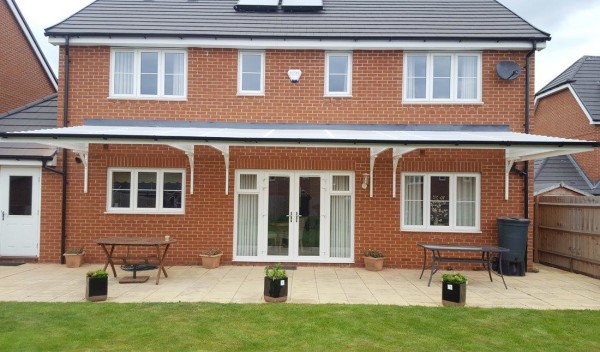 The average tenancy duration in Britain was reported last year to be just 18 months. Letting out your home requires a lot of upkeep to ensure that the cycle of tenants stays consistent; the last thing a landlord wants at any time is an empty property and resulting loss of income.
Presentation is everything when it comes to rentals; pay attention to the details and the rest will take care of itself. Here are our tips for making the most of every room and impressing those viewers:
Garden
Trim bushes and trees to allow more sunlight into the house and garden, along with giving more space and better access.
Make sure any lawns are newly mowed!
Add flowers around the front for immediate aesthetic appeal to draw in viewers; make sure all weeds are removed.
Ensure that there is no rubbish or junk around the exterior and there is a designated place for litter which is out of the way.
In rainy weather, uncovered patio areas won't be so appealing – consider a garden canopy to solve this problem so that the outdoor area can be enjoyed come rain or shine.
Decor
Keep walls, furnishings and floors neutral for broader appeal and to avoid putting anyone off with bold colour schemes or patterns.
Make sure any scuffs or discolouring on the paintwork are covered over to keep the place looking fresh.
An easy and inexpensive way to give a room an air of interior design is to have just one accented wall using either patterned wallpaper or a different colour of paint.
Living Room
This area should look homely and relaxing; comfy cushions, decent candles and automatic air fresheners will go a long way.
Open a window beforehand to let air circulate.
In colder weather, have the fire or heating on to demonstrate how warm the room can be.
If the property is new, don't forget about other finishing touches such as pictures on the walls, lamps and even curtains/blinds – this may sound obvious but many property owners in a rush to find a tenant neglect this. The difference between a bare-looking room and one that is already inhabitable is vast.
Kitchen
It is crucial that this room is extremely clean, so make sure all appliances, work surfaces, floors and ceilings are sparkling.
It goes without saying that any dirty dishes should be washed and put away.
If there is a washing machine here this should be free of any loads to clear the view inside the drum.
Ideally, appliances should match and be modern-looking as kitchens are often deal-breakers for house hunters.
If the property is new, don't forget to add essential items such as a new kettle and toaster to make the kitchen look ready to use and save any doubt over who will have to buy such items.
Bathroom
Just like the kitchen, this is another room which must be kept especially spotless.
Ideally choose white goods to keep the area neutral and allow tenants to personalise as they wish.
Add mirrors to walls to create the illusion of more space, especially in smaller bathrooms.
Do not leave any toiletries or appliances in here so that the space is as much a blank canvas as possible.
Bedroom
Keep all beds dressed in fresh linen to make them as inviting as possible; if they look spotless and smell beautiful, prospective tenants have no qualms about imagining themselves getting inside for a good night's sleep.
If the previous tenants have already vacated, never, ever leave forgotten clothes hanging in the wardrobe or belongings in drawers.
Don't forget to clean every area, including under the bed, on the tops of wardrobes and inside drawers.
Also keep in mind these other general points:
For viewings taking place later in the day or in darker weather, make sure all lights are turned on so that everything is visible and the property look cheerier.
Keep all windows spotlessly clean inside and out.
A door canopy is an effective way of adding aesthetic appeal to the front of the house and providing extra shelter for tenants as they come and go.
Clear away any post from the entrance areas or visible surfaces.
Make sure all floors are hoovered, mopped or polished.
Don't park any cars in the driveway to keep the space clear and show its size.
Make sure every room is clutter-free and there are no unwanted smells from previous tenants such as smoke, pets, cooking etc.
Don't just shift clutter into cupboards or under stairs; prospective tenants will want to see how much storage space is available, so be prepared for them to look behind every door and wardrobe, etc. Of course, if there are items such as hoovers included in the property, these can be kept in cupboards, but keep any unnecessary items to a minimum in these spaces.
Don't forget the stairs – make sure these are kept as clean as possible too.