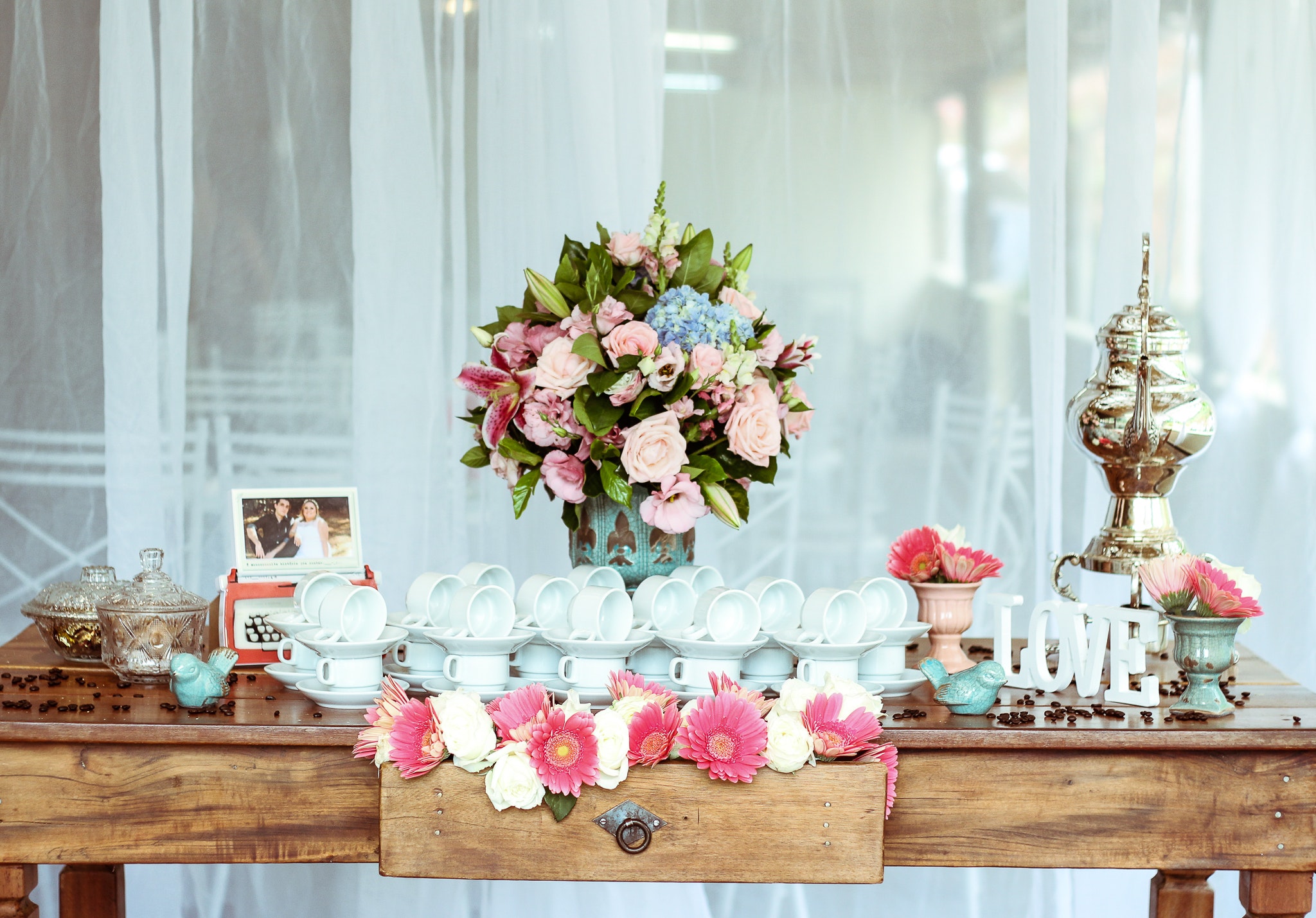 Planning a wedding at home? Only the nearest and dearest, your closest friends and the two of you! Well, you are definitely going to need some home wedding decor. You won't believe what simple wedding decorations for house can do! Make your Big Day unforgettable with some of our small home wedding ideas.
Be creative!
First of all, having a wedding reception at home offers unlimited opportunities for unique wedding themes. That's one of the greatest things for a wedding ceremony at home: you can have a stylish low-budget wedding. It doesn't take much to turn your backyard into a disco dancefloor, a retro-styled area or a fairy tale forest. Plus, you can even create a section of your yard full of outdoor games to keep all the kiddos entertained. Many adults will want to take a crack at giant Jenga and frisbee golf too! Even if you have a very limited budget simple wedding decorations for house can work magic!
Scrub it off!
So, what should be on your at home wedding checklist? A big cleaning might be a great start If you are planning a cheap backyard wedding, you want to get rid of all the junk before you start decorating. Take a photo of your backyard to get a clearer look – it helps to understand what has to go. Be especially careful if you want to invite families with kids. Children are curious, and you don't want any accidents. Ladders, rusty nails, old wells – there are lots of things that could require your attention.
Check out any elements, that require a fresh coat of paint. Remember, that you want your backyard look its best at your wedding photos!
Let there be the light!
Before you start thinking about other elements of wedding design, check the light. Your reception will probably last until after dark. Lighting is important. Actually, it is one of the main points in planning a home wedding. Little lightbulbs or hanging lanterns will turn your backyard into a truly magical space.
Rent the rest
Your next move should be considering a number of guests. It is highly possible that you don't have enough chairs, tables, cutlery, and other items. The good news is – you don't have to buy all of it! You can rent off the missing items. Also don't forget to check with your caterer, what they provide – quite often you can get all the items you need from them as part of the service.
Back up plan
It is important to remember, that the weather sometimes just doesn't comply. Have a backup plan in case it rains. You might want to rent a big tent for the guests to make sure the fun continues no matter rain or shine.
Choose the theme and stick to it!
As we have mentioned, your home wedding offers unlimited opportunities for a themed wedding. As soon as you decide on the theme, think about wedding decorations. What would look good? Pay special attention to DIY design elements, as they are cheap and look most original.
Cheap DIY wedding design tips
Although wedding design depends on the theme, there are some design ideas that any backyard wedding can benefit from. For example, you can set up a clothesline and pin some romantic photos of the newlyweds. It's going to set the mood straight away.
Make a photo area. Wedding-related wooden signs, flowers, and lighting will help you. You can also use wooden signs as an element of design across the area. Romantic quotes in white paint look good on dark wood. Simple and stylish.

Be eco-friendly and use potted plants. Green ferns will look most amazing, and cost significantly less than roses. Another cheap, but the awesome option is baby breath. This little flower makes every flower arrangement look ethereal. It looks good in centrepieces, backdrops and any other elements of flower design that you might want.
As you can see, simple wedding decorations for the house don't have to be expensive! There are lots of ways to make your big day truly special without spending lots of money.