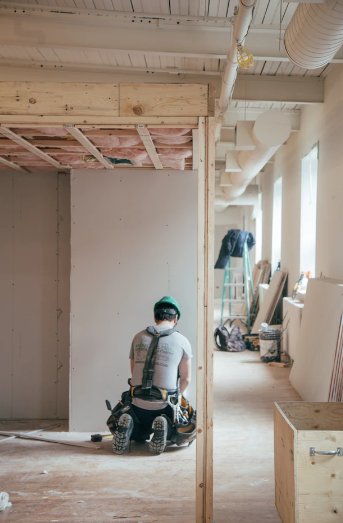 Every homeowner dreams of improving their home to take the whole family's living conditions to the next level. Everyone has thought about revamping their dull interiors at some point in life, but not all have the liberty to do so due to financial constraints or lack of time. Making improvements in your house are also necessary to increase its value while reselling your property. If budget is your main concern, there's still a way out. You need a proper plan, a few hundred bucks and some practical tips to put your home improvement project in action. 
We're here to help you out with some of those ways that are incredibly budget-friendly.
DIY wall paint
Not only is the wall painting enjoyable, but also a fun way to spend some quality time with your family. You're yourself responsible for choosing the colors and enhancing the room's décor style by changing the color palette. Research on the types of paints available and pick an option that's durable and fits well within your budget. DIY wall painting can save the cost of hiring a professional painter and it'll teach you a thing or two. Just make sure to move your furniture out of the room and cover it well. Don't make a huge mess and practice on spare surfaces first. Remember, doing it yourself should ensure even surfaces and clean finishing.
Choose wallpapers
If painting isn't your thing, you can switch to using wallpapers instead. With a wide range of designs and textures available in any décor store, you can choose a wallpaper that blends well with your interior design theme. If you feel that wallpapers are getting pricey for your budget, you can use it on one of the walls, which will give an equally appealing look. In fact, using wallpaper on just one wall can give you the liberty of choosing bolder and louder patterns to balance the overall drama of the room. It's also much quicker and less messy than using paint. A few paper designs are difficult to hang and you should look into the details about the different kinds before ordering in bulk. The application technique can be a challenge if not learned before.
Switch to energy efficient fixtures
Even though changing all lighting fixtures might seem like a daunting and expensive move for now, it'll save a lot of money in the long run. Energy efficient lighting not only saves energy, but also produces lesser bill amounts. It's a conventional lighting system to achieve a sustainable and affordable lifestyle. Using compact fluorescent lamps (CFLs) or light emitting diode (LED) lamps instead of incandescent lamps produce more light than heat and also ensures longevity and durability. Another useful tip to improve the energy efficiency of lighting fixtures is to install low loss copper ballasts.
Replace your openings
Highlighting or decorating your front door is becoming increasingly popular among homeowners as it's the first visible element when you enter. We've seen people who have a weird fascination with front doors. You can use this opportunity and think of changing your front door to give it a contemporary visual and uplift the look of your house's front elevation. It's also necessary to change your interior openings as it can do wonders in providing a new style. If you reside in Denver and are already intrigued, you can Click Here to choose your preferred style of door opening. From French doors to grand entrances, you can choose from a variety of styles to amalgamate within your interior décor. A lot of homeowners have tried this tip and are extremely satisfied with the results.
Polish your floor
Changing the entire floor can be very expensive and out of your budget, hence we'd suggest restoring it to regain its lost shine. Restoring your floor can massively impact the look of your house. Whether it's made of hardwood or constructed using patterned tiles, polishing it will remove all accumulated dirt and debris, hence getting rid of its dullness. If you have a hardwood floor, You're recommended to polish it at least once in six months. It also helps in eliminating the scratches and regaining a flushed surface. Polishing your floor is extremely necessary when you're planning to sell your property.
Re-plan the landscape design
Your front yard or garden is the first thing that your visitors and buyers are going to see when they enter your property, and thus it's extremely important to leave a good first impression. A dull and lifeless garden will make the entire property look completely inanimate. To amp it up, you can implement a few budget friendly ideas such as planting trees and flowery shrubs, mow the grass, add some seating arrangements or install some calming lighting fixtures. Not only does it help in converting into your private space, but your guests would feel more inviting. It shows thoughtfulness and care behind transforming your home and adding some life to it.
Add budget-friendly accessories
You can find a lot of home accessories or lifestyle products that can be used to improve the look of your interiors. We'd suggest only those products that'll not go beyond your budget and are extremely pocket-friendly.
Mirrors: Adding a full length mirror can give you the illusion of increased space, making it look almost double. To enhance its elegance and make it look like a décor piece, you can purchase a framed mirror.

Rugs or Carpets: Placing a large, neutral-colored rug in your living room can also make the space appear wider. Not only do they look classy, but also complete the look of the space depending on the colors and patterns you choose.

Curtains or Drapes: You can also use curtains to add a touch of delicateness to the stern décor. A set of linen or natural silk blinds or shades can instantly up the ante of your room. Functionally, they provide privacy and block sunlight and view.

Paintings and sculptures: Everyone likes some decent art. Adding paintings and sculptures of your favorite artist or subject in your house can not only reflect your personality but also attract a few eyes. An amazing art piece instantly adds some drama in the zone where it is placed. It also makes you more focused and motivated.
Other house accessories that you can use in improving your house look are clocks, pillows and floating shelves. It's not necessary to go to a high-end store to buy these accessories. You can instead visit flea markets or thrift stores to buy them at a very low price, helping you to stick to the budget.
Revamp your kitchen area
Now when we talk about revamping your kitchen, we do not mean changing the entire look that could take a toll on your budget. A few simple changes can give your kitchen an elevated look. For instance, painting your kitchen cabinets, changing the hardware, adding more lighting, covering the tiles with an aesthetic protective cover, and installing a few floating shelves can drastically improve the look of your kitchen. Other small additions like buying contemporary crockery or cutlery design are like a cherry on the cake, unnecessary but appeasing.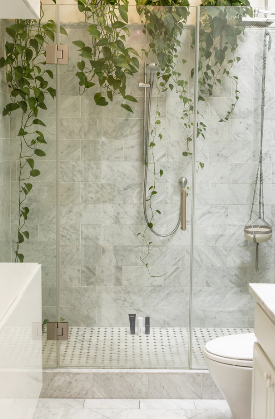 Revamp your bathroom space
A lot of buyers consider the current state of the bathroom as an important aspect in buying any property. A clean bathroom is definitely a requirement for everyone. So how do we remodel it on a budget? A few tricks can be borrowed from the kitchen revamping tips like painting the cabinets and changing the hardware. Apart from these, you can change the fixtures as well, if your budget allows it. Installing cheap but energy efficient lighting can provide added illumination that can change the look of any space. Basically, layering is the solution. The layers in your bathroom comprise of your shower curtain, hardware, shelves, art work, etc.
Add plantation
We cannot emphasize enough on how plants can bring life to any dull space in an instance. Plants serve dual purposes- they enhance the look of the space, and make the air fresher and cleaner. Adding plants in all rooms is a great way to create contrast and to add a pop of color against the neutral backgrounds. Moreover, plants help in keeping your thoughts aligned, spread positive vibes and you feel relaxed around them. From the numerous types of plants available, you can choose one that doesn't require much maintenance. You can choose from tiny succulents like cacti to hanging creepers to indoor plants like fern.
Change or polish your furniture
If your budget allows you, you can consider changing your furniture by selling the old set. One way of saving money is to get only those furniture pieces that are absolutely necessary. A lot of people are going minimal by keeping as little furniture as possible. It not only makes the room look bigger but also helps in maintaining it. Less clutter makes cleaning easy. If you aren't up for the idea of changing the furniture or getting new design pieces, you can simply improve the look of your existing furniture. Consider polishing the wooden parts of the chairs and tables and changing the upholstery to match the current color palette of your interior décor. Buying material and getting customized furniture made by your carpenter is another way of saving money and installing new pieces in your house.
Consider repairing broken items
You need to consider fixing all the broken items and repairs that are required in your house. However small the repair seems to be, similar repairs and broken items all over the house can add up to the list and look extremely troublesome. The solution is to fix these one by one, more effectively if fixed as soon as you see them. If you're planning on selling the house, all these small repairs can collectively look like negligence and hence, you need to maintain every aspect of your home.
Concentrate on the ceiling
One of the most ignored parts of any house is the ceiling, especially when you're looking for home improvement. The ceiling of any space often looks worn out after a few years of construction. You need to look out for popcorn ceilings and get them scraped off with just a small cost. If your budget allows, you can repaint it and add either a false ceiling or a set of boxed beams to give it a modern touch. You won't have to worry about it for a few years after the treatment. It will also provide a much needed sophisticated look to the entire space. You can choose from an endless list of false ceiling styles.
Get your carpet clean
Your carpet accommodates millions of microbes and germs due to the overwhelming amount of footfall it witnesses. Getting your carpet professionally vacuumed and cleaned can remove all dirt, dust and debris that could lead to an unhygienic environment. Cleaning it can also result in eliminating its dullness and regaining its shine. Also, a professional cleaning service can remove all stains and marks that were otherwise making it look ugly. Plus, all mold growth on the carpet can be discarded in highly humid areas of the house. You need to get your carpet professionally cleaned at least once every two or three months, along with vacuuming it once a week.
Add crown molding
Crown molding has recently been a popular ornamentation element to enhance the look of walls and openings. It is specifically preferred in contemporary styled themes. Trim work doesn't take much time and is extremely cost-effective. You can purchase from a variety of molding styles that can suit your budget. Experimenting with two or more styles is also encouraged, depending on your spending capacity.
Other small factors that are insignificant but can be considered are improving your house's air quality by installing a fragrance, personalizing the décor theme by adding framed photographs, or keeping all stuff organized. After putting these low-cost home improvements in action, it's extremely important that you maintain it all. Keeping your house clean regularly and getting it professionally cleaned once in a while can maintain the changes that you've done.