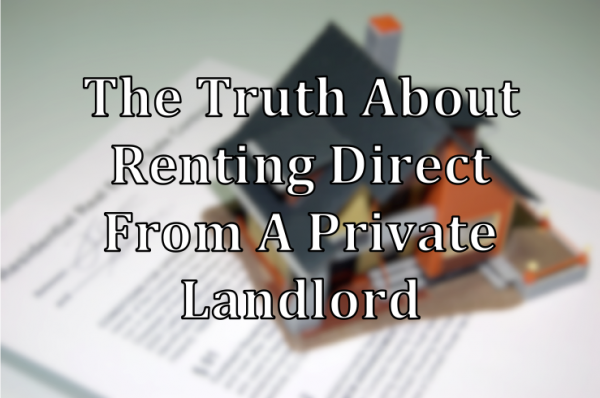 Here we look at the pros and cons of renting from a private landlord, in an attempt to help you get to grips with your rental options and decide if you should be renting direct from your landlord.
The number of private landlords in the UK is at an all time high, and the private rented sector is set to expand even further over the next 5 years. There have been many articles, news stories and public discussions on the pros/cons of being a private landlord, but very little has been said about the implications for the large number of tenants who are now renting property direct from their landlord. Has the removal of the middleman been beneficial to tenants? Or does the increase in private landlords represent the start of a slippery slope into an unregulated rental nightmare?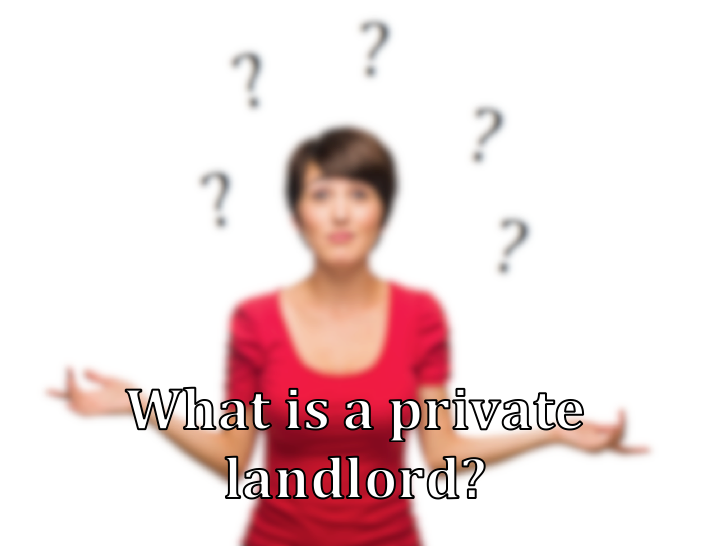 What is a Private Landlord?
A private landlord is a property owner who chooses to rent out their property themselves. They will not use a letting agent or property management company, and instead will manage the rental directly.
Landlords tend to fall into 2 broad categories: professional landlords and 'accidental' landlords. Professional landlords will usually have multiple properties in their portfolio and treat being a landlord as running a business. Accidental landlords, on the other hand, take a much more casual approach as they usually own just 1 rental property which they have acquired through family inheritance or purchased as a one-off investment (often to help their children get onto the property ladder).
Both professional and accidental landlords can choose to rent their property privately, but single-property landlords tend to favour the private landlord route as it is easier to manage a single property without the help of a Letting Agent or management service.
This means that they will market the property themselves – usually on a classified ad site or property portal, such as TheHouseShop – and have direct contact with the tenants throughout the process. The landlord will then handle any enquiries from tenants, arrange viewings and handle the on-going negotiation and paperwork until contracts are signed and the property is let.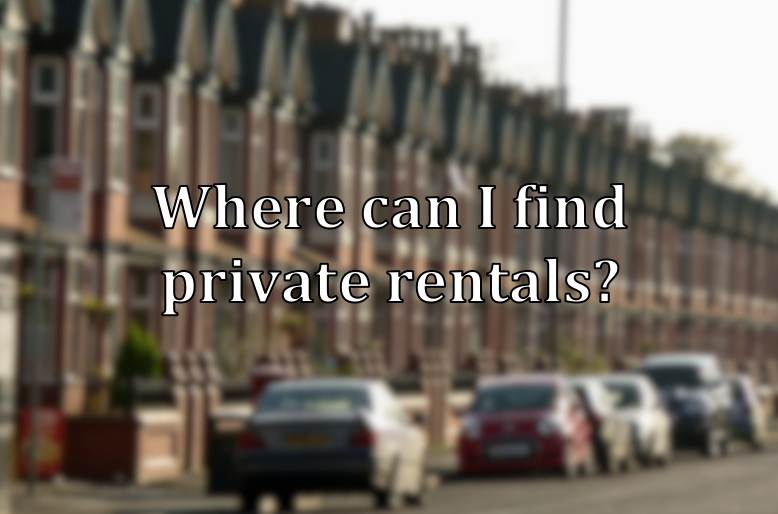 Where Can I Find Property To Rent From Private Landlords?
If you are specifically looking to rent a property direct from the landlord, you will have to broaden your search and look beyond the 2 major property portals – RightMove and Zoopla. Because a private landlord will not use an estate agent, they will not be able to advertise their property on the big agent-only portals and instead will use a variety of smaller property websites and classified ad websites.
Most private landlords will advertise their rental properties in local papers, on social media, on Gumtree or similar classified ad sites, and on dedicated property portals like TheHouseShop.
More and more landlords are using social media to promote their properties and it is always a good idea to do a quick Facebook search for "private rentals in…" to make sure you don't miss out. Similarly, private landlords are now advertising their properties directly in Google using paid advertising campaigns, so don't forget to check Google and other search engines as well.
Why Can't Landlords List Directly on Rightmove?
Agent-only portals like Rightmove and Zoopla make their money by charging the estate agent advertising the property, and not the owner of the property. This means that you will only be able to advertise your property on these websites if you are being represented by an estate agent.
The big portals do not want to risk alienating their main clients, the estate agents, by allowing landlords to cut out the middleman and advertise directly, so it is highly unlikely that this will change any time soon.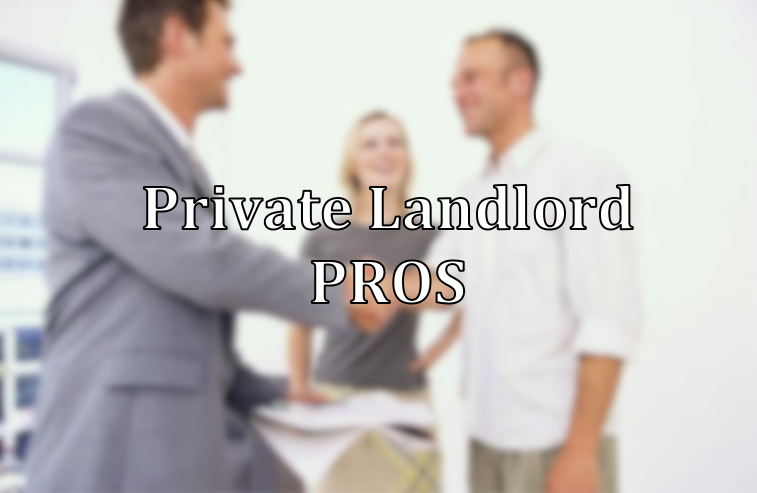 What Are The Benefits of Renting From a Private Landlord?
There are a number of differences between renting a property privately and renting through an agent, and tenants should seriously consider the benefits of renting directly from the landlord before they jump into their property search.
Cut Out The Middleman
Tenants who rent their property from a private landlord will have had direct contact with the landlord from start to finish. Tenants have the chance to get to know their landlord right from the word go, and can make a judgement on whether this is someone they could have a good relationship with.
Communication tends to be much quicker and issues are resolved far more easily because you can speak directly to the landlord.
No Chinese Whispers
One of the issues that can occur when renting a property through a letting agent is that messages can be misunderstood or wrongly interpreted by the agent. When a tenant makes a complaint or relays some important information that they want to be passed on to the landlord, the letting agent may only take brief notes or rely on their memory of the conversation, which can result in a game of Chinese Whispers.
Letting agents are incredibly busy and will have multiple properties that they are managing at any one time, meaning they may not have sufficient time or resources to properly manage tenant-landlord communications. Going direct to the landlord avoids any confusion and allows you to build up a positive relationship with your landlord.
Avoid Unreasonable Admin Fees
Letting agents are notorious for charging hefty fees to both landlords and tenants. The average tenant will pay over £300 to a letting agent to secure a property, and sometimes tenants can end up paying hundreds of pounds applying for a property that they ultimately fail to secure – which is even worse.
Private landlords can decide how much they want to charge potential tenants for admin fees, but typically the bare minimum will need to cover the costs of referencing and ID verification checks. Some private landlords may include a charge to cover other costs such as rent guarantee insurance, inventories, check-in/check-out etc., but most landlords deliberately avoid this and see these extras as typical costs associated with the business of being of a landlord.
Private landlords have an interest in keeping fees down as it gives them a competitive edge over letting agents – so 99% of the time, you will save significant money on fees when renting directly from the landlord.
Cheaper Rental Prices
Because private landlords are not having to hand over between 8-20% of their rental income to a letting agent, they can pass on the savings to tenants by way of lower rents. In a highly competitive rental market where prices are at an all time high, this can be a serious advantage for tenants. But if you ever do experience financial issues, consider getting car title loans completely online to pay your rent on time and avoid eviction.
Less Pressure on Your Credit Score
All private landlords will perform a reference on potential tenants, but not all will run a traditional credit check like a letting agent. If you have a poor credit rating, for whatever reason, but you can prove to your landlord that you have a steady income and the means to reliably pay the rent, your landlord may be willing to forgo a full credit check and instead rely more heavily on character references.
Flexible Deposit Arrangements
Letting agents tend to have very strict procedures when it comes to setting the deposit amount and when it has to be paid. Private landlords are sometimes willing to come up with more flexible arrangements if they believe they have found the right tenant.
You should always discuss the deposit amount and arrangements with your landlord before you commit to renting the property, and you may be surprised by their willingness to compromise.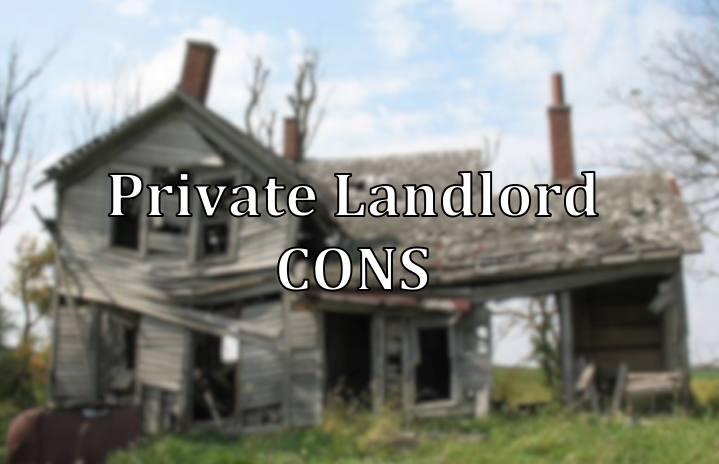 What Are The Negatives of Renting From a Private Landlord?
While there are many benefits of renting a property direct from the landlord, there are also some disadvantages and potential dangers that you should be aware of. You may find that renting privately is not the best option for you, and you may prefer to go through a traditional letting agent instead, so make sure you have taken into account the pros and cons of each option before starting your property search.
Safety for Viewings
You should always remember that if you go to view a property that is being advertised by a private landlord, you are essentially meeting a stranger at an unfamiliar location and you should be cautious. It is always a sensible idea to take a friend or family member with you to view the property, and at the very least you should make sure that you have told someone where and when you are going to view the property.
Another good idea is to check out the address using Google Street View to make sure that the view from the street matches up with the property you are expecting to view.
Private Landlords Are Unregulated
Unlike letting agents, private landlords are unregulated and don't have to be registered with a professional trade body or trade association. Some critics of the market have claimed that the private rented sector is a dangerous space where rogue landlords and scammers can thrive without fear of punishment, but if you use your common sense and make use of the safety advice at your disposal, there is no reason why you can't have a safe and successful experience with a privately rented property.
Some local councils work with landlords through accreditation schemes to try and ensure best practice when managing their rentals, so it is always a good idea to contact your local council and see if they can supply you with a list of accredited landlords.
Less Than Perfect Legal Knowledge
Some private landlords, especially 'accidental' or 'newbie' landlords, are unfamiliar with the finer points of property law and can often neglect their legal responsibilities. A letting agent, on the other hand, will have a comprehensive understanding of the legalities involved in renting a property as it is their job to understand the law and legal processes involved.
As a tenant renting a property privately, it is always a good idea to familiarise yourself with your rights and responsibilities, and there are a variety of great resources for tenants which can help you get to grips with everything – check out the Government's guide to Private Renting as a good place to start.
Informal Agreements
Not all tenancies will require a written contract by law, and occasionally a private landlord may try to put forward a more informal arrangement and offer better terms (for example cheaper rent or a smaller deposit) if you agree. This is NOT ADVISABLE and you should always ask for a written contract to protect your interests.
The tenancy agreement or contract is a fundamental part of any rental arrangement and is the most important document when it comes to protecting your interests – so make sure you read any contract carefully and question any points or clauses that you don't understand or that seem unfavourable to your interests.
We hope that gives you a useful and informative overview of what you can expect when renting a property from a private landlord, but if you have any more questions or need advice on renting a property privately, feel free to get in touch with us on Facebook or Twitter or via email to contact@thehouseshop.com.
Are you a private landlord? You can advertise your rental properties on TheHouseShop for free! Simply follow this link to get started.
[vc_row][vc_column][vc_separator][vc_column_text]
Find Properties to Rent in London and the Surrounding Area:
[/vc_column_text][vc_row_inner][vc_column_inner width="1/3″][vc_column_text]
[/vc_column_text][/vc_column_inner][vc_column_inner width="1/3″][vc_column_text]
[/vc_column_text][/vc_column_inner][vc_column_inner width="1/3″][vc_column_text]
[/vc_column_text][/vc_column_inner][/vc_row_inner][/vc_column][/vc_row]
Ref number: THSI-2412