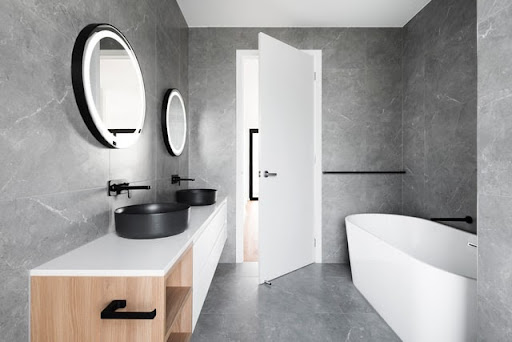 The UK floor and wall tile market will grow by approximately 7% until 2021, 
according to AMA Research
. Whether you are
transforming your home to be sale ready
or want to make your space stylish, tiling is an excellent idea. Tiles are one of the few décor elements that can add style, character, and dimension to your house. When used to coat walls in the bathroom, cover the floors, or accentuate kitchen backsplashes, the high-impact finish creates a visual attraction.
As more homeowners embrace tiles in the kitchen and bathroom designs, we can only expect an increasing demand and the development of new trends. If you plan to remodel your home, current trends blend well in any style, from minimalist to vintage and contemporary.
Moroccan Inspired Tiling
Since each season presents various design trends, picking one that will last two years in your home is challenging. If you are like many homeowners, you strive to create attractive spaces without altering existing designs and themes. For this reason, consider fitting Moroccan tiles in your home in the kitchen and bathroom. There are several
reasons homeowners choose Moroccan-style tiles
 for interior designs.
These tiles are colourful and feature sophisticated patterns, textures, designs and colours that make them similar to art to simple floor covers. Experts suggest installing Moroccan tiles in rooms where you intend to create visual effects. In the bathroom, for instance, you can design a Moroccan-inspired tiled accent wall to highlight the overall beauty of your home. You may also cover the backsplash in your kitchen with these tiles to make a beautiful focal point.
Make a Visual Statement with Patterned Tiles 
With new developments in tile design, people no longer choose plain white tiles for flooring or walls. For example, opt for patterned tiles if you want to customize your kitchen with a unique look.
Incorporating patterned tiles in the kitchen
 is an excellent way of displaying your creativity and creating a visual statement.
It doesn't matter which pattern style you choose when designing an attractive feature on the floors, backsplash, or behind the island. You can rest assured that the results will be appealing.
Purchase from a reputable tile shop with a good reputation and reviews.
Mosaic Tiling 
For decades, mosaic tiles have been popular during renovations or when designing stylish spaces because of their versatility; mosaic tiling features most in kitchens and bathrooms. Mosaics have an intricate style that creates a classic look in any room. Also, they come in a wide range, including sparkly quartz, natural stone, and ceramic.
There are different ways to use mosaic tiles in the kitchen and bathroom to reflect your style. Mosaics can help you achieve any look with a nature-inspired theme, floral patterns, delicate geometric patterns, or herringbone designs.
While most trends come and go, Moroccan-style tiling will likely stick around for years. Moroccan tiles have been used since the 10th century and still create a wow factor in rooms. Similarly, mosaic and patterned tiles enhance any sleek and chic space or a modern classic.
Ref: 3337.28982