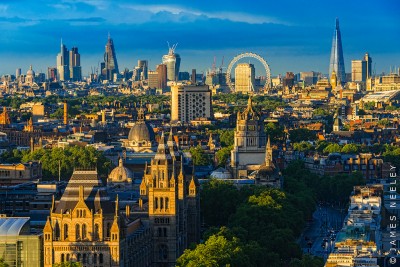 There's one thing that unites everyone in the property market. Whether you're after a family home, a source of rental income, an 'in the week' business base, a dream property to spend your savings on or an investment that offers better growth than savings accounts, everyone wants to buy a property that will become worth more over time.
When it comes to investing in London, the stakes are high. The potential is high, but so are the prices. The key thing for an investor to do is not to become fixated on what's happening now, but what's happening next.
You don't need a crystal ball to do this either, here's our top five areas to watch out for between now and 2020…
Whitechapel: One of many areas that could benefit from the arrival of Crossrail, Whitechapel is not going to be London's 'cheaper fringe' for much longer. The greater connectivity offered by the new east-west transport link has sparked a building boom that is ripe with investment potential. There's also a chance for Whitechapel to be the logical extension for the tech-savvy Shoreditch set.
550 homes form one development next to the Royal London Hospital, while four £3 million-plus penthouses at One Commercial Street show the potential the area has. Goodman's Fields will tap into the art heritage of Whitechapel Gallery.
Prices here could rise by up to 50% by 2020.
Canary Wharf: Often seen as a place to work but not live, this view of Canary Wharf will be long out of date in the next five years. A series of desirable studios and one, two and three-bed apartments will be ready by April 2019 and this development, 10 Park Drive, will merely be the start of the growth in the next decade. The stunning views and convenient business location offered in this area make it a worthy investment. Unlike the Battersea Power Station development, this won't be marketed directly at buyers from the Far East.
Old Oak Park: The Old Oak Park development is set to prove that, despite centuries of development, there's still scope for something 'new' within the capital. In June 2013 Mayor of London Boris Johnson set out a 30-year vision to transform Old Oak Common into a thriving new district and in April 2015 established the Old Oak and Park Royal Mayoral Development Corporation to drive that dream forward. That was quickly followed by plans for the 46-acre Cargiant site at Old Oak Common, which aim to deliver 9,000 homes and 8,000 jobs. A consultation is now under way on this development and it's well worth investors casting their eye on opportunities that will arise from this completely new part of West London –where Crossrail and HS2 will meet – to get in first.
Croydon: Undervalued parts of the capital with a bad reputation regularly make a comeback and, with a £5.2 billion masterplan (actually, six different masterplans) in place, you can clearly see investment potential in Croydon between now and 2020. Landlords have already benefitted from the biggest rent rises in London here in 2014 and once the investment has the desired affect on the economy that growth can only continue.
Earl's Court: By 2020 the image of Earl's Court as a hotspot for Australians and tourists might also need updating. The redevelopment of the exhibition centre and Seagrave Road is predicted to have a transformative effect – with the creation of four 'urban villages'. This £1.2 billion plan features 7,500 homes, 10,000 jobs and 27 acres of public open space designed by a Chelsea Flower Show gold medallist to combine style and substance and make for a sought-after location.
These five areas offer investment potential for the next five years, at varying levels of completion. By spotting these opportunities in advance, you'll be able to tailor your searches on the FT Property Listings site to make sure you get maximum return for your money.
Find Properties for Sale in London and the Surrounding Area: