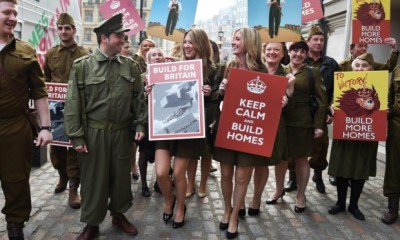 The affordable housing crisis in the capital is fast approaching breaking point, and a new report released by Shelter this week has refocused attention on the acute problem in the rental sector.
London's poorest households will bear the brunt of a £70 million rent rise brought on by the Government's forced category change which will see Councils converting "social housing" to higher cost "affordable housing". Social rented homes are offered to tenants at as little as 50% of market value, but often centre around the 60% mark. "Affordable" rented homes, however, are offered to tenants at up to 80% of market value, which with London's spiralling rental prices is largely unaffordable for even those earning a decent salary.
The gap between wage increases and rent increases is now so disproportionate that at one point in 2013, rents were rising 5 times faster than wages. As Tristan Carlyon of the National Housing Federation puts it:
"If you want a pay-rise then the way forward is clear: be a house."
The National Housing Federation have stated that it is the Conservative government's cuts in investment budgets that have forced its members to convert "social" tenancies to "affordable" tenancies. But while some councils have done their best to keep rents low, despite the switch from "social" to "affordable", the category change has been exploited by others who have raised rents to the maximum possible level, making them affordable for only a few relatively wealthy people.
The difference in landlord earnings following the category change is both striking and concerning. Circle Housing, for example, who claim to act through a "business head and a social heart", have so far switched 2,500 social rented homes to affordable rents – and have earned an extra £6.5 million in the process. Circle Housing are not alone in this sudden windfall: Notting Hill Housing Trust has earned an extra £6.4 million from the conversion of almost 2,000 homes and London & Quadrant have earned a tidy £7.4 million from the conversion of 3,000 homes.
The landlords are not entirely to blame here as many are struggling to keep up with the burdens of government cuts. As Kathleen Kelly of the NHF argues, "Housing Associations are now having to fund up to 85% of the cost of developing new homes from their own resources. They are not driving up rents because they want to, but are being forced to respond to the pressure on public spending".
The affordable housing situation is not being helped by the government's demand that any tax-payer investment into new homes must now go to "affordable" rented homes, and not "social" rented homes. This subtle but impactful change could well lead to the total removal of truly affordable housing from the London market.
Over the course of their lifetime, a renting family in the UK will be, on average, £561,000 worse off – and that figure more than doubles to £1.36 million for a family renting in London. Numbers like these should worry and concern all of us, and the depth of the current housing crisis should be evident from the number of individual marches, rallies and protests springing up across the capital and the country.
We spoke to Nik Wood, who has been deeply involved in the Ex Crown Residents Association's battle against the Peabody Housing Trust in East London, to hear his thoughts on the affordable rented sector issues:
The rent rises imposed by The Peabody Charitable Trust on the London Crown Estate homes it bought when they were privatised in 2011 don't reflect the cuts in indirect subsidy through housing benefit. They reflect the charity's publicly stated commitment to moving to 80% of market rent whenever and wherever it can.
The average rent on our estates is less than that as a result of a High Court ruling giving many tenants legal immunity from Peabody's policies and continued rent controlled terms. But they are offering a three bedroom house, not for the key worker families they undertook to house, but to "professional sharers". This is because they can't find key worker families who can afford this allegedly "affordable" home.
The charity says "… in order to rent this property you must have a pre-tax household income greater than £72, 000.00 per annum.". This is an inverted form of means testing, where you have to earn enough to be eligible for charity. And the burden of subsidising charitable provision for the most needy in our communities is off loaded from the charity itself onto those tenants deemed to be reasonably enough paid to shoulder it, with all the potential for social tensions that this risks.
The property listing for the Peabody property requiring annual pre-tax income of over £72,000 can be found here.
Click here for more information on the Shelter Report and the impact of the category change
by Franki Chaffin-Edwards
Find Properties for Sale in London and the Surrounding Area: