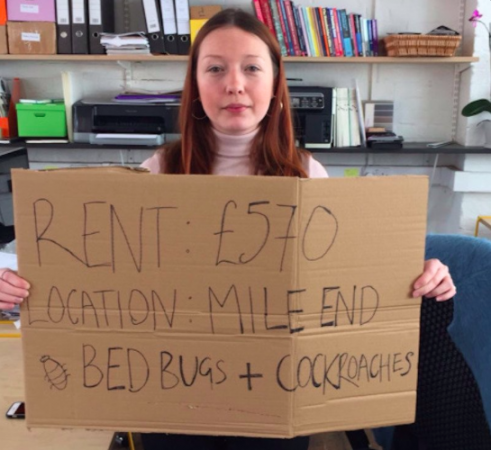 London: a home of art, music, culture and commerce. Being one of the world's most historic cities, it's fair to say that London is a pretty awesome place to live. Or so you would think. It seems that London also has a significant housing problem…
In the run up to the mayoral elections, it seems that affordable housing in the capital has been a hot topic of conversation. Generation Rent, an organisation campaigning with private renters "for professionally managed, secure, decent and affordable privately rented homes", have been campaigning for fairer housing and rental laws since 2014. And apparently such a campaign has never been more needed, as the organisation's hashtag #VentYourRent reveals a stunning number of Londoners being unfairly treated by landlords and letting agents, whilst still paying a premium price tag for the pleasure.
It gets worse…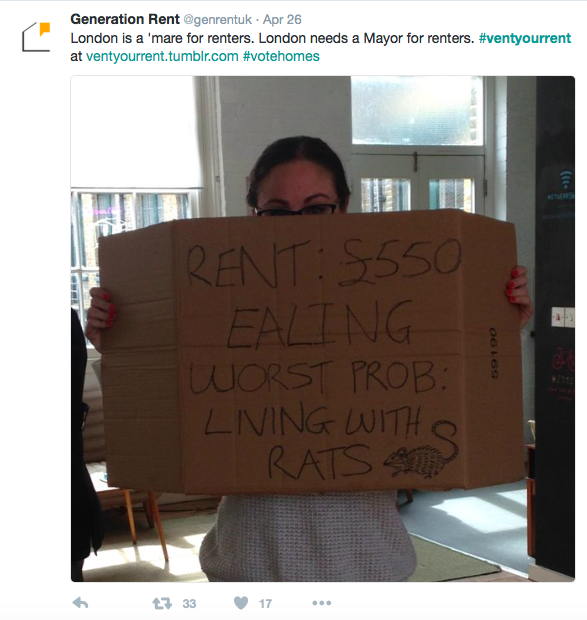 Hygiene seems to be a constant issue…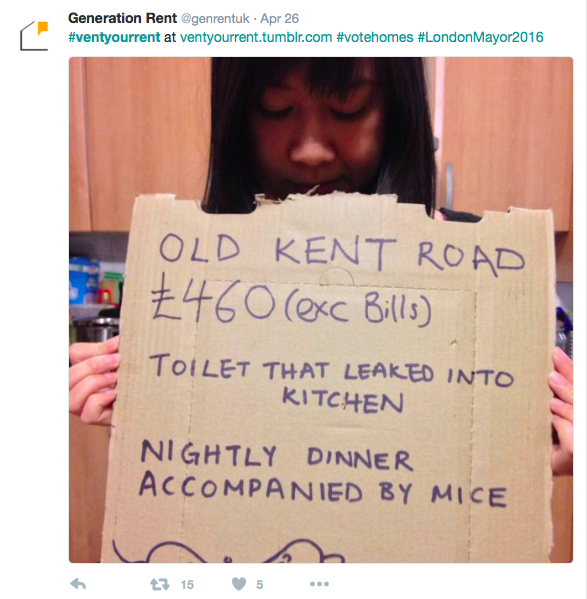 Some were more shocking than others…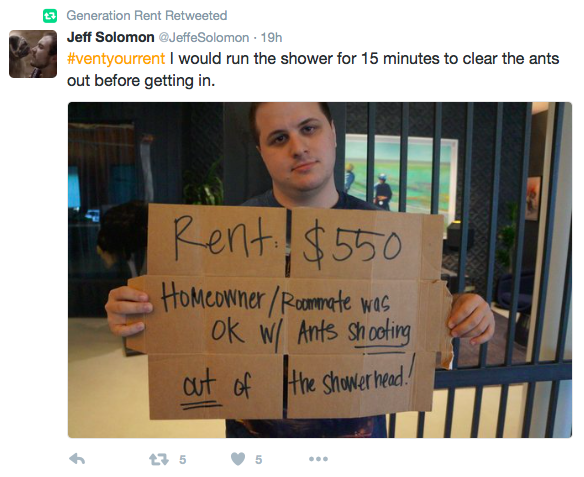 And others were just downright disgusting…

Although London may be famed for it's Victorian history, it certainly does not mean that the city's residents want to be living the same lifestyle as our ancestors. Renting used to be a cheap, temporary option for people who could not afford to buy. But now, rental prices have overtaken monthly mortgage payments in many areas, meaning that many people will never have the spare money to actually own their own home; according to Generation Rent, "two thirds of private renters would rather own their own home". Bearing this in mind, it is utterly unacceptable for renters to be paying over the top prices, while having to deal with pests, mould, sewerage and such, only for landlords to do nothing about it.
The Green Party's mayoral candidate, Sian Berry, has even joined in the campaign, sharing her frustration at soaring rental prices.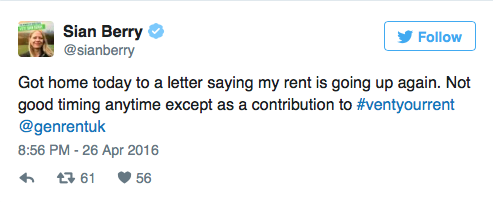 It is certainly encouraging to see a potential mayoral candidate address an issue that is undoubtedly affecting thousands, even millions of Londoner's every day. As part of Ms Berry's campaign, she proposes to set up a London Renters Union, "which will be funded and supported by City Hall, will help renters to organise to rein in private rents and expose rogue lettings agents." Being a private renter herself, it definitely seems as though Sian is understanding of the unstable and insecure nature of the private rental market.
Despite the horror stories that we have read about private renters, in many ways the private rental market is a blessing. This year, features editor of The Debrief, Vicky Spratt, started a change.org petition to Make Renting Fair in England. Spratt states that "over the last 9 years, agency fees have cost me over £2000- and I'm only 28". This is an unfortunate reality for many young professionals all over the country, who often can't afford to buy their own property, yet are forced into paying unnecessary agency fees in order to live independently. Letting agency fees are completely unregulated in England, which makes it easy for tenants to pay over the odds for unnecessary fees- such as changing the name on an existing tenancy, which Foxton's charge a shocking £210 for.
By renting privately, a lot of these fees and charges are not needed, which, all in all, makes the process a lot cheaper. However, from what we have seen it is clear that what private tenants need is more security and legal back up, in order to avoid living in such horrific environments, or being treated unfairly and getting shafted by ever increasing rents. Whether you rent privately or through an agent, it seems as though the system is very much stacked against 'Generation Rent', and action desperately needs to be taken.
Want to avoid letting agency fees altogether? Find properties available to rent direct from private landlords on TheHouseShop.com
Find Properties to Rent in London and the Surrounding Area: