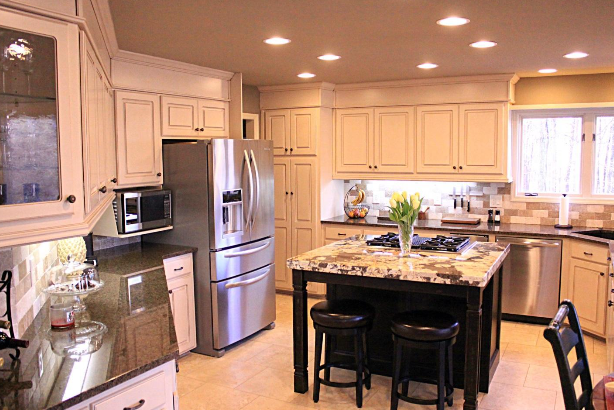 There's a peculiar charm in norm-defying kitchen remodels. You'd want to rethink your kitchen, we think.
Planning a kitchen makeover is much like planning a bride's wedding night ensemble—the mother outrageously obsessing the detail in packing up outfits.
A stunning kitchen makeover too comes neatly packaged with sleek cabinetry, stainless hardware, and a harmonious dual-toned colour scheme—or maybe something entirely distinct. Any way you envision your ideal makeover, you should go in with eyes wide open and with kitchen remodelling contractors qualified to deliver the type of remodel you desire.
As many remodelling styles exist, choosing the best for your home comes from a careful analysis of the design structure of your house. If you think consulting an interior designer would better synchronize efforts, don't hesitate to approach one. Bringing the best results for a kitchen renovation will save months spent in reworks, which is why a harmonized project delivery starts with aligning your remodelling team. Procore technologies break down how projects must be managed for maximum advantage.
Before diving into ideas about overhauling your kitchen, how should you go about looking for the right contractor? Here's some handy advice rarely shared, especially by potential contractors.
Check in with neighbourhood homes (preferably) with comparable remodels
You'll come across a dizzying number of bids from contractors claiming projects under their belt. Only that they could be total shams or genuine—you will need to find out by paying visits to the homes of clients they've worked with before. Your kitchen remodel will be an ongoing project that won't necessarily have all elements plotted out in the beginning stages, which is why checking out homes with comparable redesigns informs your vision much before dealing with a contractor. Zoom in on the floor work, cooking range, countertops, wall tiling and start jotting details. Going through catalogues of kitchen remodels isn't ineffective but it's never the same as seeing a home with the one you're most convinced by. 
Ask for a meeting
And ask questions gathered from your research and homework. Kitchen remodelling is one of the priciest ventures that not only spruces up its aesthetic but adds to the real value of your property. The first meeting can usually giveaway signs of how your interaction would fare further along in the project. If your rapport seems to hit the ground running on your vision, you may have found the right guy as replacing contractors can escalate project costs quickly.
Check licenses/permits/liability insurance
Kitchen redesigns can go horribly wrong if your contractor hasn't a clue about how to route gas and plumbing pipes while keeping your design specifications intact. Always, always, always unapologetically check their licenses because, without them, they are just some run-of-the-mill professional-sounding unprofessional scamming you. Good contractors understand the costs of a mismatched kitchen colour scheme and appliance fitting—and so they come secured with liability coverage should inadvertent damages occur. You're within your rights to ask them to have liability coverage during unexpected events.
Certain remodels may not be up to code due to unfit installations—for instance, if your kitchen isn't equipped to capture grease from sinks, woks, floor drains, and other fixtures, you can face hefty fines and stalled remodelling work until you finalize your next contractor. Now let's illuminate the world of modern kitchen makeovers after you've crossed off contractor-hiring to dos.
Subway Tiles 
Subway tiles offer a neutral contrast with any colour mix you choose. They blend with white cabinets and silver hardware with bold gray counters—however, you should explore colours and appliances that best fit the design blueprint and overall colour scheme of your house. 
Open and Airy Remodels
Several people want their redesign to include a generous brush of white—either in cabinetry or tiling. White complements almost every colour mix and leaves your space enlarged than ever whether you go for wall-mounted shelving or open shelving.
Farmhouse-Style Remodel
Dreaming of marble countertops and apron-front porcelain? You're in luck as they're available as low-cost options in multiple colour options. To add charm to your cooking range and cabinets, you may choose to revive them with cast-iron knobs and spruce up your cabinets in a sleek gray undertone to echo the countertops.
Dual-Accented Remodels
Including complementary colour accents paired with a subway tile backsplash would render your kitchen more contemporary than most restaurants' of North America.  
Minimalist Remodels
Minimalist remodels maximize storage and clear movement space to accommodate dining space within the kitchen. Sleep appliances, freshly-toned cabinetry, and wide-open shelving are usual characteristics of this remodelling style.

Industrial-Style Remodels
Think of black accents and butcher-block countertops with added storage space. Black appliances are usually included in industrial styles that are cheaper than stainless steel hardware.
Modern Country
Knocking down walls doesn't just open room in relationships but gives you a functional open plan where you're no longer separated from the dining room, leading to better symmetry when organizing dine-ins. 
It isn't always obvious—or your intention—to go with a rigidly modern makeover. To help understand modern kitchens more closely, this source scoops the hidden factors in choosing a modern-themed kitchen remodel.
Scandinavian Haven

When people enter a Scandinavian kitchen, they notice the unbeatable spacious and bright aura of the room. Adding a tinge of other warm colours would help the space radiate warmth while complementing a combination of high-tech accessories and appliances. If you want to upgrade your vinyl flooring, you can work with your contractor to refurbish it to go with the rest of the kitchen's nature-inspired textures.
Open Shelving
Open shelving allows you to offer up more space for sleek cabinetry and accessories. 
Open Concept Heaven
Open concept kitchen plans let natural light penetrating the living hall spill over into the kitchen, making it more roomy and airy. It allows your family a unified seating area for casual meals and gives you extra prep space for those long-drawn housewarming parties.